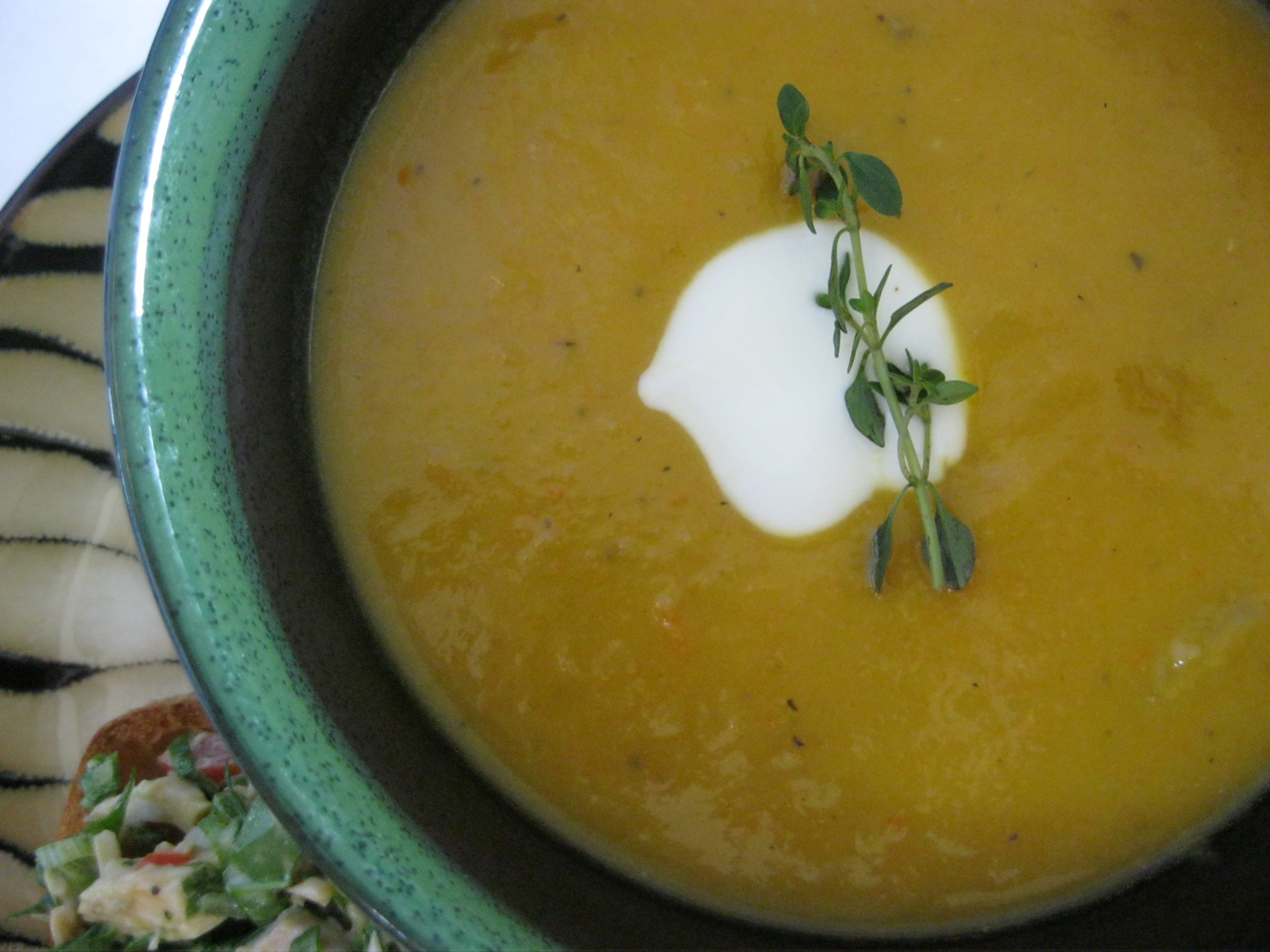 Author Notes: Once, to usher in the first crisp night of fall, I roasted a chicken (cut out the backbone, squish if flat) on a bed of some of the first vegetables of the season. I got a little overzealous, though, and ended up with many more roasted vegetables than I could eat. So off they went to get whizzed by the immersion blender, all those tender pieces of squash and those sweet chunks of parsnip, the thick purée smoothed out by some flavorful stock and milk. The only thing missing? A little smoky, salty crunch. Enter the second incarnation of the recipe-- instead of roasting a whole chicken, I cook strips of bacon atop the vegetable bounty; the fat melts into the vegetables, and the crumbled bacon is a perfect garnish, along with a little tang of yogurt. There's a lot of leeway with the ingredients. Make it vegetarian if you like. Just don't forget to serve it with warm, crusty bread slathered with butter. Leftovers freeze well. - vvvanessa
Serves 6-8 (or more) as a main course
1

butternut squash, about 2 1/2 pounds, peeled, seeded, and cut into 1-inch cubes

1

large yellow or white onion, peeled and chopped

2

large carrots, cut into 1-inch thick rounds

2

ribs celery, cut into 1-inch pieces

1

medium russet potato, peeled and cut into 1-inch pieces

1

small parsnip, tough inner core removed, peeled and cut into 1-inch chunks

1

tart apple, such as Granny Smith, cut into large pieces

3

cloves garlic, peeled

1

lemon, washed and quartered

8

sprigs fresh thyme

2

sprigs fresh rosemary

2

dried bay leaves (or fresh if available)

2

leaves fresh sage

1

teaspoon sea salt

1/2

teaspoon freshly ground black pepper

1/4

cup extra virgin olive oil

8

slices thick-cut bacon

4

cups chicken or vegetable stock or water

2

cups whole milk

1/2

cup plain yogurt
Preheat oven to 400ºF. In a large roasting pan, combine all ingredients except bacon, stock, milk, and yogurt. Toss gently with your hands. Spread everything out evenly in the pan.
Lay the strips of bacon in a single layer on top of the vegetables and apple.
Set the pan in the oven. Flip the bacon over about 10 minutes into cooking time and allow to cook for another 5 to 10 minutes until it is cooked through. The goal is to render bacon fat into the vegetables and to make the bacon crispy enough to crumble. Remove the bacon and let it sit on paper towels or newspaper to drain and cool.
Stir the vegetables. Allow them to cook for another 25 to 35 minutes, until all the vegetables are soft and lightly caramelized. Check the pan occasionally to make sure vegetables are cooking more or less evenly, stirring as necessary. The apple will likely disintegrate into applesauce, which is fine.
Remove the pan from the oven. Discard the herbs and lemon. Carefully put the roasted vegetables in a Dutch oven (allowing time for them to cool a bit if necessary). Be sure to scrape down the roasting pan to include all the oil, bacon fat, and apple.
Add in the stock or water. Using and immersion blender, purée everything in the pot until smooth. Alternately, you can mix the vegetables and liquid in a blender, working carefully in small batches, returning the soup to the pot.
Bring to a boil and immediately reduce to medium. Add in the milk and stir until heated through. Add salt and pepper to taste.
Crumble the bacon. Serve the soup very hot with a dollop of yogurt and a teaspoon of bacon in each bowl.
Tags: butternut squash, can be made ahead, fall, freezes well, purée, roast, Soups