Orecchiette with cauliflower, breadcrumbs, pancetta and pepitos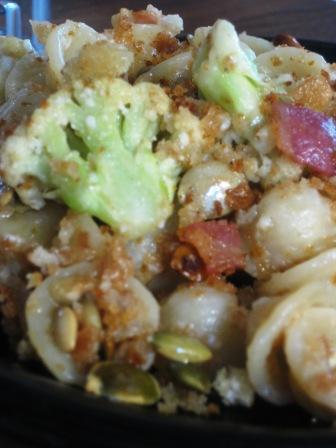 Author Notes: Putting a few breadcrumbs in a pasta dish is a common Italian trick that adds the right counterpoint of texture, taste and color to a simple sauce. Here I've paired them with some peppery fall cauliflower and salty pancetta. Owing to the current shortage of pine nuts, I've substituted unsalted pepitos – hulled pumpkin seeds – which are more abundant (that is, cheaper), and add both nutty flavor and a shade of green to this otherwise very pale dish. - cheese1227 - cheese1227
Food52 Review: This lovely simple pasta incorporates different textures and balances flavors nicely. The lightly sautéed cauliflower just starts to get crispy edges. A touch of toasty breadcrumbs and lemon juice goes a long way. - Stephanie - A&M
Serves 8 cups of pasta
1 ½ pounds of cauliflower, broken into bite sized pieces

1 pound of orecchiette (if unavailable use conchiglie or cavatelli)

1 cup fresh bread crumbs

½ cup pepitos (hulled pumpkin seeds)

¼ cup of good olive oil

3 thick slices of pancetta, cut into small dice.

2 garlic cloves, finely chopped

1 lemon wedge

½ cup grated pecorino cheese

½ cup chopped parsley
Set a large pot of salted water to boil. When it gets to a boil, drop the cauliflower in and blanch for about 3-4 minutes. Remove and set aside.
In a large, non stick skillet, dry toast first the bread crumbs until they are browned and then the pepitos until they start to pop. Set both ingredients aside.
Drop the pasta into the water to cook until al dente.
Put the oil in the skillet and fry the bacon pieces until crispy. Add the cauliflower and chopped garlic to the skillet and sauté for about 2 minutes.
Drain pasta (reserving a quarter cup of the pasta water). Add pasta to skillet with ¼ cup of pasta water. Add lemon juice, pecorino cheese, and parsley and mix well. Adjust for salt and pepper.
Remove from heat and stir in bread crumbs and pepitos.
Serve warm.
Tags: Easy