Boozy Belly Pumpkin Cupcakes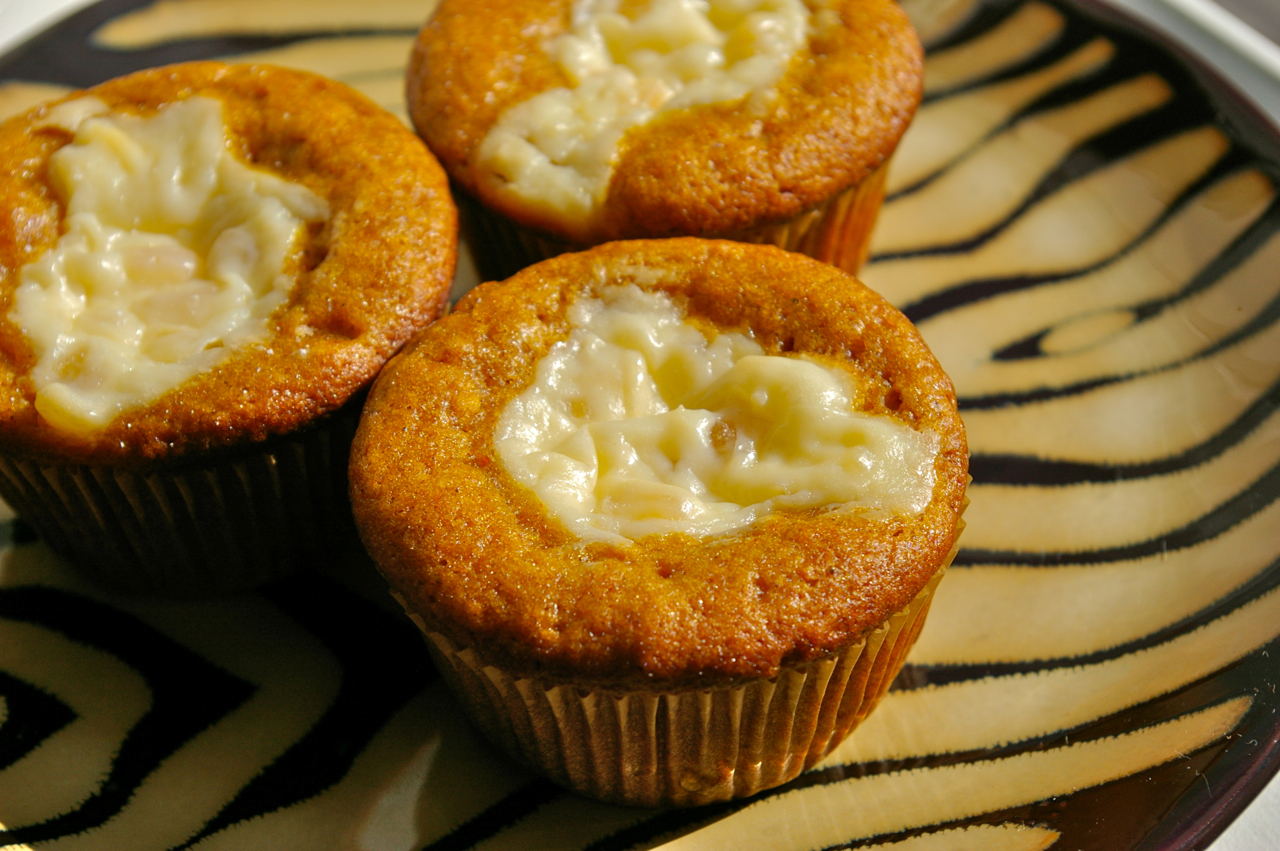 Author Notes: This recipe started out innocently enough: find a way to re-create a black-bottomed cupcake but with fall flavors. So I started with pumpkin, loaded it up with cinnamon and nutmeg, and figured the minced ginger would replace the chocolate chips. But as I tasted the cream cheese filling, I longed for a little something extra. Enter the dark rum, which adds a little kick but not a full-on wallop. Leave it out if you want to make it kid-friendly, and substitute in half a teaspoon of vanilla extract. - vvvanessa
Makes 20-24 cupcakes
Boozy Cream Cheese Filling
8

ounces cream cheese at room temperature

1

large egg yolk at room temperature

1/3

cup finely minced candied ginger

2

tablespoons granulated sugar

1

tablespoon dark rum (okay, okay-- 2 tablespoons if you insist)

1/8

teaspoon fine table salt
Pumpkin Cupcake Batter
2

cups all-purpose flour

1

teaspoon baking soda

1

teaspoon baking powder

1

teaspoon fine table salt

1 1/2

teaspoon ground cinnamon

1

teaspoon ground ginger

1/2

teaspoon ground nutmeg

1/4

teaspoon finely ground black pepper

1

cup light brown sugar

1/2

cup granulated sugar

3/4

cups extra-virgin olive oil, preferably one on the fruity side

2

large eggs

1

teaspoon vanilla extract

1 1/2

cups pumpkin purée

1/2

cup buttermilk
In a bowl, combine all the ingredients of the cream cheese filling, mixing until it is light in texture and there are no cream cheese lumps. Set aside.
Preheat oven to 350ºF. Line 2 muffin tins (24 wells) with paper liners.
In a bowl, whisk together the flour, baking powder, baking soda, salt, and spices, and set aside.
In the bowl of a stand mixer fitted with the paddle attachment, mix the sugars, olive oil, and eggs on medium-low for about 3 minutes or until the mixture becomes smooth and lightened in texture.
Add in the pumpkin and vanilla and mix for a few seconds more to combine. Scrape down the sides of the bowl.
Turn the mixer down to low. Add in half the flour mixture and mix until just incorporated. Add in the buttermilk and mix for 10 seconds. Add in the rest of the flour and mix for 20 seconds more. Scrape down the sides of the bowl.
Fill muffin cups about 3/4 full with cupcake batter. Drop a heaping teaspoon of the cream cheese mixture on top of each cupcake. Remove any unfilled cupcake liners and fill empty wells about one-third full with water.
Bake for 20-25 minutes, rotating pans about 10 minutes into baking. They are done when the ridge between the cream cheese and the cupcake is just set and the cake (not the cream cheese) tests clean.
Remove the tins from the oven (be extra careful if you filled any of the wells with water), and allow to cool for about 5 minutes in the pan. Transfer the cupcakes to a wire rack to finish cooling.
Jump to

Comments

(

7

)
Tags: cake, cream cheese, cupcakes, Desserts, fall, fall, ginger, rum