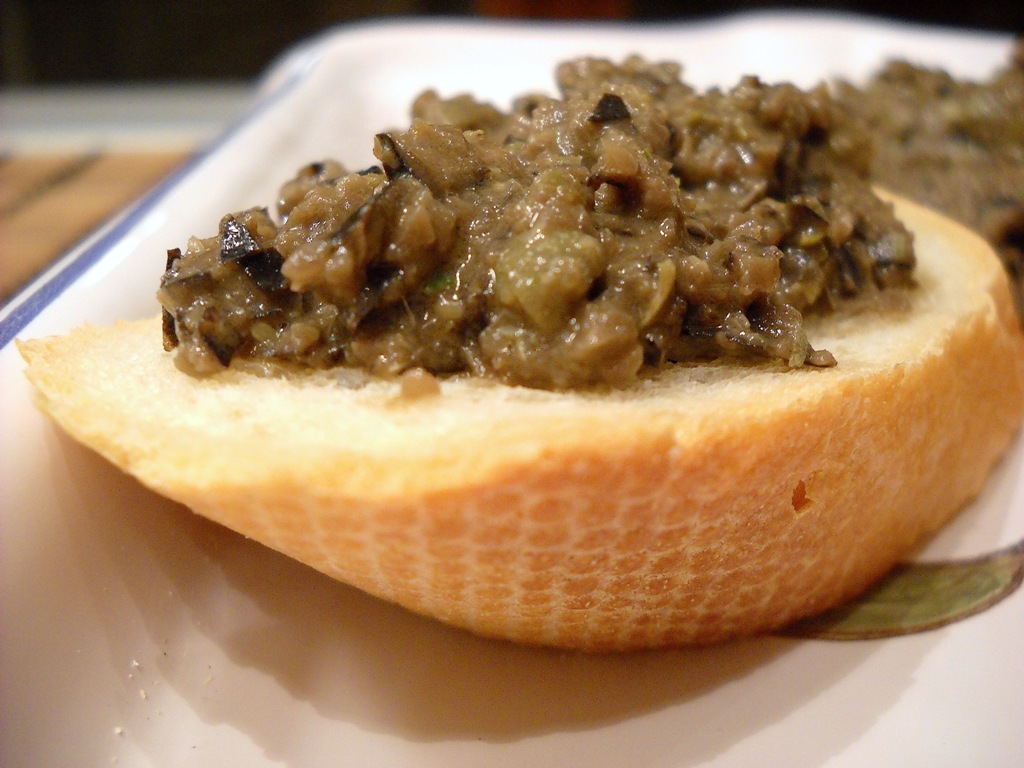 Author Notes: Roaming about market places in the South of France is a blaze of joyful colors and astounding perfumes. The heady smell of goat cheeses mixes with lavender sachets and Marseille soaps; spice and delicatessen stalls are squeezed between linens and Provençal nappes (the traditional bright-colored tablecloths with flower miniature motifs: olives, lavender, sunflower, and cigales, or cicadas, the symbol of Provence). Herb-flavored olives show off their beautiful colors and shapes in olivewood bowls. And there, among them, various kinds of tapenades are handed by jovial marketers to passing-by shoppers to be tasted with slices of freshly baked baguettes.

There's nothing I can do: whenever I happen to visit France, I need to taste some tapenade which, incidentally, is perfect to accompany fresh goat cheese and baguette.

Tapenade is basically an olive pâté flavored with anchovies and capers. Typically black olives are used, but green olive tapenades can also be found on market stalls. Olives can be found all year round, though September is the appointed time for harvesting: so why not benefit by the period and have some delicious tapenade?

Making tapenade is actually pretty easy: olives, anchovies and capers are ground together; then olive oil and lemon juice are added to blend the pâté, which is finally made aromatic with herbs such thyme and laurel. Originally, mortar and pound were used to grind ingredients, but a food processor makes the whole preparation much easier and faster.

To get a richer and warmer touch, you can add to the tapenade three tablespoons of Cognac, or some other liquor, as common in some parts of France. - Rita Banci - Rita Banci
Food52 Review: I highly recommend this tapenade, not just for smearing on crostini, but as a condiment to liven up sandwiches, pizzas, omelets, and even salad dressings. It has a bit more anchovy, relative to the other ingredients, than other tapenades I've made, but the instruction to soak in cold water for 10 minutes resulted in a deep, rich flavor that did not overwhelm the mixture. I only had fresh bay on hand (a California variety, from my own bush) so I took pierino's advice, and used but one tiny leaf, which I finely chopped. The result was perfect. Brava, Rita!! - AntoniaJames
Serves many
7

ounces black olives, stones removed

3.5

ounces anchovy fillets

1

garlic clove

1.7

ounces capers

50

milliliters extravergine olive oil

juice of 1 lemon

1

pinch of thyme

1

pinch ground laurel

freshly ground pepper
Soak the anchovy fillets in cold water for 10 minutes. Grind olives, anchovies, garlic and capers with a mincing knife.
Put these ingredients into a mortar and pound them until they become a soft paste (alternatively you can use a food processor).
Mix in oil and lemon juice. Ultimately add the thyme and laurel, and the freshly ground pepper according to taste.
Jump to

Comments

(

4

)