Oscar Drinks, Desserts & (Most Importantly) Dresses
We were so smitten with this mashup of drinks, desserts, and classic Oscar dresses from last year, we felt it was fitting to revisit. Happy Oscar viewing!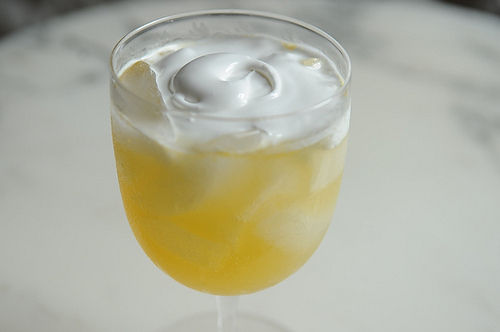 Liz Taylor, 1961 + Nineteenth Century Roman Punch by amanda
Let's face it: the Oscars aren't really about the movies. The night itself is a spectacle -- a place where our favorite movie stars come out to play, in all of their weird, fabulous, bedazzled glory. Lucky for us, in the last 84 years, these characters have really done it up, providing both the epitome of endearing class and some of the worst outfit choices we've ever seen.
So this year, we're offering you a different way to celebrate Oscar night -- by paying homage to the best and worst of red carpet style. From Audrey to Gwyneth, Barbra to Bjork, here are 12 desserts and drinks to commemorate the reason we all really watch the show: cheering and jeering the evening's fashion choices.
Despite some of the stars' missteps below, we think that the food pairings are all solid 10s.
Gwyneth Paltrow, 1999
Yuzu I zu by Teri
Barbra Striesand, 1969
Chocolate Fantasy Brownie Bites by drbabs
Celine Dion, 1999
My Favorite Pina Colada by merrill
Lizzy Gardiner, 1995
Pine Nut Brittle with Rosemary by Ms. T
Audrey Hepburn, 1954
Meyer Lemon Macarons by DolcettoConfections
Julia Roberts, 2001
Chocolate Bundt Cake by KelseytheNaptimeChef
Kate Winslet, 2002
Kentucky Hot Toddy by Table9
Halle Berry, 2002
Lemon Pepper Shortbread with Cherry Jam by DolcettoConfections
Trey Parker & Matt Stone, 2000
Retro Raspberry Lime Rickey by cheese1227
Cher, 1988
Applesauce Cake with Caramel Glaze by merrill
Bjork, 2001
Nancy Silverton's Whipped Cream from Genius Recipes
Provisions
, our new kitchen and home shop, is here!
Get $10 off your first purchase of $50 or more.
Visit Provisions.