This weekend marks the start of a few notable things: the beginning of summer, the point at which people begin sneaking out early from their Friday workdays, and perhaps most importantly, the dusting off of backyard grills.
We may not be able to help make your weekend longer, but we can help when it comes to cooking over an open flame. If you're tired of conventional, familiar Memorial Day fare, (pasta salads, chicken, pasta salads with chicken), here are five new dishes you never thought would work well with smoke. This Memorial Day, go rogue: grill what no one else is grilling.
1. Oysters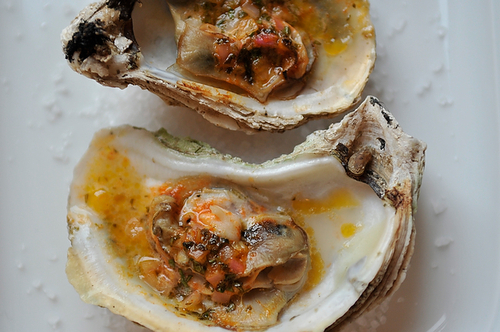 Grilled Oysters with a Sriracha Lime Butter
Everybody loves an open flame. As it turns out, oysters do too. The quick blast of heat from the grill concentrates the oysters' brine, without drying them out. And, they're ridiculously simple. It's an easy sell.
2. Bread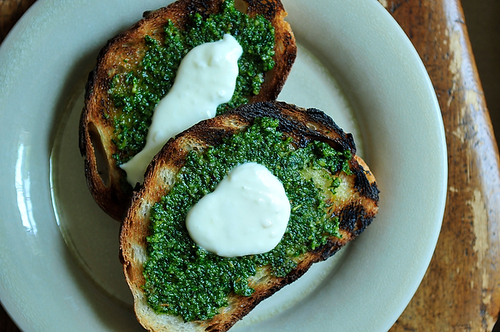 Grilled Bread with Thyme Pesto and Preserved Lemon Cream
Next time you're thinking about putting your bread in the oven, toss it on the grill instead. It's easier, tastier, and the smokiness it gets from the coals will give your crostini a whole new flavor dimension. (Because BBQ guests are always particularly discerning about flavor dimensions.)
You can apply the grilled-bread principle to all kinds of crostini, too. Try topping it with fresh ricotta, or spread it with pea pesto. Thanks to the grill, you'll have a new go-to blank slate for seasonal produce.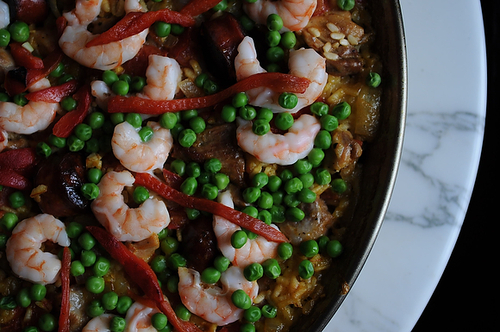 No, it's not a gimmick - you can really grill paella. This earthy rice dish - scented with saffron and made hearty with chicken, pork shoulder, chorizo, and shrimp - garners a great smokiness from the grill.
And, you'll get bonus points for being different. If Memorial Day barbecues were Jr. High, this dish would make yours the mysterious, cool kid at the highly coveted lunch table. No one will even miss the pasta salad.
4. Brussels Sprouts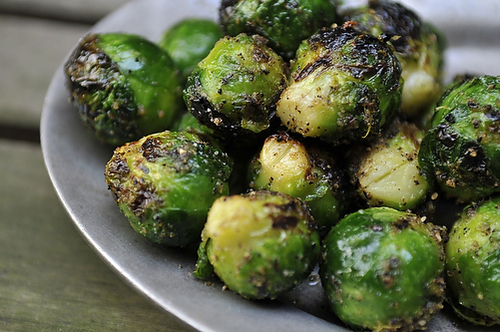 These aren't your grandmother's, murky green holiday sprouts. Brussels sprouts get a spring makeover, and a healthy amount of smoke, by being thrown on the grill.
Quickly tossed in oil seasoned with garlic, celery salt, and onion, they're charred only long enough to let the fire wake up their flavors. Try them for a great side dish, or as a crostini topping. (We trust that you're grilling your bread, too.)
5. Peaches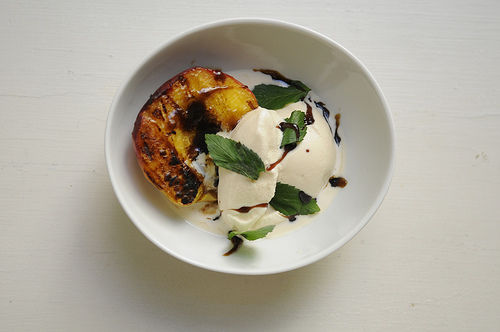 Peaches make a lovely companion for the grill. And, for that matter, so do cocktails. (We're not just talking about the one you'll be sipping while you make this.)
Inspired by the favorite derby drink, this recipe combines quickly seared peaches with a brown sugar mint julep glaze. Bourbon has never had so many summertime applications.