There are so many great conversations on the Hotline -- it's hard to choose a favorite. But we'll be doing it every day leading up to Thanksgiving, to spread the wealth of our community's knowledge -- and to help you host the least stressful Thanksgiving yet. No promises on the crazy relatives.
Today: How to achieve the perfect stuffing, even if you encounter a few slip-ups along the way. Tomorrow, we'll talk about solutions for top turkey conundrums.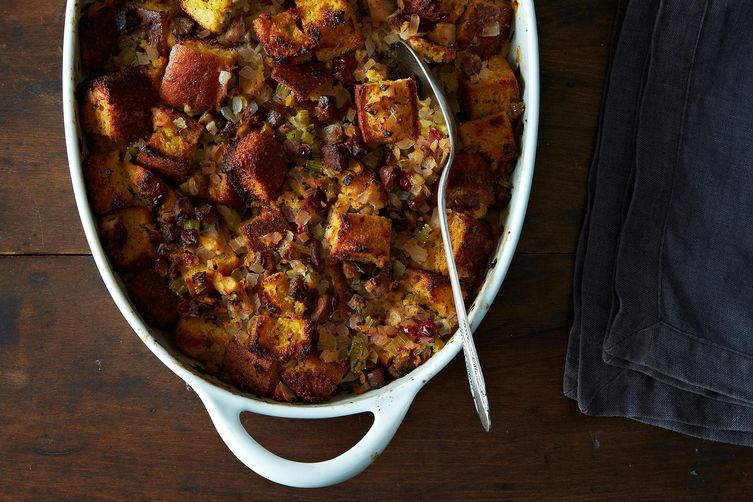 Many of us look forward to stuffing every Thanksgiving as eagerly as the bird. After all, it's not like we have the opportunity to eat stuffing sandwiches for lunch on a daily basis (although, there's an idea). It's understandable that you want that once-a-year stuffing to garner some serious attention, for the right reasons: not because it's too dry or overly mushy. We've seen a pattern over the years on the Hotline, in the throes of Thanksgiving prep, last-minute stuffing issues pop up. Thankfully, with each stuffing emergency, a Food52er has come to the rescue (you guys are great!).
In the spirit of prevention, we've summed up common stuffing woes and fixes.
Too Much Liquid
Maintaining Moisture

Saving Oven Space
Last-Minute Bread Drying
How do you get the perfect stuffing? Continue the conversation in the comments below!
Have you missed any of our Thanksgiving round-up of Burning Questions? Catch up now:
Photo by James Ransom