Zucchini Quiche in a Cheesy Brown Rice Crust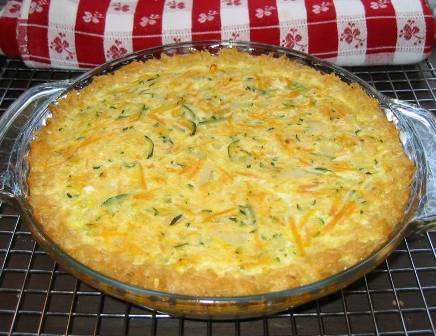 Author Notes: A tasty, lighter fare quiche, made predominantly with egg whites, fresh garden veggies and a bit of cheese in a short grain brown rice crust. I have made this style crust for a few years - it is an adaptation of one found online (where?), I tweaked from long grain to short grain brown rice and often change up the type of cheese used in the crust to compliment the quiche ingredients. - lapadia
Makes one 10 inch pie
BROWN RICE CRUST
Nonstick butter cooking spray

2 cups cooked and cooled short grain brown rice

1 large egg white

1/4 cup jack cheese - or your choice
Preheat the oven to 350°F. Spray a 10 inch pie pan with butter cooking spray and set aside. Mix together, the rice, cheese and 1 egg white. Press mixture over the bottom and sides of the pan. Bake uncovered, 5 minutes. Cool while preparing the filling.
QUICHE FILLING
1 cup leeks

1 cup carrot, peeled and grated

1 medium zucchini, grated, peel on, excessive moisture pressed out (I use a potato ricer), or you can just take the extra time to cook the water out – step 2

Optional – a couple teaspoons pimento

1 cup low sodium vegetable broth

1 cup milk 1 or 2%

2 large egg whites & 1 large

1 cup micro plane grated Parmesan/Pecorino mix

Pepper to taste

NOTE: the cheese is usually salty enough, so I leave it out
Add the leeks, carrot and zucchini to a saucepan with vegetable broth. Cook uncovered over medium heat for 15 minutes - salt & pepper to taste.
Increase heat to medium high and cook, stirring until all liquid is evaporated.
Transfer to mixing bowl. Add in the pimento (optional) and toss. Let cool for 5-10 minutes.
In the meantime: Whisk 2 egg whites and 1 large egg together. Mix the eggs into the milk.
Pour the milk/egg mixture into the cooled vegetables. Pour mixture into the rice crust. Add the cheese.
Optional: at this point, I sometimes dot with 2 tablespoons butter.
Bake until the filling is puffed and set (about 30-35 minutes). Cool for 15 minutes before serving.
Jump to

Comments

(

0

)