Fried mushrooms with smoked paprika remoulade
22
Save
If you like it, save it!
Save and organize all of the stuff you love in one place.
Got it!
If you like something…
Click the heart, it's called favoriting. Favorite the stuff you like.
Got it!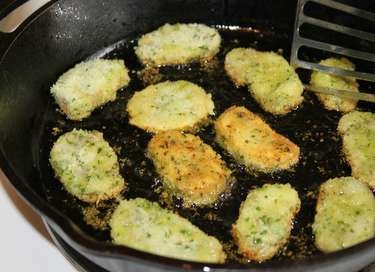 Author Notes: Fried mushrooms are one of my favorite fried foods (vying for the title with fried pickles). Like fried pickles, I prefer to slice the mushrooms instead of leaving them whole: more surface area means more fried goodness. I've experimented with a lot of breadings, and this one is hard to beat. You dust the mushrooms with flour, dunk in buttermilk, and then shower with a mixture of finely ground panko, lemon zest, and minced parsley. After pan frying them for a few minutes until they're crispy and golden, how you serve them is up to you. Here I've included a recipe for smoked paprika remoulade, a nice dipping sauce if serving the mushrooms as an appetizer or snack. The mushrooms are also delicious atop a lightly dressed green salad with shavings of pecorino cheese. - EmilyC
Serves 4
For the fried mushrooms
1

cup panko

3

tablespoons italian parsley leaves

kosher salt + freshly ground black pepper

grated zest from 1 lemon (see optional use for lemon below)

8 to 10

button mushrooms, stems removed and sliced 1/4" thick

2/3

cup buttermilk

1/2

cup all-purpose flour

oil for shallow pan frying (olive or canola), about 1/4 to 1/3 cup
For smoked paprika remoulade
1/2

cup mayonnaise

2

tablespoons finely diced cornichons, pickles, or capers

1

teaspoon whole-grain mustard

1

teaspoon dijon mustard

1

teaspoon smoked paprika

1

tablespoon lemon juice

kosher salt + freshly ground black pepper to taste
To prepare fried mushrooms: Combine panko and parsley leaves in the bowl of a food processor; pulse until finely ground and well integrated. If you've just washed your parsley, dry it before adding to food processor.
Set up a breading station with four pie plates or low bowls. In first, add flour. In second, add buttermilk. In third, add panko crumb mixture, then stir in lemon zest and season with salt and pepper. Dust the mushrooms with flour, then dunk in buttermilk, then dredge in the panko crumb mixture. When breaded, place them on a holding plate until ready to be fried.
In a skillet, heat the oil until shimmering. Fry the mushrooms in batches over moderately high heat, turning, until golden and crispy, about 3 minutes total. (A fish spatula works well to flip the mushrooms without tearing the breading.) Drain on paper towels and sprinkle with kosher salt. (The fried mushrooms can be held in a 225 degree oven for 20 to 30 minutes.)
*Optional: instead of throwing out the lemon, add it to the fry! Thinly, thinly slice the lemon (as paper thin as you can) with a sharp knife or mandoline, and then bread along with the mushrooms above.
To prepare smoked paprika remoulade: Combine all ingredients in a small bowl and mix until well combined.
Jump to

Comments

(

9

)
Tags: snack, Vegetarian