Spring vegetable jumble with lemon tarragon butter.
32
Save
If you like it, save it!
Save and organize all of the stuff you love in one place.
Got it!
If you like something…
Click the heart, it's called favoriting. Favorite the stuff you like.
Got it!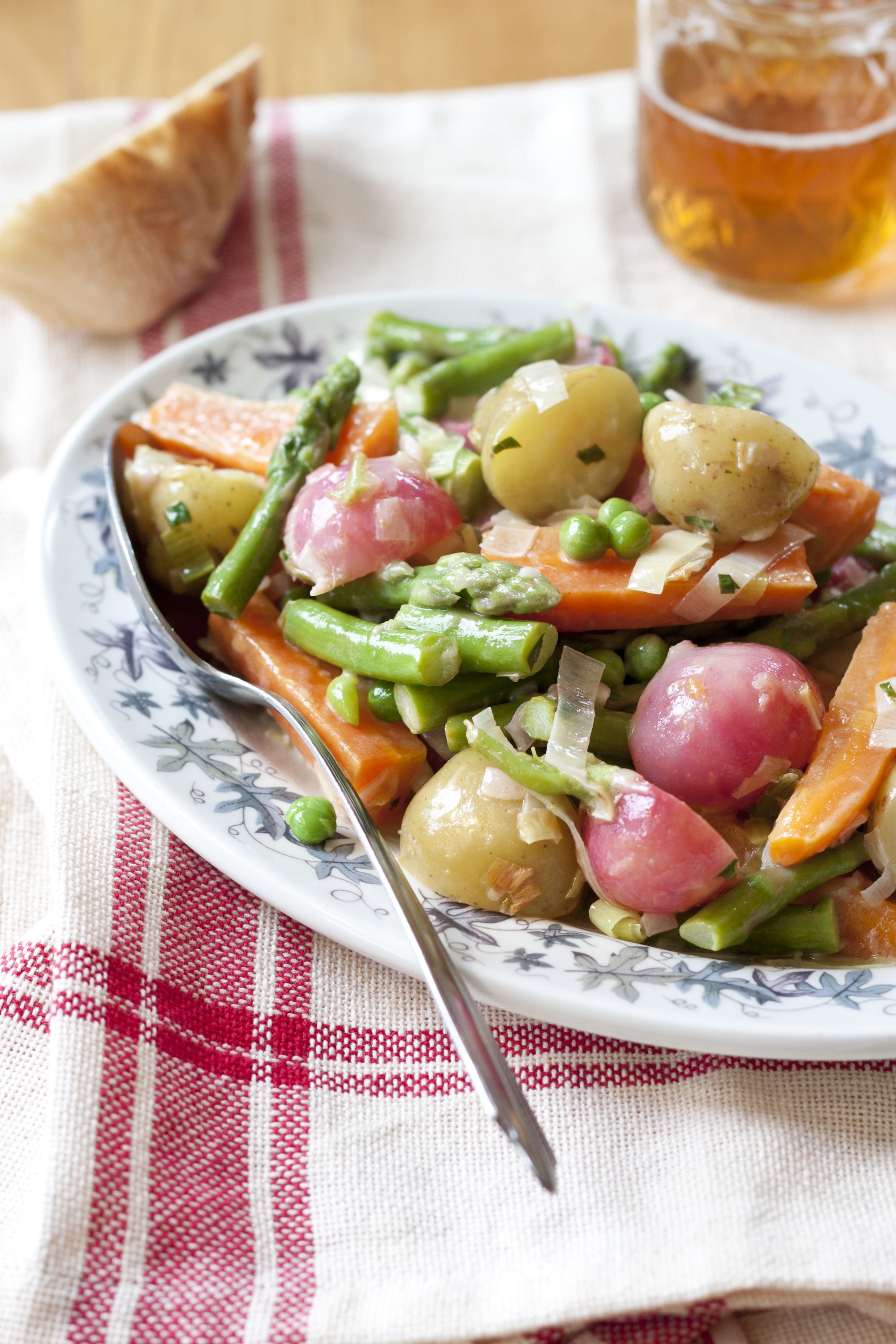 Author Notes: To be perfectly honest, I just thought about spring and this is what popped into my mind. (Well, this and flowering crabapple trees.)
I used the spring vegetables I had on hand, but you could adapt this melange to include pretty much any of your preferred young vegetables (baby artichoke hearts, ramps, baby fennel), cooking each until it's just tender. I'm sure it would also be lovely with some sauteed spring mushrooms thrown in. - fiveandspice
Serves 4
Spring vegetable jumble
8

tiny new potatoes, scrubbed and halved

8

radishes, tops removed except for a little sprig of green stem, cleaned and halved

8

baby carrots (actual baby carrots, not those bagged ones that are pieces of big carrots), halved, or 1 larger carrot, in matchsticks

1/2

bunch asparagus, stemmy ends removed and cut into 1-inch lengths

1

young leek, cleaned well and cut into thin slices, just the white and light green portions

1/2

cup English peas (you can resort to frozen if you can't find fresh)

olive oil

sea salt and white pepper
Bring a large pot of salted water to a boil. Add the potatoes and turn to a low-boil. After about 3 minutes add the radishes and carrots. Cook another 3-5 minutes, at this point the vegetables should be starting to get slightly tender. (if they aren't, continue cooking until they are) Add in the asparagus and cook for 3 minutes more. Then drain all these vegetables and run cold water over them to stop the cooking. Spread them on a clean towel or baking sheet to hang out while you sautee the leek.
In a large sautee pan, heat a splash of olive oil over medium heat. Add the sliced leek and cook until softened. Add the potatoes, radishes, carrots, asparagus, and peas to the pan.
Stir in the lemon-tarragon butter stirring to coat the vegetables well. Cook for about a minute or two until everything is just reheated. Season to taste with salt and white pepper and serve warm. Garnish with a bit more tarragon if desired.
Lemon-tarragon butter
2

tablespoons minced shallot

1/4

cup fresh lemon juice

2

tablespoons heavy cream

4

tablespoons cold butter, cut into 1 Tbs. pieces

1

tablespoon minced fresh tarragon
Combine the shallot and lemon juice in a small saucepan. Bring to a boil and cook for a couple of minutes, until the juice is approximately reduced by half.
Stir in the cream and simmer for 1 minute. Then, turn down to the lowest possible heat. Stir in the butter, 1 pat at a time, stirring constantly as they melt and adding each as the one before it finishes melting. Take off the heat and stir in the tarragon. Add to the cooked spring vegetables.
Tags: colorful, french, simple, Spring, Vegetables