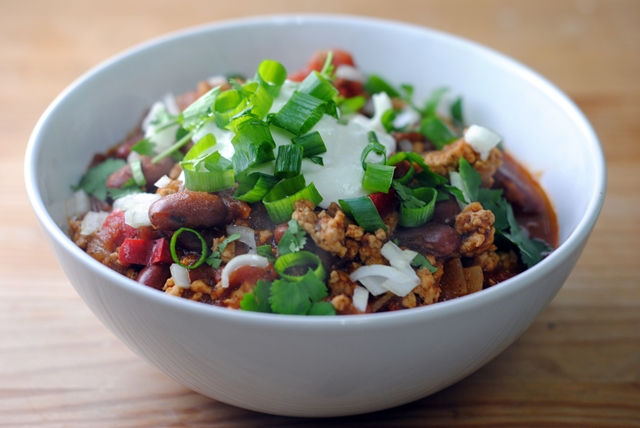 Author Notes: I don't mean to be cocky, but this chili really is the best ever. At least the best I've ever made. And it's dirt cheap! While beef is usually my protein of choice for this purpose, here in Israel it's expensive. So I decided to give leaner, cheaper turkey chili a whirl and watched as they freshly ground the turkey breast for me at the shuk.

I've made a decent amount of chili in my day. We usually make it at least once a year, and have been known to host a chili party. It's one of those cool weather comfort foods, and when I was home in New York in December I couldn't seem to get enough of it. Usually I make a decent chili, but I can get a little heavy-handed. I add too much jalapeno, or beer, or cinnamon. But this time everything was in perfect harmony, the ingredients balanced each other to create a hearty, highly satisfying chili. Also, for the first time I measured and wrote down ingredients as I went instead of haphazardly throwing things in the pot. Which means, lucky for me, I can recreate this again. This is a fairly mild chili, but can be easily spiced up with jalapeno peppers (I just forgot to get them). Enjoy it with a cold beer; the Leffe I cooked with was a perfect complement, although a cheaper beer would be just as good! - kmartinelli
Serves 4
Olive oil

1

medium-large onion, chopped

5

cloves garlic, minced

½

red bell pepper, chopped

1

teaspoon chili powder

½

teaspoons hot paprika

½

teaspoons dried coriander

¼

teaspoons oregano

Dash of cinnamon

1

pound ground turkey breast

1

cup dark beer such as Leffe Brown

28-ounce

can diced tomatoes

15½-ounce

can kidney beans, drained

2

tablespoons tomato paste

1/2

teaspoon hot sauce or chile paste

Salt and pepper

Sour cream, chopped chives, cilantro, shredded cheese for toppings
Heat a bit of olive oil in a large pot over medium heat. Add the onion, garlic, and red pepper and cook, stirring occasionally, until softened. Add the chili powder, hot paprika, coriander, oregano, and cinnamon; stir and allow to cook until aromatic, 1 minute.
Add the ground turkey and cook, breaking up with a spoon, until lightly browned. Pour in the beer and allow to cook down slightly.
Add the tomatoes, beans, tomato paste, and spicy paste or hot sauce. Season with salt and pepper.
Allow to simmer, uncovered, until thickened, about 20 minutes. Top with sour cream, chopped chives, cilantro, and/or shredded cheese.
Jump to

Comments

(

10

)