Roasted Garlic and Brie Toasts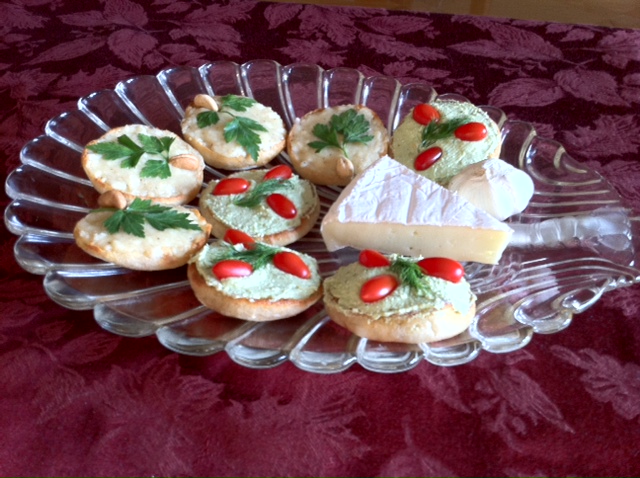 Author Notes: These delicious toasts are served well as hors d'oeuvres or to accompany a green salad as an appetizer. Many years ago, I read about these in a Bon Appetite magazine. I liked the idea, but I changed up the recipe a little.
I use English Muffins instead of Baguette because it is convenient to cover the toasts and pack up. The addition of Avocados is my variation.
- Kukla
Serves makes 12
• 24 Half Slices of English Muffins

• 1 ½ tablespoons Olive Oil

• 1 large head garlic, cloves separated (unpeeled)

• 12 ounces ripe Brie cheese, rind removed, room temperature

• Pinch of cayenne pepper

• Chopped fresh parsley and cilantro

• 2 avocados

• 1 Lime
Preheat oven to 350 degrees Fahrenheit. Place 12 muffin halves on a cookie sheet. Bake until golden (about 10 minutes). Cool. Heat Olive Oil in a heavy small ovenproof skillet over medium heat. Add garlic and toss to coat.
Transfer skillet to oven and bake garlic until knife pierces centers easily (about 20 minutes). Cool slightly. Peel garlic. Transfer garlic to bowl and mash with fork. Add Brie and cayenne pepper and mix will. (You can make it 6 hours ahead, just cover it and let it stand at room temperature.)
Preheat broiler. Spread cheese mixture on each toast. Season with pepper. Broil until cheese bubbles (watch it carefully to make sure it doesn't burn). Sprinkle with parsley. Transfer to platter and serve.
Use the remaining 12 muffin halves the same way except add to the cheese mixture the 2 avocados and the juice of 1 lime. Instead of using parsley on these 12 halves, use fresh cilantro.
Tags: delicious, savory, serves a crowd