Pandoro Bread Pudding with Chocolate and Orange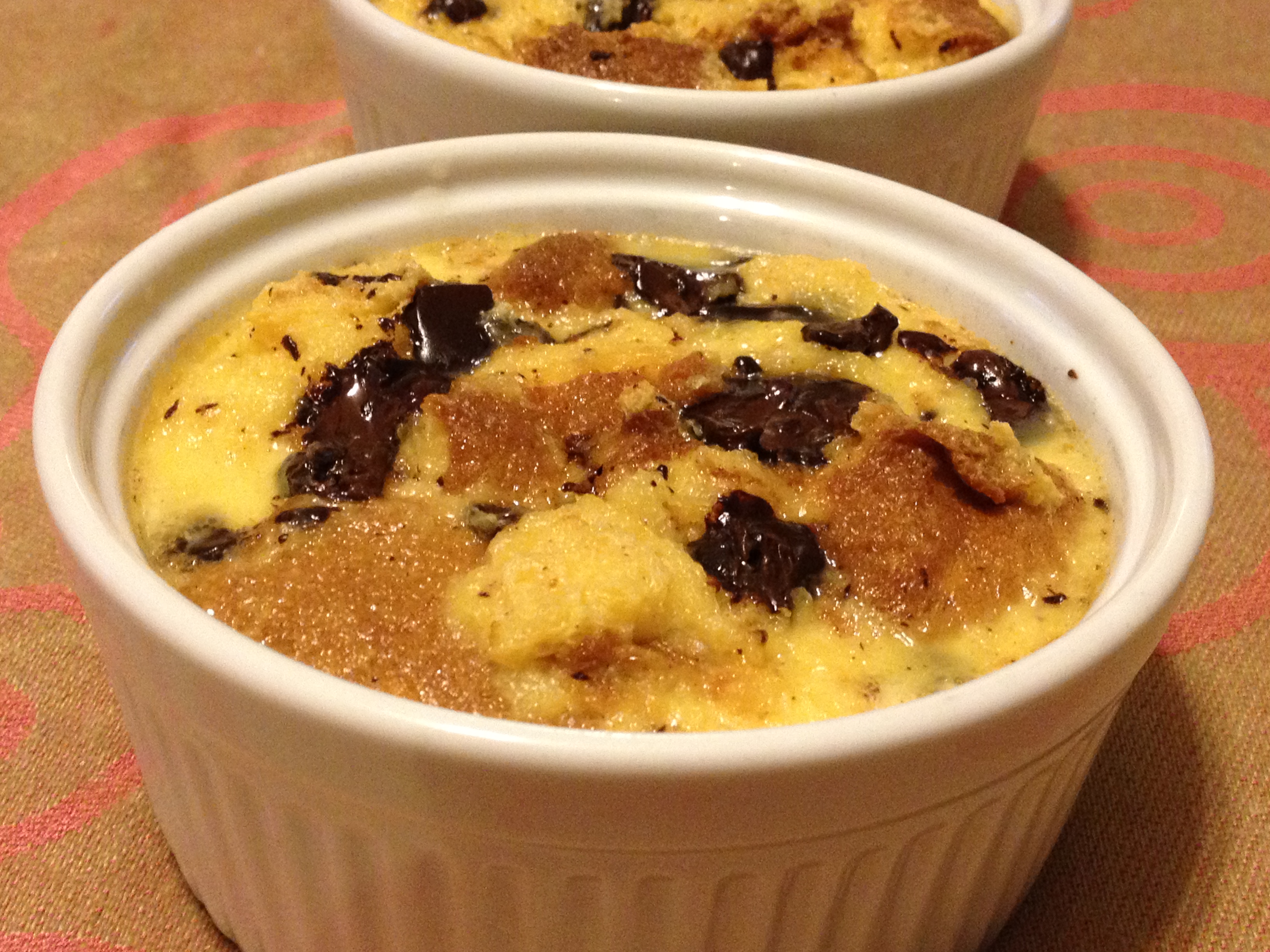 Author Notes: Pandoro is a sweet Italian yeast bread that is traditionally served around the holidays sort of like Panetone is. The texture of Pandoro is similar to brioche it's slightly sweet but not overtly. I buy one or two every year to make bread pudding. When you use Pandoro the pudding is light almost fluffy because the bread does not have a dense crumb. For this I added some dark chocolate and orange marmalade. I suggest serving while its still warm so the chocolate is soft. - sdebrango
Makes 8 ramekins 3x1 1/2"
16

ounces Or approximately half of a Pandoro cut into large cubes (You can also use brioche if you cannot find pandoro

6

large eggs at room temperature

2

cups half and half or whole milk

1

cup heavy cream

1/4

cup sugar

1

teaspoon vanilla extract

4

ounces dark chocolate chopped

3

teaspoons orange marmalade

soft butter for ramekins

boiling water for bain marie
Cut the Pandoro or brioche into chunks. Break eggs into large mixing bowl, add the sugar and whisk until sugar is completely incorporated with the eggs. Add the half and half and vanilla and whisk well to combine. Add the cubes of Pandoro and stir gently. Let sit while you prepare the ramekins. Pre-heat oven to 350 degrees and take out a large roasting pan for the bain marie.
Chop the chocolate and add to the soaking bread. Butter the ramekins bottom and sides, place a tsp of marmalade in each ramekin and spread it on the bottom and half way up the sides. Spoon the bread into each ramekin and place in roasting pan. CAREFULLY pour the boiling water in the roasting pan about half way up the ramekins and carefully place in oven. Bake for 35-40 minutes until custard is set. Let cool for 15 minutes and serve immediately.
Jump to

Comments

(

15

)