Savory Masa Corn Cakes with Green Chile, Cheese and Lime Crema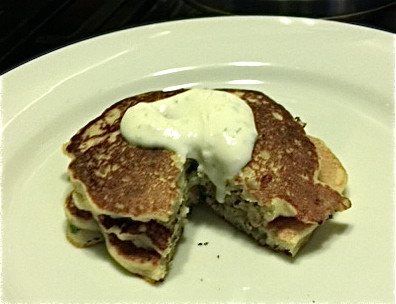 Author Notes: I was recently introduced to the wonderful world of savory pancakes via Yotam Ottolenghi's _Plenty_. I grew up in Los Angeles, and am always seeking to expand my cooking repertoire with the Mexican flavors that infused my childhood. - zindc
Makes 12-14 cakes
Masa cakes
1

cup masa harina

1/2

cup all purpose flour

3

tablespoons cornstarch

1

tablespoon baking powder

1

teaspoon salt

2

large eggs

2

tablespoons sour cream

2

tablespoons vegetable oil

1 1/2 - 2

cup milk

1/2

cup grated Monterey Jack cheese

1

cup corn kernels (fresh, frozen or canned)

2

ounces chopped green chile (1/2 a small can) or 1 roasted, peeled and chopped poblano

3

tablespoons chopped cilantro

3

tablespoons chopped scallions

1/2

teaspoon ground cumin
Whisk together dry ingredients.
Put eggs, 1 cup of milk, sour cream, oil and 3 tablespoons of the corn kernels in a blender and blend on high until liquified.
Combine with dry ingredients and add enough of remaining 1 cup of milk until batter is desired consistency. (It will be fairly thick.)
Stir in grated cheese, chopped green chile, cumin, scallions and cilantro.
Spoon onto heated griddle and sprinkle 1Tbsp. of corn kernels on each cake before turning.
Lime Crema
1

cup sour cream

1

fresh whole lime, zest and juice

1/4

teaspoon salt
Combine all ingredients.