Springtime Bacon and Egg Fried Rice
18
Save
If you like it, save it!
Save and organize all of the stuff you love in one place.
Got it!
If you like something…
Click the heart, it's called favoriting. Favorite the stuff you like.
Got it!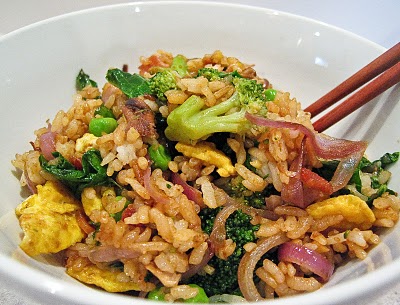 Author Notes: The great thing about fried rice, is that pretty much anything goes, which makes it a fabulous way to show off pretty much any seasonal produce. It is especially fabulous in the spring, when farmers' markets are abundant with greens that you've never heard of, like komatsuna and garlic scapes. - The Spiced Life
Serves 6
4

large eggs, whisked

4

thick slices bacon, diced

6

cups cooked leftover rice (do not use fresh rice–if you must, cook it an hour in advance and spread it onto a cookie sheet and place in the freezer for 20 minutes)

6-8

cloves garlic, minced

2

tablespoons minced ginger

4

green garlic roots or scapes (they look like scallions, which you can sub in a pinch), cleaned and chopped, white and light green parts separated from dark green

4

handfuls shitake mushrooms, cleaned and stems removed, thinly sliced

4

handfuls komatsuna leaves, stems removed and roughly chopped (can sub spinach)

10

ounces frozen or fresh peas

2-3

handfuls snow pea pods or broccoli

2-3

tablespoons Chinese soy sauce (I prefer dark but light is more traditional)

1

tablespoon sesame oil

1

tablespoon honey
Make sure all of your ingredients are prepped before starting. The bacon and eggs will cook more slowly, but once they are done this dish takes moments to prepare.
Begin by scrambling the eggs in a large nonstick skillet (or wok), lightly brushed with oil. Remove the eggs and set aside in a bowl when done. Do not overcook.
Place the bacon in the skillet and cook over medium heat, tossing occasionally. When the bacon is browned, remove it with a slotted spoon and place in a bowl. Set aside. Pour off all but 2 tablespoons of the bacon grease and return to the heat.
Turn the heat to high and add the sliced red onion. Cook for 2 minutes, stirring, until wilted and becoming translucent. Add the garlic, ginger, and the white/light green parts of the green garlic. Cook, tossing, for another 2 minutes. Add the shitake mushrooms and cook for another minute.
Add the rice. Depending on how your veggies have cooked (i.e., if your pan is too dry), you may need to add a drizzle of oil. Also, depending on your rice, you may need to vigorously break up the clumps while tossing it (I used a leftover sticky Japanese rice so it was quite clumpy). Toss and break the rice up for 1-2 minutes.
Add the komatsuna leaves and fresh peas (if using–add frozen ones later) and the soy sauce and toss for another minute. Add the frozen peas (if using) and snow peas (or thawed frozen broccoli) with the sesame oil and toss; add the bacon and eggs back into it and toss to distribute until everything is heated through. Toss the honey in. Taste for additional soy sauce.
I like to serve with an assortment of condiments, such as soy sauce, duck sauce, Thai sweet-hot garlic dipping sauce, chili garlic sauce, etc.