Trout Kabayaki with Avocado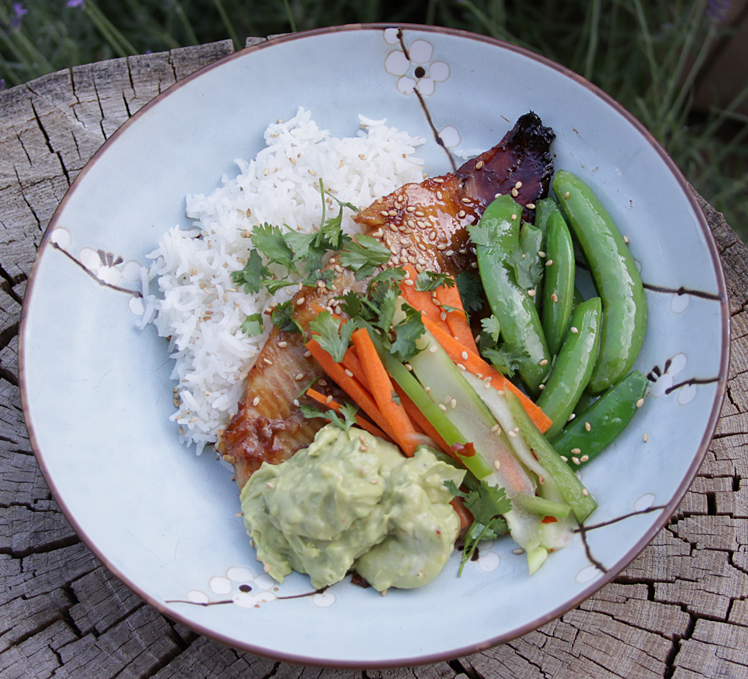 Author Notes: Recently Grace Parisi had a recipe for trout using the typical sticky sweet unagi sauce. We eat eel on rice with avocado quite a bit and I was really intrigued by the idea of using trout which is so easy to find in Colorado so we tried it with a few modifications. I was surprised at how eel-y trout turned out to be. This dish is quick, cheap and satisfying. We use a green vegetable of some form and had sugarsnaps this time, but we usually do a sesame kale or spinach. - savorthis
Serves 2
Trout
1

medium shallot, chopped

1/4

cup soy

1/4

cup mirin

1

tablespoon ginger, chopped

2

tablespoons sugar

2

trout fillets
Accoutrements
1/4

cup rice vinegar

1/2

teaspoon sambal

1

teaspoon salt

2

teaspoons sugar

pepper

2

carrots, julienned

1

cucumber, julienned

1

jalapeño, seeded, julienned

1

avocado

2

tablespoons mayo

1

tablespoon sweet chili garlic

1/2

lime, juiced

1/2

teaspoon soy

sesame seeds

cooked rice

cilantro

a green side (asparagus, sugarsnap peas, kale, spinach) cooked quickly in oil with garlic
Mix vinegar, sambal, sugar, s&p until dissolved. Add carrots, jalapeño and cucumber, toss and set aside. This can be done a day or two ahead and stored in the fridge.
Preheat broiler.
Cook the shallots over medium low heat in some oil until medium brown. Add ginger for a few minutes then soy, mirin and sugar and simmer on low for about 12 minutes or until thick. Be careful to not burn. Cool and blend. Set aside.
Broil trout skin side up for a couple minutes and remove skin. Slather sauce on trout and broil for a couple minutes slathering twice more. Gently flip and do the same for a few more minutes. Set aside.
Mash avocado and mix with mayo, sweet chili, soy, lime and s&p to taste.
Put a mound of rice on a plate. Top with trout, pickled veggies, your green veggie of choice and avocado. Garnish with sesame seeds and cilantro.