avocado with pomegranate molasses tomatoes, citrus, and basil.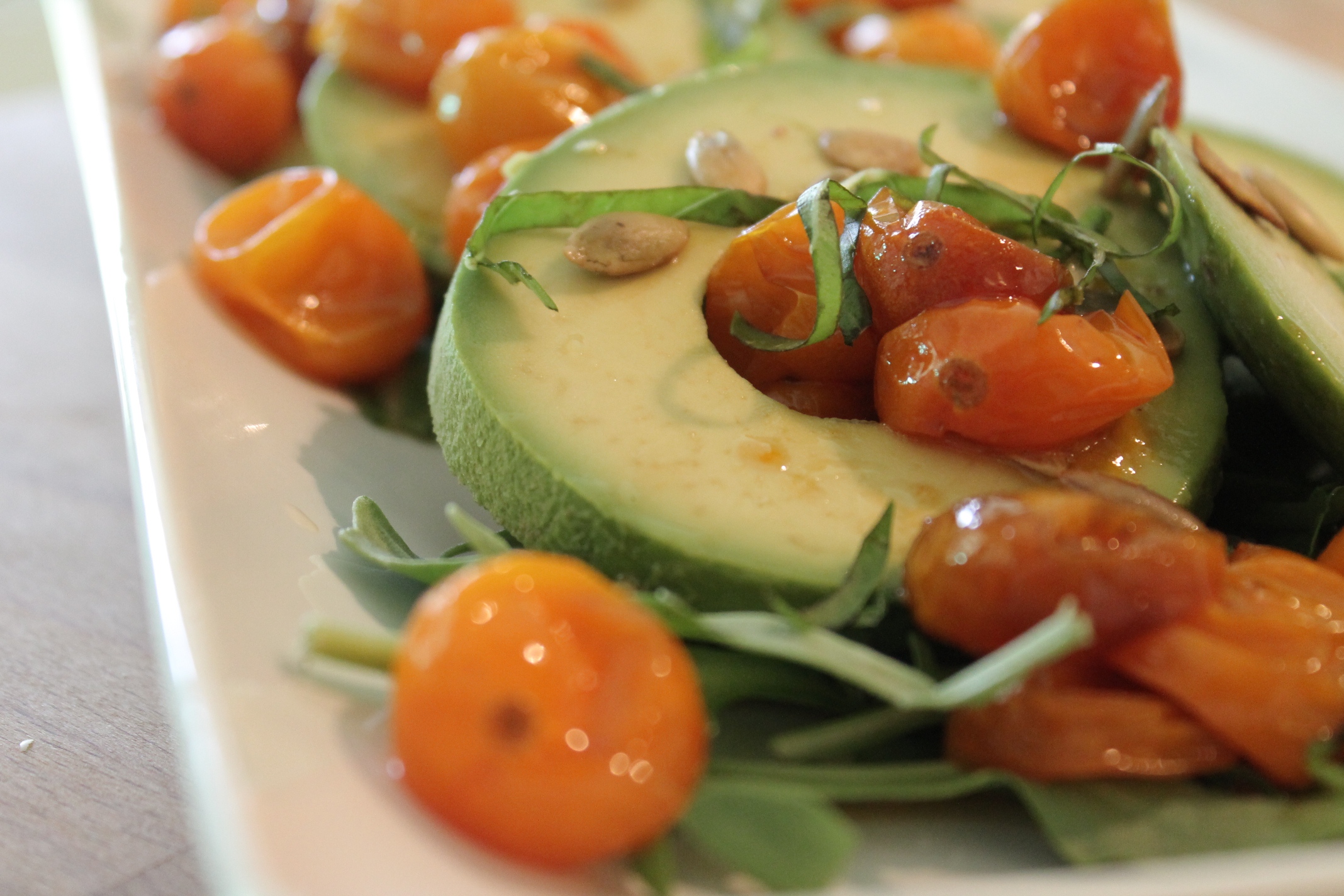 Author Notes: I'M BAAAAAAACK! I hope that was creepy when you read it in your mind. I've been stuck in this really intense, conservatory style, acting program (super fun, don't get me wrong) with no time for recipe-making, which is sad. I've been quietly making my fellow classmates roasted chicken and strawberry jam sandwiches, but when my sister, arielleclementine, told me that y'all we're doing an avocado contest, I just had to contribute! I make a habit of peeling avocados and eating them like hand fruit while standing alone and pantsless in my kitchen. This salad is vegan, which is so unlike me, as I also often eat blocks of cheese like hand fruit, but the bright citrus and tangy sweet tomatoes are full of flavor, especially when backed by the creamy richness of the avocado. I hope you enjoy my recipe. I promise I wore pants while creating this dish. - Helenthenanny
Serves 2-4
1

cup sungold cherry tomatoes

1

tablespoon grapeseed oil

1

tablespoon pomegranate molasses

1

handful arugula

1

large avocado

1-2

pink variegated lemons

1/2

lime

1/2

teaspoon pomegranate molasses (yes, more!)

1

small handful roasted and salted pepitas

2-3

fresh basil leaves

kosher salt
Preheat oven to 400.
Place a piece of parchment on a foil lined baking sheet and arrange tomatoes in the center. Pour 1 tbsp grapeseed oil and 1 tbsp pomegranate molasses over tomatoes and rub em til they're covered in oil. Sprinkle with kosher salt. The molasses will pool on the baking sheet, so be sure all of the tomatoes are swimming in that pool. Bake for 25-30 minutes, until tomatoes are beginning to burst and look a bit caramel-y.
Lay out a bed of arugula on your serving dish.
Combine the juice of the pink variegated lemon(s) with the lime and 1/2 teaspoon of pomegranate molasses in a small bowl. Set aside for a moment.
Slice avocado into large sections (I sliced mine lengthwise, because that seemed sexier to me) and arrange them over the arugula. Sprinkle slices with kosher salt.
Pour all of the citrus mixture over the avocado. Add tomatoes straight from the oven so that they're still warm when you serve it. Top with pepitas and chiffonaded basil.
Take off your pants and enjoy!
Jump to

Comments

(

12

)