Ooey Gooey Toasted Cheese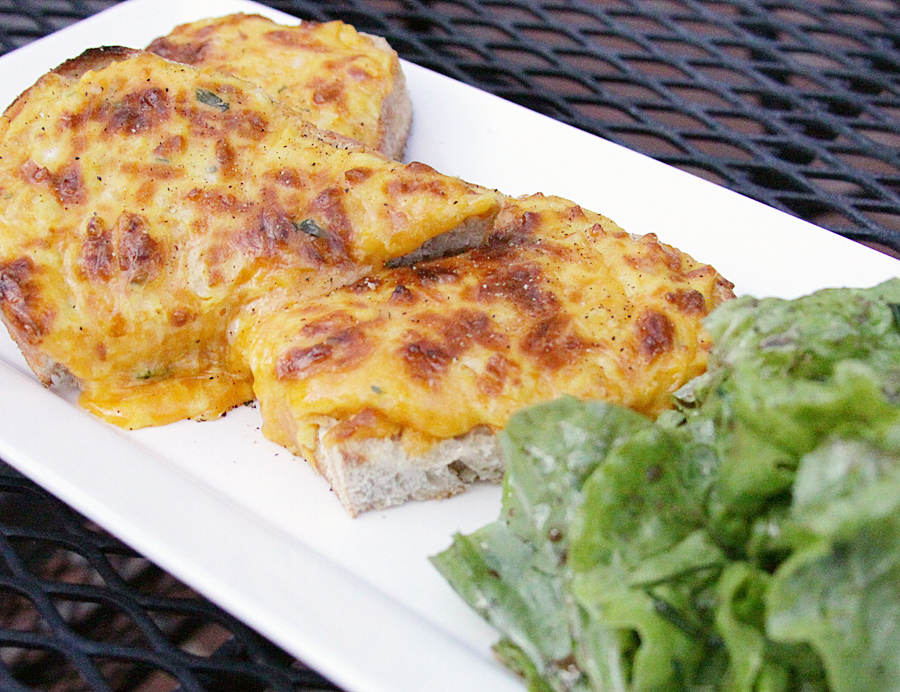 Author Notes: When I was kid my dad was on a mission. He had an ancient and fond memory of a puffed, toasted cheese on toast and set out to reproduce it. His version used the tub of spreadable, sharp cheddar, mustard, mayo, salt and pepper and was done in the toaster oven. A few years later, when he bought a giant, illegal (for a house) restaurant stove, he'd tuck them under the flames of the salamander until achieving bubbly goodness. I am not sure if he ever reached his goal, but I loved being his test subject. He would never add onions, as I have, but it seemed a worthy addition. This is now my memory and I can do what I want with it. - savorthis
Serves 4 apps or entrees (with a salad)
butter

really good, crusty bread (I used rosemary sourdough)

1 1/2

cup very sharp cheddar, shredded

1

tablespoon mustard (dijon or colman's)

1

teaspoon worcestershire

1

teaspoon mayo

1

pinch thyme

1

teaspoon onion, finely minced

1

egg yolk

pepper
Preheat broiler. Butter one side of two large or four small, thick slices of bread and toast under broiler until brown. Flip over onto cookie sheet.
Mix remaining ingredients and spread onto bread. Return to oven and cook a couple more minutes until puffed, browned and bubbly. Grind fresh pepper on top.
I served this with a simple butter lettuce and chive salad with balsamic vinaigrette (aged balsamic, dijon, olive oil, s&p). The sweet vinegar and mustard are a great match.