62
Save
If you like it, save it!
Save and organize all of the stuff you love in one place.
Got it!
If you like something…
Click the heart, it's called favoriting. Favorite the stuff you like.
Got it!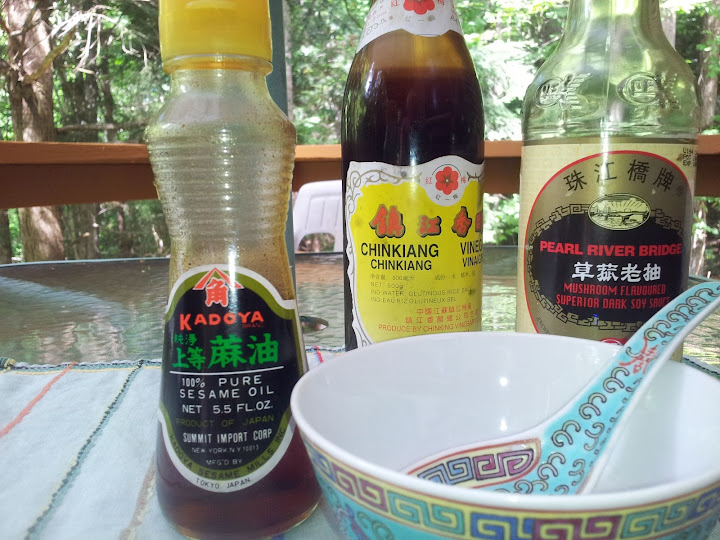 Author Notes: Pasta salads can be considered comfort foods. This one may knock you a bit out of the comfort zone, into the Umami Zone. The flavors are so appealing that you may already have found a new level of comfort there.

My favorite Japanese-style cold noodles are made with soba and udon, but curly noodles hold their sauce better and are easier to eat. This one looks best on day one, but the flavors benefit from a night in the fridge. - susan g
Food52 Review: This noodle dish is exotic, fresh, and light, yet very full-bodied and rich in flavor. What seems like an oxymoron of descriptions is formed by the complexity of this dish's ingredients: the sauce is nutty, salty, and a little spicy, the mushrooms lend a woodsy taste, and the bok choy (which I swapped the broccoli out for) and shallots lend a vibrant, bright green crunch! I preferred this dish 'cool' over cold -- only leaving it in the fridge for a couple of hours seemed to bring out the flavors better than overnight.  - Alexandra K
Makes about 6 cups
1 1/2

tablespoons sunflower oil, or another neutral oil

1

teaspoon toasted sesame oil

1

tablespoon Chinese mushroom soy sauce

2

tablespoons Chinkiang black vinegar

1/2

teaspoon chili-garlic sauce (see note)

4

ounces broccoli

4

ounces mushrooms (I like shiitake)

2

ounces shallots

4

ounces curly pasta, like fusilli or radiatore

4

ounces firm tofu
Cut the broccoli into small florets. Peel the tender part of the stem and cut into thin, diagonal slices. Add stems to the boiling water, then add the florets once the water returns to a boil. Blanch only until they are bright green, drain, then run under cold water. Cut the mushrooms in wedges, no bigger than the florets (if you use shiitakes, use the caps only). Thinly slice the shallots, breaking up large heads first. Add the prepared vegetables to the sauce.
Cook the pasta until just al dente, then run under cold water until cooled. Stir into the bowl with vegetables.
Chill until ready to serve. Cut tofu into small cubes, mix into the bowl, and you're all set.
NOTES: The chili-garlic sauce I use is Huy Fong ("Rooster"). For other brands, or dry crushed chilis, adjust to your taste. For a gluten-free version, I use Ancient Harvest Garden Pagodas (quinoa-corn pasta) and gluten-free soy sauce.
Jump to

Comments

(

9

)