Maryland Crab and Vegetable Soup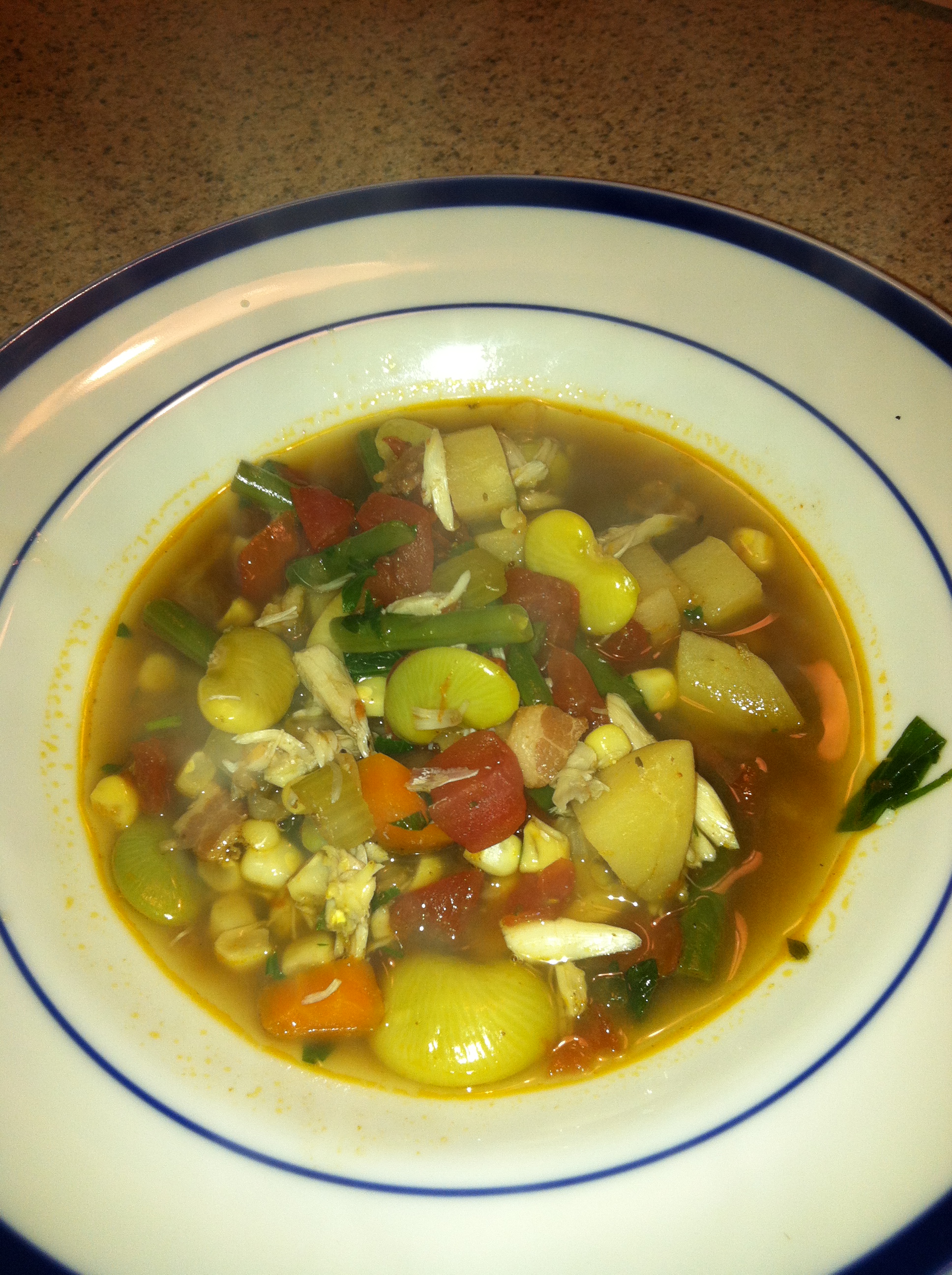 Author Notes: My absolute favorite soup is one that is served in every good Annapolis establishment. There is a major rivalry between the lovers of the brothy, veggie-filled Maryland style soup vs. the cream of crab soup. I love the Maryland version because it is light but substantial . . . more stew-like. This soup is so perfect for this time of year when we still have loads of silver queen corn, beautiful tomatoes, and even lima beans at the farmers market. Typically, this soup uses a beef broth base, but I wanted to stay true to the shellfish and made a crab stock. Its pretty time consuming to pick all the crab and make the stock but I promise its worth it. If you want to save time - I suggest a mixture of seafood stock and beef broth in lieu of the crab stock. If you forgo the crab picking just use 1 pound of crab meat. Serve with crusty good bread and you have a healthy, one-pot meal. Note - I put a medium amount of Old Bay in this - I love more - but some people don't appreciate all the spice. Add more if you like or serve on the side with your soup. I hope you will join my side of the long running crab soup battle :) - meganvt01
Makes a big pot!
Crab stock
10 - 12

steamed blue crabs

1

onion, cut into quarters

2

bay leaves

1

tablespoon black peppercorns

8

baby carrots (or 2 large ones broken up)

2

ribs of celery, broken in large pieces

1

bunch thyme

1

bunch parsley
Welcome to picking crabs! I hope you'll give this a try. (For a true beginner, I'd suggest you consult a You Tube video - I don't think my description would do the process justice). Remove the meat from the claws (reserve) and reserve the claw shells. Remove the carapace (top shell) and remove the material behind the eyes (discard). Reserve the shell. Remove the lungs from the crab (discard). Collect the meat and reserve and toss the shells into your stock pot. You should have about 1 pound of meat.
In large stock pot - place your shells and cover with water. Bring this to a boil for about 10 minutes and skim off the foam and other impurities.
Add the rest of the ingredients and simmer for 1.5 - 2 hours. You'll have to taste and see if you want the flavor a bit more intense. I took mine off after 1:50 minutes. Strain the stock and set aside.
The soup
1

recipe crab stock above (about 8 cups) or a mix of seafood and beef stock

1

cup onion, diced

1

cup carrot, diced

2

cloves garlic, minced

1

cup celery, chopped

1 3/4

cup waxy potatoes (such as yukon gold), diced

4

cups beefsteak tomatoes, chopped, juice reserved

1 1/2

cup corn kernels

1 1/2

cup lima beans

1 1/2

cup green beans, cut into one-inch sections

2

slices of bacon, chopped

1

tablespoon extra virgin olive oil

3

tablespoons Old Bay Seafood Seasoning

3

tablespoons Worcesershire sauce

2

tablespoons parsley, chopped

1/3

cup white wine

1

pound blue crab meat (picked from your whole crabs above or purchased)
In a large stock pot, heat the olive oil and the bacon over medium heat. Allow the bacon fat to render out and get a bit crisp - about 5 minutes over slightly less than medium heat.
Add the onions, carrots, garlic, and celery to the pot. Over medium heat saute the veggies in the bacon bits and fat until softened - about 10 minutes.
Add the white wine to the pot, scrape up all the nice browned bits. Let reduce for 3 - 5 minutes (about half volume)
Add the stock and bring to a boil.
Add the potatoes, tomatoes, lima beans, green beans, Old Bay, and worcestershire sauce. Bring to a boil and reduce heat to medium. Simmer for 20 minutes.
Add the corn and crab. Simmer for another 10 minutes.
Taste for seasoning - Old Bay is rather salty so I don't add any salt until this point. Stir in parsley and serve with a big hunk of crusty bread and extra Old Bay for spiciness.
Jump to

Comments

(

3

)