Leftover Turkey Sort-of-Stroganoff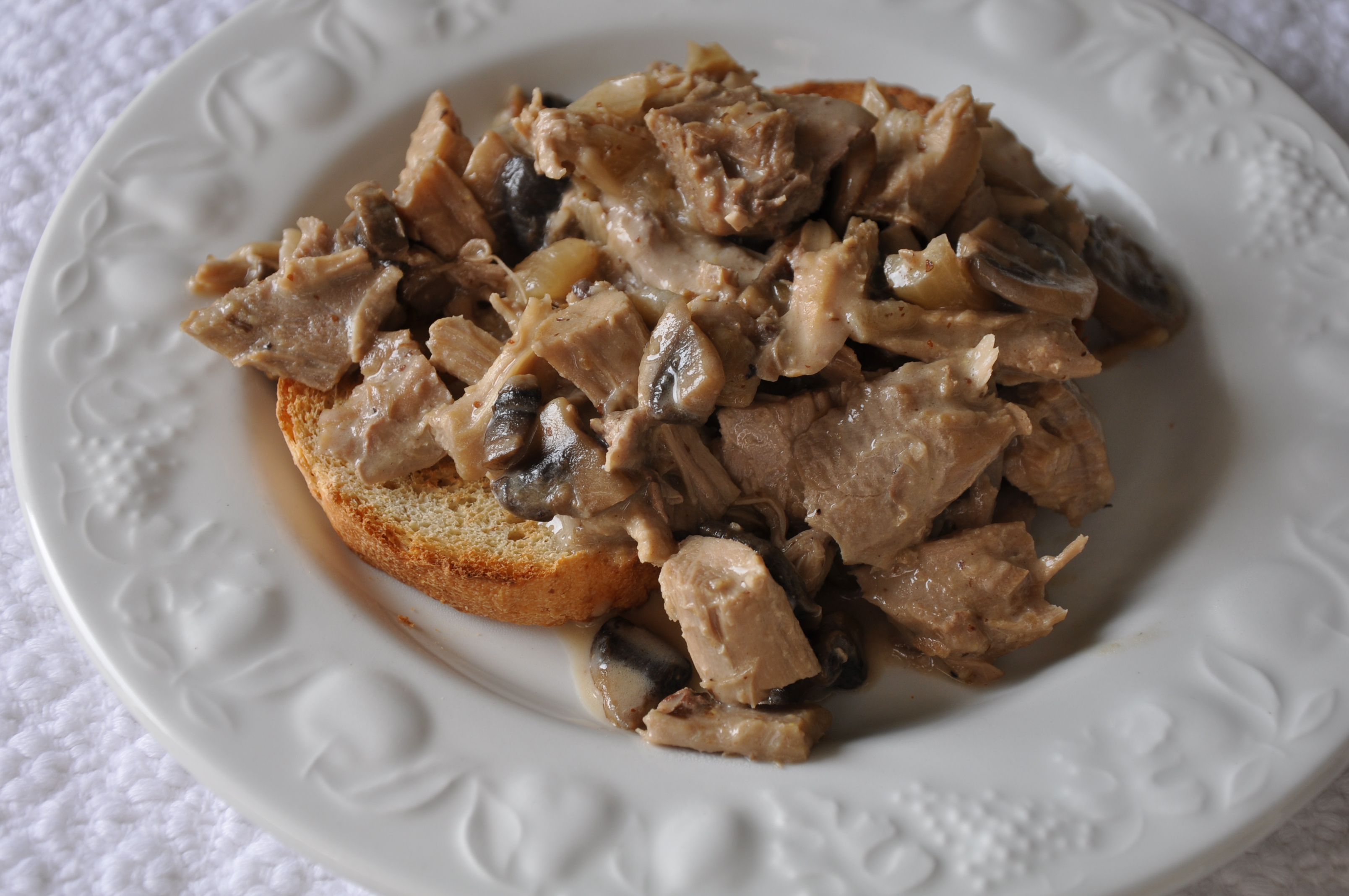 Author Notes: This is such a great dinner for the day after Thanksgiving. It's quick and easy to make but is also tasty and satisfying – real comfort food. It's also wonderfully adaptable, as you'll see below. We make all of our own bread, and realized a long time ago that anything you can put over noodles or put in a casserole tastes even better over a thick slice of toast. We particularly like this one over rosemary bread. This dish needs some color, so we usually serve it with leftover sweet potatoes, if we have them, or oven roasted carrots and a salad. My favorite for this dinner is a simple red leaf lettuce tossed with citrus vinaigrette -- using my homemade champagne vinegar-- over which we put beets that have been drained well. You can also serve this atop leftover mashed potatoes. Or dump it in a casserole and cover with mashed potatoes, which you bake until the top is brown, for a turkey shepherd's pie. - AntoniaJames
Serves 4
3

cups leftover roast turkey, chopped into bite size pieces

1

large white or yellow onion, cut in half and thinly sliced

12

ounces sliced crimini mushrooms

4

tablespoons butter

2

tablespoons flour

1

tablespoon bacon fat (or butter, if you prefer)

1 1/2

cup turkey stock

2

teaspoons stoneground mustard (preferably with horseradish)

2

tablespoons white wine

1-2

teaspoon worcestershire sauce

1/4 - 1/2

cup sour cream (light or regular)

Salt and pepper, to taste

Toasted bread, or egg noodles, or brown rice
Saute the onion for several minutes over medium heat, stirring, in 1 tablespoon of the butter and in the bacon fat. You can use all butter instead, or substitute oil if you prefer.
Add the mushrooms and sauté them until just soft, stirring occasionally. Remove the sautéed vegetables with a slotted spoon and set them aside.
Add the remaining butter to the pan and melt over medium heat, stirring. Slowly sprinkle in the flour, stirring for several minutes to combine, until the mixture starts to brown a bit more.
Gradually add the turkey broth, whisking continually to incorporate all the ingredients. Add the mustard, wine, and, if you're using it, the Worcestershire sauce. Stir well.
Stir in the onion and mushrooms and cook over medium heat for another two to three minutes.
Over medium heat, add the sour cream and whisk it vigorously until everything is combined. Watch it carefully, as the sauce should not boil. Test and correct the seasoning.
Stir in the turkey, and simmer until the turkey is heated through.
Serve over thickly sliced bread which has been toasted. People who don't eat wheat can put it over brown rice. (Use brown rice flour or barley flour in the roux if wheat allergies are a consideration.)
You can also serve this over noodles, or stir it into noodles, top with small cubes of bread, drizzle some melted butter over it and pop it into the oven to make a casserole.
Enjoy!!
Jump to

Comments

(

4

)
Tags: casserole, leftovers, mushrooms, sour cream, toast