Grilled Calf's or Beef Liver Served With A Famous Romanian Sauce Mujdei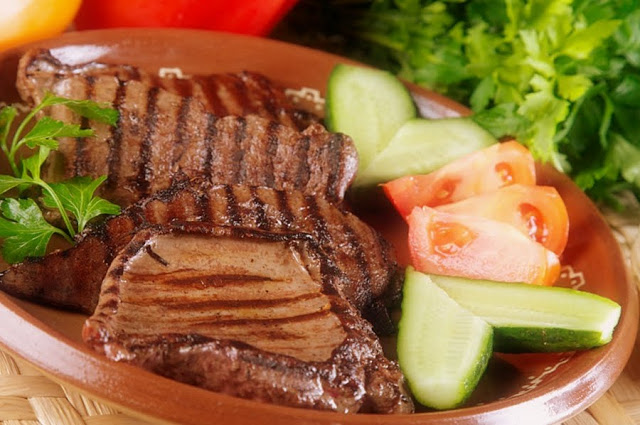 Author Notes: Please do not say YAK before you make and taste this liver dish. Liver perfectly cooked is perfectly delicious. Grilled until golden on the outside but still rosy and tender inside, it is truly luscious.
Because liver is an organ meat, its flavor is usually rich and intense. Beef liver from calves is the most palatable meat because the flavors have less time to intensify. When you prepare this dish, marinate beef liver before cooking it. By marinating it, the meat will become tender and the flavor will mellow to make a delicious beef liver meal. - Kukla
Serves 4-6
For the Mujdei sauce (Makes 1 cup)
• 1 bunch parsley, leaves finely chopped

• 1 bunch dill, fronds finely chopped

• 2 -3 large garlic cloves, finely minced or pressed

• 1/4 cup sherry vinegar

• About 1 1/2 teaspoons coarse salt

• 1/2 teaspoon red pepper flakes

• 1/2 teaspoon freshly ground black pepper

• 1/2 cup strong concentrated chicken broth, at room temperature
Place the parsley, dill and garlic in a medium mixing bowl and toss to combine. Add the vinegar, salt, red and black pepper and stir. Pour in the chicken broth and mix until well combined. Let sit for 30 minutes so that the flavors blend.
For the marinade; marinating and grilling liver
• Juice of 2 lemons

• 3 tablespoons olive oil

• 1/2 cup dry sherry wine

• 1 teaspoon fresh ginger, finely ground

• 1/4 teaspoon red pepper flakes

• 2 tablespoons fresh parsley, chopped

• 2 pounds calf's or beef liver, cut into about 1 to1 1/2-inch thick slices

• 1/2 cup melted butter

• Salt and freshly ground pepper to taste
To make the marinade: Juice the lemons and place the juice into a glass bowl; add the olive oil, sherry wine, parsley, ginger and red pepper flakes to the bowl and mix the ingredients well.
Rinse the liver with hot water and loosen the membrane covering the meat with your fingers. As you hold the liver under hot running water, pull the membrane off the liver and discard it. Place the liver into a shallow dish.
Pour the marinade over the liver, and flip it several times to coat all sides with the marinade. Cover the dish with plastic wrap and place it in the refrigerator. Chill the liver in the refrigerator for about two hours.
Preheat a charcoal or gas grill to medium-high. Remove the liver from the glass dish; discard the marinade and dry very well with pepper towels.
Dip liver slices in the melted butter. Place on the grill about 4 inches above the fire. Grill until liver is browned, for about 3 minutes per side. Turn once. Do not overcook; it should be still pink inside.
Remove from grill to a serving platter, sprinkle with salt and pepper and tent with foil for about 10-15 minutes; then, if you like, slice into thinner slices on a bias. Serve with the mujdei sauce. Grilled or sautéed in oil and butter onions and mushrooms is a very traditional side dish for liver.
Jump to

Comments

(

14

)