Baked Coconut Tofu with Spiced Coconut Rice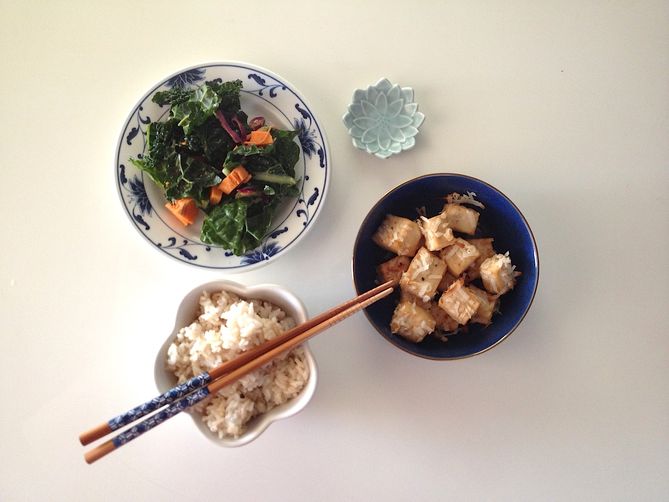 Author Notes: This meal was inspired by an 8 year old vegan. My daughter's friend, Caycie, is the sweetest little girl, with a face like a porcelain doll, and has been a vegan as long as she remembers. There's only one problem: she doesn't like most vegetables! Also, she doesn't like her food to touch other food. When I sat next to her on a field trip to Chinatown, I watched her carefully put rice on her plate, with a few peas several inches away and a carrot slice or two also set apart. I thought, what does she eat? The answer came many months later, when my daughter came home asking for coconut tofu with coconut rice. Caycie had given her a few bites of her lunch, and she wanted me to make it for dinner. I asked her how it tasted-- was the tofu stewed in a coconut milk curry? No. Unsure of the recipe, my daughter said, "let's look it up on Google images." (Kids these days!) We did, and chose the recipe which most resembled Caycie's lunch. I've paired it with brown rice steamed with coconut milk and aromatic spices. This is a delicious and satisfying vegan meal, served with a salad on the side. One day, I'll get Caycie to eat the salad, too.

The tofu recipe is adapted from Living Beyond the Box's Oven-Baked Coconut Tofu Bites?http://livingbeyondthebox.com/2012/06/04/oven-baked-coconut-tofu-grilled-cilantro-lime-cabbage-quinoa/
- Beautiful, Memorable Food
Serves 4
Spiced Coconut Rice
2

cups long-grain brown rice

1 1/2

cup coconut milk

1 1/2

cup water

2

bay leaves

3

green cardamom pods, lightly crushed

1

cinnamon stick

1

pinch Kosher salt
Add all ingredients to the pot of a rice cooker and stir. Cook according to your rice cooker's instructions. You can also make this on the stove by bringing it all to a boil then simmering, covered, until all of the liquid is absorbed.
While the rice is cooking, prepare the tofu.
Remove spices before serving.
Baked Coconut Tofu
1

pound firm tofu

1 1/2

tablespoon soy sauce

2

tablespoons maple syrup

1

tablespoon sesame oil

1

teaspoon garlic powder

1/2

teaspoon freshly ground black pepper

4

tablespoons shredded coconut
Drain tofu, dry with paper towels and cut into 1 inch cubes. Set aside.
Place all remaining ingredients except coconut into a large Ziploc bag and stir until combined. Add in tofu cubes, seal bag, and gently shake until all pieces are evenly coated. Marinate for 15 minutes.
Preheat oven to 350F. Line a baking sheet with foil.
Place shredded coconut on a large plate. Remove tofu from marinade (reserve the marinade to use as a salad dressing), and dredge each piece through the coconut before placing on to the prepared baking sheet. Sprinkle any remaining coconut on top of the tofu cubes.
Bake for 20-30 minutes until lightly browned. Serve with Spiced Coconut Rice and a salad (I recommend shredded kale or sliced cucumber, dressed with the reserved marinade).
Jump to

Comments

(

4

)