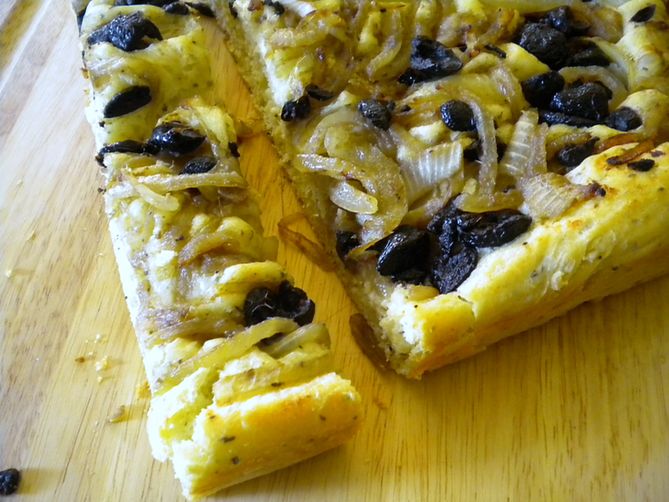 Author Notes: This is a version of Focaccia alla Barese, an Italian flat bread topped with anchovies, olives and onions. Mine is a softer moister bread due to the addition of egg and a quicker rise. Cut it in small pieces and pack it for a ride or simply enjoy it on the deck with a lovely glass of wine. (And for those of you who think you don't like anchovies, you'll probably never even realize that they're there!) - inpatskitchen
Makes one 9x13 inch loaf
For the bread
2 1/4 teaspoons active dry yeast

1

cup warm water (100 - 120F)

1

egg, lightly beaten

1

teaspoon dried oregano

1

teaspoon dried basil

2

tablespoons extra virgin olive oil

3/4

teaspoons salt

2 1/2 to 3 cups bread flour
In a large mixing bowl combine the yeast with the warm water and let the mixture rest for about 5 minutes. Stir in the egg, oregano, basil, olive oil and salt.
Start by slowly stirring 2 cups of the flour to the liquid mixture and then add more as needed to form a soft yet somewhat sticky dough. Cover and let rest for about 20 minutes.
After the 20 minute rest, turn the dough out into an oiled 9x13 inch baking pan. Since the dough is sticky use wet hands to press it into the pan evenly. Let this rest while you make the topping.
For the topping and baking
1

two ounce tin of anchovies packed in oil

1

tablespoon extra virgin olive oil

1

very large sweet onion, halved and then cut in very thin slices

25 to 30

oil cured black olives, pitted and roughly chopped
Drain the oil from the anchovies into a large saute pan and add the tablespoon of olive oil. On medium heat add the onions and start to saute.
Once the onions barely begin to soften, mince the anchovies and add them to the pan. Continue to saute until the onions just barely start to caramelize and the anchovies "disappear". Stir in the chopped olives and let the mixture cool.
Once cooled, spread the onion, anchovy and olive mixture over the bread dough and let rise another 30 minutes or so.
Pre heat your oven to 400F and bake the bread for 25 to 30 minutes until lightly browned. Remove from the oven and let rest in the pan for about 10 minutes. Use 2 spatulas to lift from the pan and let the bread cool to room temperature. Cut into small pieces to serve.