Grilled Garlic Bread Panzanella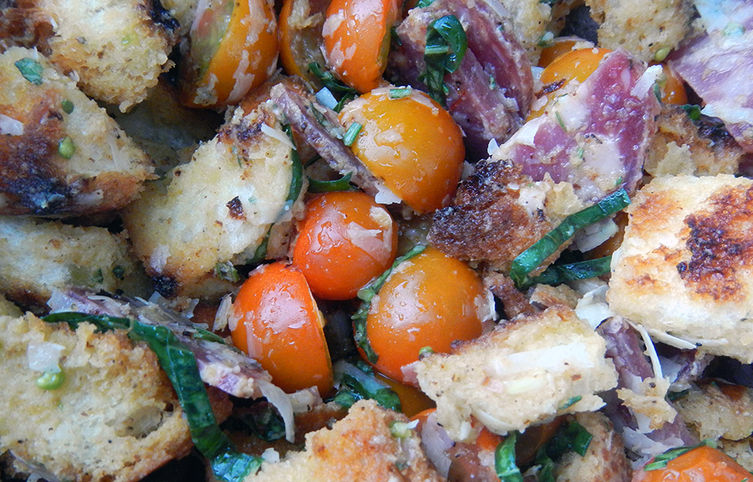 Author Notes: We're having a rarish streak of heat and humidity, so cooking is not high on my list of things to do. For supper I decided to throw together some odds and ends I had left over. I had about a quarter loaf of "French" bread (the kind from a grocery store you might use to make garlic bread), a pint of cherry tomatoes, basil, and some left over hard salami. I decided to turn it into a panzanella, so added some olive oil, sherry vinegar, Pecorino, and garden herbs to the mix. The bread was still soft, so I used my grill to toast it, then rubbed it with cut garlic. Cubed and tossed with the other ingredients, it softened nicely but maintained some texture. The garlic and herbs permeated the mixture, and elevated a peasant salad into a satisfying hot weather meal. - hardlikearmour
Serves 2 (entrée portions)
4 1-inch thick slices of French bread (more or less so there are about equal volumes of bread and tomatoes in the final dish)

extra virgin olive oil

1/3 cup chiffonade cut basil

1 ½ teaspoons minced rosemary

1 ½ teaspoons minced oregano

1 tablespoon sherry vinegar

¼ teaspoon kosher salt

¼ teaspoon freshly cracked black pepper

1 pint cherry tomatoes

1 large clove garlic

2 ounces hard salami

¾ ounce salty cheese (Pecorino, Ricotta Salata, Cotija, or Feta)
Heat grill on low for 10 minutes. Brush slices of bread with olive oil on both sides, then grill until toasted, several minutes on each side. Some char is good, but don't overdo it.
Place 3 tablespoons olive oil in a medium bowl. Chiffonade and add the basil, then toss to coat. Add the rosemary, oregano, vinegar, salt and pepper. Toss to combine.
Cut the cherry tomatoes in half, add to the bowl, and toss again.
Once the bread is toasted and cooled enough to handle, peel and cut the clove of garlic in half. Use the cut surface to rub one side of each slice of the toasted bread (each half of garlic will easily rub 2 slices). Cut the bread into cubes, and add to the bowl. Toss to coat the bread.
Cut the salami into thin half-moons, and add them to the bowl. Grate or crumble the cheese, and add it to the bowl. Toss to combine. Allow the mixture to rest for 10 or so minutes, then toss one last time, and serve.
Jump to

Comments

(

6

)