Spiced Cauliflower, Pickled Fig, and Almond Salad
53
Save
If you like it, save it!
Save and organize all of the stuff you love in one place.
Got it!
If you like something…
Click the heart, it's called favoriting. Favorite the stuff you like.
Got it!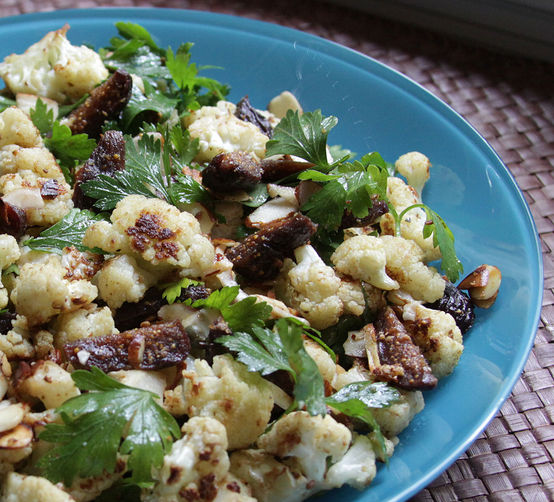 Author Notes: My obsession with making salads spiked with pickled vegetables and fruits continues. This time I roasted cauliflower in a toasted spice oil which later got a zap of lemon juice to balance the sweetness of the pickled figs. Some capers added a briny goodness, while toasted almonds played nicely with the roasted cauliflower. A big handful of parsley added a fresh bite, tying the whole flavor profile together. It is wonderfully balanced and satisfying as a meal on its own, but equally good with grilled meats or pasta. It will hold up in the fridge for a couple days. - savorthis
Food52 Review: Without a doubt, this delicious salad would stand out among typical side-dish offerings. The roasting brings out the sweetness of the cauliflower and, together with the figs and almonds, this trio is nicely balanced with the tanginess of the capers, vinegar, and lemon juice. The spiced oil pulls everything together with its toasty richness. This flavor combination lends itself to a variety of entrees -- grilled fish or meat would be deliciously complemented -- but I could also see this as part of an exotic Moroccan-inspired menu. Then again, a bowlful of leftovers (if there are any) works for breakfast, too! - JuliaG
Serves 4
1 1/2

teaspoons cumin seed

1 1/2

teaspoons coriander seed

1/2

teaspoon fennel seed

1/4

cup olive oil

1

head cauliflower, cut into small florets

2

garlic cloves, thinly sliced

1/4

cup sherry vinegar

1/4

cup water

1

tablespoon salt

2

tablespoons sugar

12

dried figs, quartered

1

tablespoon lemon juice

1/2

cup sliced almonds, toasted

1

tablespoon capers

1

cup parsley, packed
Preheat oven to 400° F.
Toast spices in a pan until just fragrant. Grind in a mortar and pestle or spice grinder and stir in olive oil. Toss cauliflower with half of spiced oil and garlic and season well with salt and pepper. Roast in oven about 25 and 30 minutes until tender and browned in places, stirring a couple times.
Meanwhile, heat vinegar, water, salt, and sugar until dissolved and steep figs until softened. Remove figs with slotted spoon. (The vinegar can be saved and mixed with oil and a bit of mustard for a nice vinaigrette later.)
Add lemon juice to remaining spiced oil and drizzle a couple tablespoons over cauliflower. Add almonds, figs, capers, and parsley and toss well to coat. Season with additional salt and pepper if needed.