Farro, Gold Beet, Feta and Maple Pecan Salad with Chive-Sage Oil Dressing
8
Save
If you like it, save it!
Save and organize all of the stuff you love in one place.
Got it!
If you like something…
Click the heart, it's called favoriting. Favorite the stuff you like.
Got it!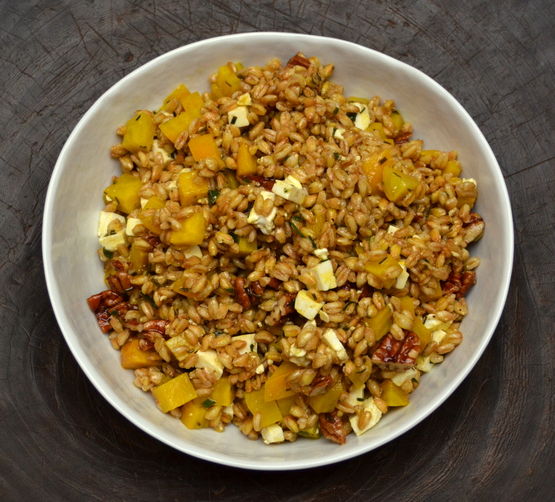 Author Notes: This is a beautifully autumnal dish, although I admit to making it year round. Farro is such a delicious grain and when paired with roasted golden beets, tangy feta, pecans glazed with maple and cayenne and dressed with a fresh herb dressing of chive-sage oil and lemon, you've got a healthy side that bursts with flavor and seasonal freshness. It adds a visual wow to your table too! - em-i-lis
Serves 4-6
3

golden beets

1¾

cups vegetable broth

1

cup farro

1/3

cup extra virgin olive oil

2

teaspoons kosher salt, divided

1

tablespoon + 1 teaspoon chopped fresh chives

1

teaspoon chopped fresh sage

juice of half a lemon

freshly ground black pepper

1/3

cup pecans

2

tablespoons maple syrup (preferably Grade B)

1

dash (small) cayenne pepper

a piece of foil sprayed with nonstick spray

1/3

cup crumbled feta (preferably a good tangy and creamy one in water so it's not too dry)
Preheat the oven to 385° F. Wash and trim (but don't peel) the beets, and wrap them individually in foil or place them snugly in a small baking dish and cover tightly with foil. Cook 35-45 minutes, or until easily pierced with a knife. Remove from oven and let cool until you can peel them. Peel and then chop into ½" cubes and reserve.
In the meantime, pour the broth into a 2 quart saucepan, cover and bring to a boil. When it's boiling, pour in the cup of farro, reduce the heat so that you can maintain a nice simmer, and cook until just on the tender side of al dente, 15-25 minutes. Drain and reserve.
In the meantime, heat the olive oil in a small saucepan until very warm. Remove from heat and add the chopped chives and sage as well as 1 teaspoon of kosher salt, the lemon juice and at least ¼ teaspoon of freshly ground black pepper. Whisk together and then let rest until you need it.
In a small skillet set over medium heat, put the pecans. When the skillet is warm, pour in the maple syrup and the dash of cayenne. Stir continuously until the pecans are evenly coated and the syrup is bubbling nicely. Pour onto the sprayed sheet of foil and let cool.
In a mixing bowl, toss together the cooked farro, chopped beets, the crumbled feta, and pecans. Whisk the herbed oil dressing again and pour it over the farro salad. Stir gently until well combined, taste and add more salt if needed.
Jump to

Comments

(

4

)