Vegetarian/Vegan Sweet Potato Curry with Rice
6
Save
If you like it, save it!
Save and organize all of the stuff you love in one place.
Got it!
If you like something…
Click the heart, it's called favoriting. Favorite the stuff you like.
Got it!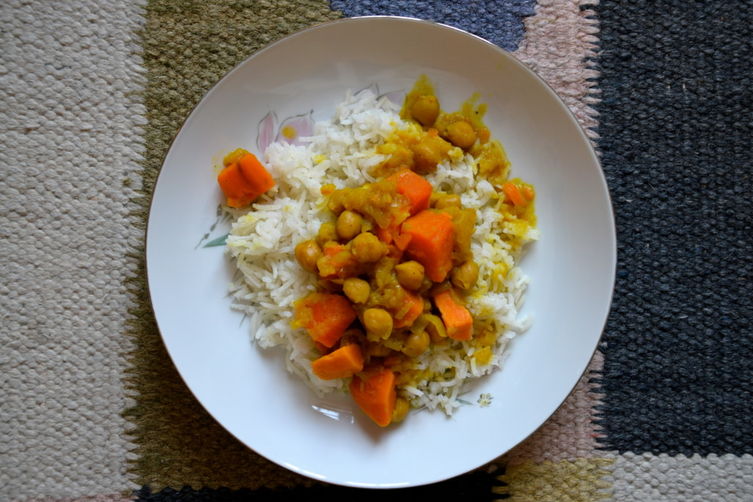 Author Notes: This recipe is inspired by "Süßkartoffelcurry" from a vegetarian cookbook called "Vegetarisch", which I believe is only available in Austria and Germany. So I thought why not share it with you guys at Food52 so more people can enjoy this simple yet awesome dish!
There are some ingredients listed that I am not using, simply because I like it better my way and it has become one of my absolute favorites! However, feel free to add whatever you'd like to taste in YOUR curry!
This totally down to earth dish is pretty easy and fast, although you have to let it cook for a while. It is exotic, hearty and loaded with flavor, which I LOVE and which is why I'm cooking some plain rice in addition to it, so it kind of neutralizes everything! The mixture doesn't look too good (don't get me wrong it doesn't look disgusting either), but the taste is incredible. Sooo, let's get started... - Roxane
Serves 4
28

ounces (800g) sweet potatoes

3

onions (200g)

2

apples (200g)

3.5

ounces (100g) chickpeas (i use canned ones)

2

tablespoons extra virgin olive oil

200

milliliters (6.7 fluid ounces) vegetable broth

2

tablespoons curry powder

salt

pepper
At first you want all your ingredients to be ready. Get your sweet potatoes: peel and cut them into 3cm (1.2 inch) pieces. Chop the onions and remove the skin of your apples, divide into eights. Then drain the chickpeas. (If you want to use dried ones just add 3 volumes water to 1 volume chickpeas and let them soak overnight. Before using cook for 45min.)
Now you want to heat the olive oil in a frying pan and sauté the onions until translucent. Then add the sweet potatoes and fry for about 2min. Stir your apples in, then add the vegetable stock. Bring to a boil. (At this point you could add mushrooms, if desired) Go in with the curry powder and the drained chickpeas. Let that simmer for 3min. Salt and pepper.
Leave this (covered) on a medium heat for about 30min. I do it differently every time. This part is completely up to you. If you want it to be more watery just add more vegetable stock. You'll see, the sweet potatoes are done quite fast so you want to check on them every once in a while! While the liquid is evaporating put some rice on. You're pretty much done now, just wait until your desired consistency is reached and enjoy your meal!
Jump to

Comments

(

0

)