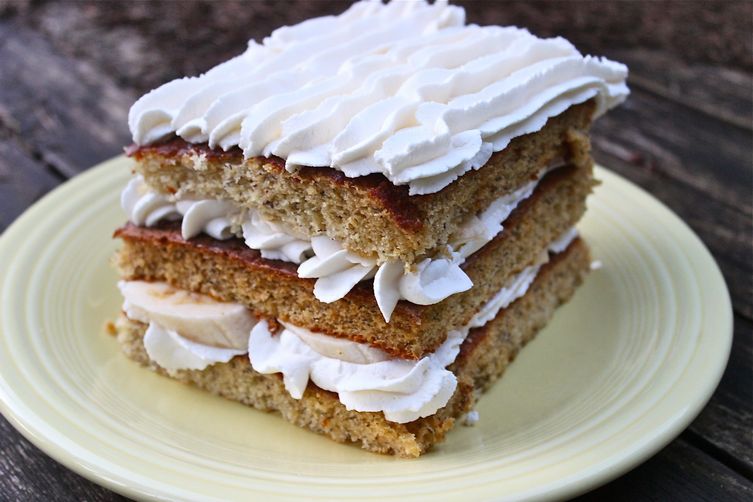 Author Notes: I grew up four blocks, a short walk, from Kienow's Bohemian Bakery. Whenever we needed a last minute dessert we needed a last minute dessert, we'd pick up one of their Bavarian Banana Cakes and our guests would fuss over it with a big smile. I even bought our wedding cake from them. But, by the time our first wedding anniversary came around, Kienow's doors were closed. Permanently.

Fortunately, the Oregonian soothed the angry community clamor by printing Kienow's recipe for their Bavarian Banana Cake. But, I never thought to make it until my husband requested a Bavarian Banana Cake for his 40th birthday party. I was determined to figure out my own version.

I used Kienow's banana cake recipe from the Oregonian, added a rum syrup to the cooling cake, and created a whipped cream and mascarpone frosting inspired by New Season's Bakery. This cake tastes light and creamy and is my husband and son's favorite cake. If you serve this at a party, just be prepared to share the recipe. Enjoy! - gravy lessons
Serves 12 - 16
Banana Cake
2

cups cake flour

1

cup granulated sugar, I use vanilla sugar

2

teaspoons baking powder

2

teaspoons baking soda

1

teaspoon salt

1/2

cup corn oil

1

cup very ripe bananas, mashed (approx. 3 bananas)

2 1/2

teaspoons vanilla

1/3

cup buttermilk

2

egg yolks

2

egg whites

1

teaspoon cream of tartar

1/2

cup granulated sugar

1/4

cup banana rum, or your favorite rum

1/4

cup granulated sugar
Whipped Cream and Mascarpone Frosting
2

cups whipping cream

1

teaspoon vanilla

3/4

powdered sugar

1/2

cup mascarpone

3

bananas, thinly sliced
Preheat oven to 350 degrees. In a large bowl, whisk together sifted cake flour, sugar, baking powder, baking soda, and salt. Add corn oil, mashed bananas and vanilla. Beat 1 minute in mixer. Add buttermilk and egg yolks and beat another minute. Then make the meringue.
In a separate bowl, with clean beaters, beat egg whites on medium. Add cream of tartar and while continuing to beat, add sugar gradually. Then beat on high until a stiff meringue forms. Fold the meringue gently into the cake batter until streaks just fade.
Pour cake batter into a jelly cake pan (large baking sheet with a high edge) that is buttered with the bottom lined with parchment paper and then floured. Bake in a 350 degree oven until toothpick inserted in center comes out clean, about 17-20 minutes. It takes 17 minutes in my oven. Cool for 10 minutes in the pan on a cooling rack. Then, flip it out onto a cutting board or cooling rack. While the cake cools in the pan make the banana rum syrup by combining the sugar and rum in a small saucepan over medium heat. Stir and simmer until it thickens. Then stab the cake with a toothpick or bamboo skewer and brush and spoon banana rum syrup over the surface of the cake. Let cake cool for one hour.
Frosting: Sift powdered sugar into a bowl and set aside. In a large chilled bowl, whip cream and mascarpone gradually adding the powdered sugar and vanilla. Whip ingredients together to firm peaks.
Cut the outside edges off of the cake to clean it up. Then cut the cake into thirds and then those thirds into half. Makes two cakes with three layers. Place one layer on a plate. Fill a pastry bag with a large star tip with frosting and pipe frosting onto flat surface of cake and top it with a single layer of banana slices. Place another layer of cake on top and repeat. Place the third layer of cake on top and pipe frosting into straight lines or stars. Refrigerate. It tastes best when it rests in the fridge for a few hours up to overnight. Then serve.
Jump to

Comments

(

0

)