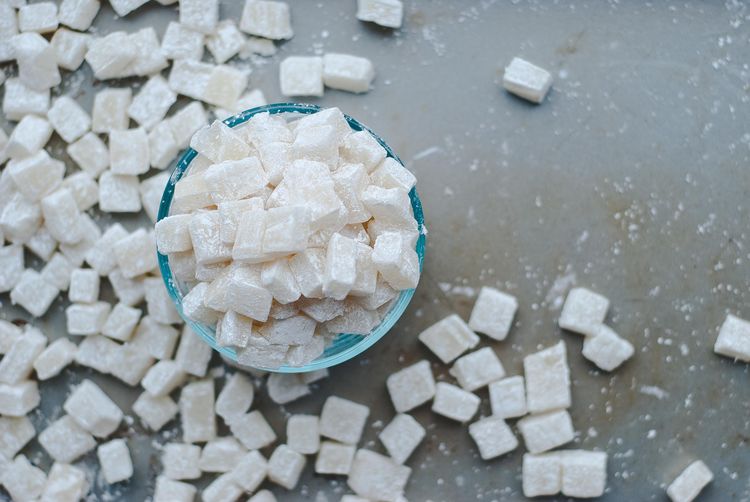 Author Notes: This is only a basic mochi recipe, waiting to be dressed up however you like. You can add about a teaspoon of matcha powder to the dry ingredients to make green tea mochi, or 1/2 teaspoon of flavored extract of your choice to the wet ingredients to flavor it to your liking. I've often seen the plain version colored with a few drops of red food coloring, too, to turn it a dainty pink. Finally, you can use it to wrap around fillings, like red bean paste or ice cream. - cynthia | two red bowls
Makes about 2 cups of small pieces
1

cup sweet rice (mochiko) flour

1

cup sugar

1/2

teaspoon baking powder

1

cup water

3/4

cups coconut milk, or about half of a 13.5-ounce can

Sweet potato starch or regular cornstarch for dusting
Preheat oven to 275° F. Line a 9- by 13-inch glass baking dish with parchment paper or grease it. (Note: A 9- by 13-inch dish will yield a thin layer of mochi, only about 1/4-inch thick. For thicker mochi, use a 9- by 9-inch glass dish and bake for longer, about 90 minutes.)
In a large bowl, whisk together the mochiko, sugar, and baking powder. In a separate bowl, whisk together the water and coconut milk together. Add the wet ingredients to the dry and whisk until the mixture is smooth and no lumps remain. Unlike most baking, you don't need to worry about over-mixing the ingredients, since mochi is dense and chewy to begin with. So whisk away! Some recipes even call for mixing all the ingredients, dry and wet, in a food processor all at once, and call it a day.
Pour the mixture into your lined baking dish. Cover tightly with foil and bake for 60 minutes. The mochi is done when it is soft and gelatinous but holds its shape when touched. (It's important to cover the mochi. Leaving it uncovered, as is the way with Chinese red bean rice cake, will result in a drier, cakier texture.)
Let cool completely or overnight. Dust a surface with your starch (alternatively, you can simply use more mochiko flour) and turn the mochi onto the surface. Sprinkle starch over the mochi. Wrap a knife in Saran wrap to prevent the mochi sticking. Using the wrapped knife, cut the mochi into small pieces, then dust again with starch or flour, and serve!
Jump to

Comments

(

27

)