Kipper Snack Breakfast (or Anytime) Sandwich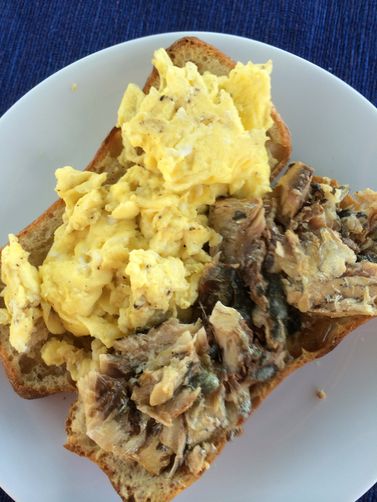 Author Notes:
Since early childhood I've adored kipper snacks -- cold-smoked, split whole herrings, thoughtfully sold in oval tins with key pulls for instant access. (You'll often find them labeled these days simply as "smoked herring"). My favorite way to enjoy them is for breakfast, on a ciabatta roll, whose big holes trap and hold this sandwich's flavorful ingredients so well. The key lies in a generous hand with the butter and mustard; the latter should be fairly strong. Make the eggs any way you like. Also, feel free to use smoked sardines instead of kipper snacks. Enjoy! ;o)
- AntoniaJames
Makes 1 sandwich
1 ciabatta or similar roll, split (an English muffin will do in a pinch, as will a 6" length of baguette)

2 ounces kipper snacks (half a standard tin) or an equivalent amount of smoked sardines

1 or 2 eggs, to taste

Salt and pepper (+ the teeniest pinch of ground allspice, if you don't routinely put a few allspice berries in your pepper grinder)

Stone ground mustard (enough to slather on one side of the roll)

Unsalted butter (for slathering on the roll, and for cooking the eggs, if desired)

Olive oil (if not cooking your eggs in butter)
Toast your split ciabatta or baguette. My wide-slice toaster works for this. Use your broiler, if your toaster isn't up to it, but watch carefully, lest it burns.
Cook your eggs. You know how you like them, and you know how to cook eggs. I prefer softly scrambled eggs for this: Lightly beat the eggs with a tablespoon or so of water, a good pinch of salt, and a lot of freshly ground pepper. Heat a small skillet slicked with olive oil until fairly hot, then turn the flame down low and dump the eggs in, immediately stirring with a wooden spoon. Push the eggs around the pan, somewhat briskly, until the eggs are just about done. For me, that means they're still a bit wet. Then, turn the heat off, remove the skillet from the stove, and cover the pan for the 30 seconds it takes to do the next step.
Slather butter on one side, and mustard on the other side, of the hot, toasted roll. Then put the kipper snacks on the side with the mustard. Yes, it matters. Eggs taste much better when they're on the butter side. Don't ask me why.
Put the eggs on the side of the roll with butter on it, close the sandwich, and put on a plate. Breakfast is served. Enjoy!! ;o)
N.B. This makes a great quick lunch of dinner, with the addition of a big handful of arugula, watercress, or any other greens you like.
Also, consider throwing a few allspice berries in your pepper grinder. I picked up this trick from Edward Behr's "The Artful Eater," which he wrote in the early 90's. If memory serves me correctly, he recommends 1 part allspice berries to 8 parts black pepper.
Jump to

Comments

(

2

)