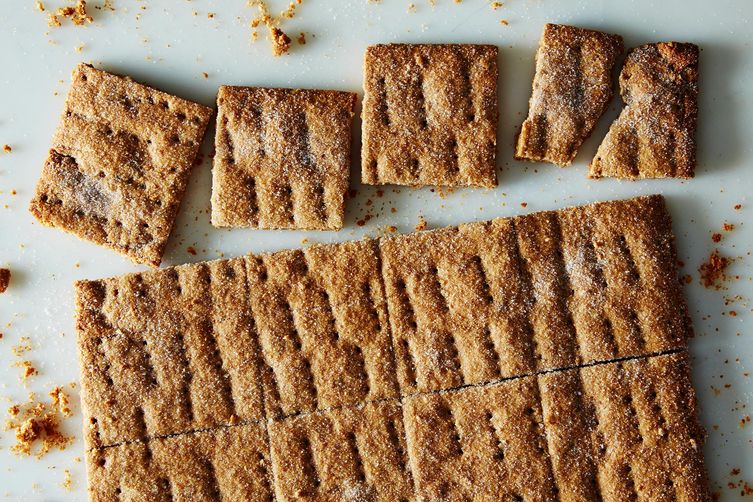 Author Notes: These iconic cookies are addictively crunchy and flavorful and blessedly not-too-sweet -- far better and more wholesome than store-bought. Graham flour is coarsely ground whole wheat flour; for those of you who just can't help asking about substitutions, the answer is yes but no! Yes, you could substitute regular whole wheat flour for the graham flour, but your graham crackers will not be as tender or wonderful. Bottom line: not for nothing these are called "graham" crackers. My addition of a little oat flour makes the cookies even more tender and tasty.
Bob's Red Mill Oat Flour and Graham Flour can be found in the baking aisles of better supermarkets or by mail order. Store leftover flour in the freezer or fridge. You can make your own oat flour in a coffee grinder (blenders and food processors don't grind fine enough): put 1/2 cup plus 2 tablespoons (55 grams) rolled oats in a clean coffee grinder and grind to a fine powder. For graham cracker flavor variations, including chocolate, see my book Chewy Gooey Crisp Crunchy Melt-in-Your-Mouth Cookies - Alice Medrich
Makes about 3 dozen 2-inch grahams
Ingredients:
1 3/4

cup (225 grams) graham flour

1/2

cup plus 1 tablespoon (55 grams) oat flour

1/4

cup (50 grams) sugar, plus 3 to 4 teaspoons for sprinkling

1/2

teaspoon salt

1/2

teaspoon baking powder

1/4

teaspoon baking soda

6

tablespoons (85 grams) cold unsalted butter, cut into 1/2-inch cubes

3

tablespoons (65 grams) honey

3

tablespoons milk

1/2

teaspoon pure vanilla extract
Equipment:
2

sheets of parchment cut to fit the baking sheet

2 large sheet pans (about 12 x 16 inches)

Food processor
In a food processor fitted with the steel blade, combine the graham and oat flours, ¼ cup sugar, salt, baking powder, and baking soda. Pulse to mix thoroughly. Sprinkle the butter cubes over the flour mixture. Pulse until the mixture resembles cornmeal. In a small cup, stir the milk, honey, and vanilla together until the honey is dissolved. Drizzle the honey mixture into the bowl. Process just until the mixture gathers into a single mass.
Divide the dough in half and shape each piece into a 6 or 7-inch flat square patty. Wrap and refrigerate it until they are very firm but supple enough to roll out, 20-30 minutes. Or keep them refrigerated up to two days; let soften slightly at room temperature before rolling.
Position racks in the upper and lower thirds of the oven. Preheat the oven to 350 degrees. Roll one patty between the sheets of parchment paper until it is 1/8 inch thick (about 8 by 12 inches) and as even as possible from the center to the edges. (Try to avoid a thick center with thinner edges). Flip the paper and dough over once or twice to check for deep wrinkles; if necessary, peel the parchment and smooth it over the dough before continuing. Peel the top sheet of parchment off. Prick the dough all over with a fork. Sprinkle the dough evenly with 1 to 2 teaspoons of sugar. Repeat with the second patty.
Slide one sheet of dough, with the bottom layer of parchment, onto each cookie sheet. With a sharp knife, even up the edges of the dough and score it into squares, diamonds, or rectangles. Leave edge scraps in place (good for nibbling and to protect the rest of the grahams from burnt edges).
Bake for 20 to 25 minutes until the grahams are golden brown with deep brown edges. Rotate the pans from upper to lower and front to back a little over halfway through the baking time to ensure even baking. Set the pans on racks to cool. Break the grahams along the score lines. Cool the grahams completely before storing. Grahams keep in and airtight container for at least 3 weeks.
Troubleshooting: Grahams crisp up after they are completely cool unless they are under baked. If your grahams are not thoroughly crunchy when cool (especially any in the center that might be a little thicker), return them (on a parchment lined baking sheet) to a preheated 325-degree oven for about 15 minutes. Let cool and check for crunch.
Jump to

Comments

(

7

)
Tags: graham cracker, graham crackers