Truly Tender Meatballs in Rich Tomato Sauce
252
Save
If you like it, save it!
Save and organize all of the stuff you love in one place.
Got it!
If you like something…
Click the heart, it's called favoriting. Favorite the stuff you like.
Got it!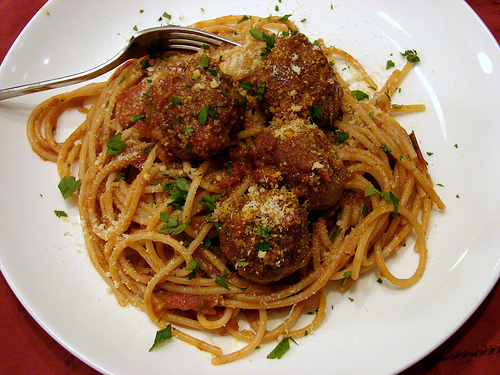 Author Notes: I've been working on my meatball recipe for what feels like forever, and though I had turned out some satisfying versions in the past, none of them ever really knocked my socks off – until these. The meatballs were light and super tender, and the sauce got a depth and sweetness from the port, as well as a bright fruitiness from the wine added near the end. We fell hard for these meatballs – I hope you will, too. - lastnightsdinner - lastnightsdinner
Food52 Review: Thanks to the ricotta, the meatballs are extremely tender. Overall a delicious dish -- the sauce has a very deep tomato-wine flavor and matches the meatballs nicely. - Cecilia - A&M
Serves 2-3 dozen meatballs
Truly Tender Meatballs
1

cup soft fresh breadcrumbs

1/4 to 1/2

cups milk

2-3

shallots, peeled and roughly chopped

1

cup loosely-packed picked fresh flat-leaf parsley leaves

1

tablespoon fresh marjoram leaves

1

large egg, lightly beaten

1/2

cup fresh ricotta, drained if very wet

2-3

teaspoons Kosher salt

1

pound ground beef

1/2

pound ground pork

oil for frying (I use a mixture of ¼ cup olive oil for flavor, plus ¼ cup grapeseed, a neutral oil with a high smoke point)
Place the breadcrumbs in a bowl and moisten them with just enough milk to cover them, pressing gently. Let them sit about 10-15 minutes, until the crumbs are very soft.
Put the shallots and herbs in the small bowl of a food processor and pulse until finely chopped. Scrape the mixture out into a large mixing bowl and add the egg. Remove the breadcrumbs from the milk, squeezing out the excess liquid, and add to the bowl. Add the ricotta and salt and mix until well combined. Add the beef and pork and, with clean hands, mix gently until the ingredients are evenly incorporated.
Scoop or pinch off small amounts of the mixture and roll into meatballs, placing them on a plate or platter.
Heat the oil in a wide skillet until shimmering, then fry the meatballs in batches, turning them to brown them well on each side, and draining them on paper towels. Alternatively, you can place the meatballs on a foil-lined sheet pan and bake them in a preheated 400 degree oven for 20-25 minutes. Either way, you'll finish cooking the meatballs in the sauce.
Rich Tomato Sauce
1

28 oz. can whole peeled imported Italian plum tomatoes with juice

1

baseball-sized onion, peeled and roughly chopped

1

small carrot, peeled and roughly chopped

1-2

cloves garlic

1

tablespoon extra virgin olive oil

Kosher or sea salt

1

tablespoon double-concentrated tomato paste

a pinch of red chile flakes

1/4

cup port wine

2-3

sprigs fresh thyme and/or marjoram

1/4

cup dry red wine

for serving: 1 lb. of hot cooked pasta, chopped flat-leaf parsley, and freshly grated parmesan
Place the onion, carrot, and garlic in the bowl of a food processor and pulse until finely chopped.
In a heavy-bottomed pot, heat the olive oil over medium heat until shimmering. Add the chopped vegetables and a pinch of salt and stir through, cooking until the vegetables are soft. Clear a spot in the bottom of the pot and add the tomato paste, allowing it to toast briefly before stirring it through the vegetables. Add the chile flakes and port, and cook for a minute or two before adding the herbs and the tomatoes with their juice, breaking the tomatoes up with your fingers or a spoon.
Add the browned meatballs to the simmering tomato sauce, cover and bring to a boil, then reduce the heat to low and cook uncovered until the meatballs are cooked through and the sauce is nicely thickened and reduced (about 30-45 minutes).
Add the red wine and stir through, then simmer for an additional 15 minutes, tasting and adjusting the salt if necessary.
To serve, remove the meatballs and place them in a serving bowl with a bit of sauce still clinging to them. Toss 1 lb. of hot cooked pasta (spaghetti or rigatoni work well) in the sauce to coat it, adding a splash or two of the starchy pasta water, and serve the dressed pasta and the meatballs separately, passing additional sauce at the table. Garnish with plenty of freshly grated cheese and a sprinkle of chopped fresh flat-leaf parsley.
Jump to

Comments

(

25

)
Tags: can be made ahead, comfort food, freezes well, kid-friendly, serves a crowd