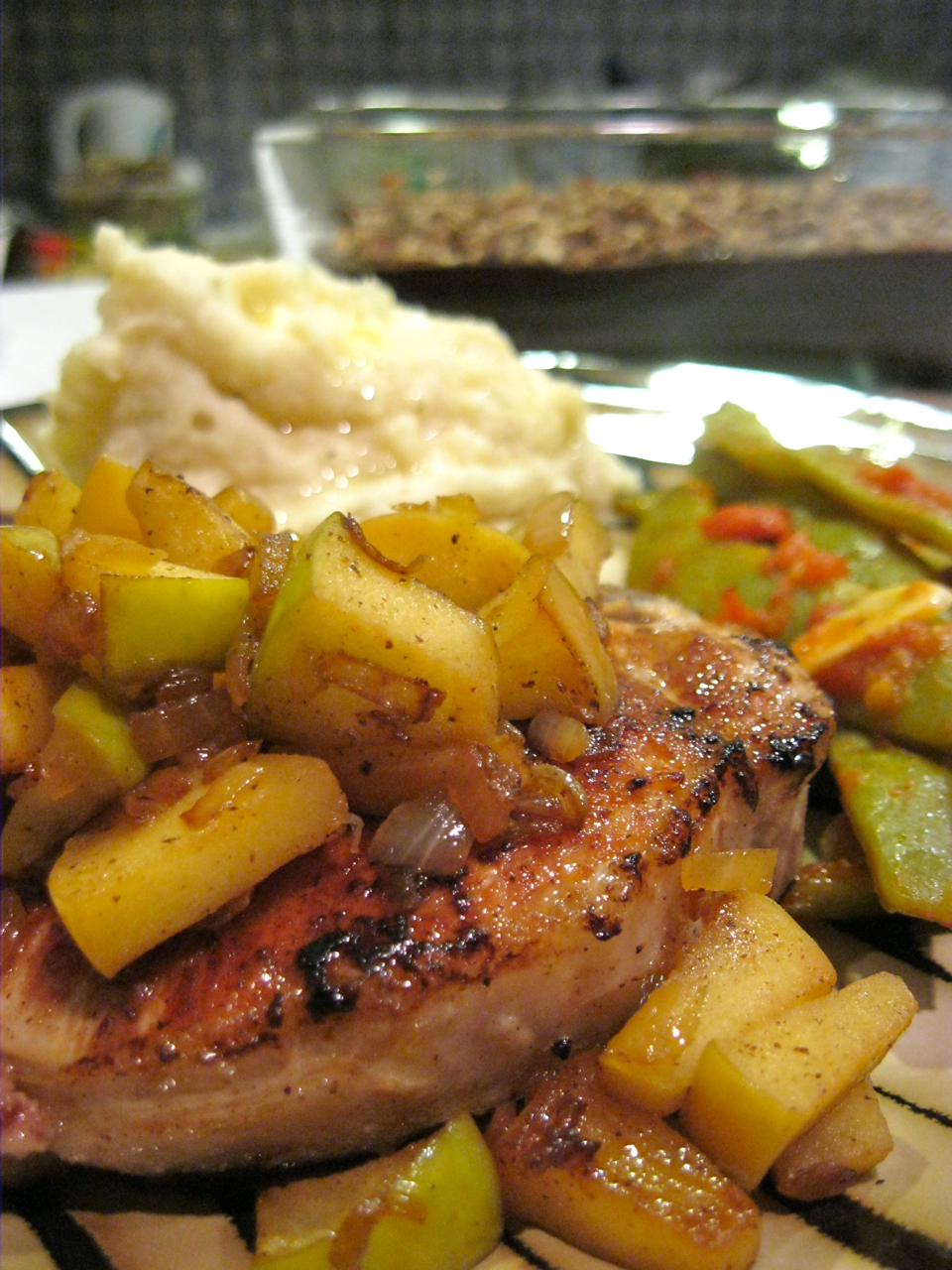 Author Notes: Autumn. Apples. Pork chops. Cinnamon. I think I've said it all. Well, I should say one more thing, which is that I am sort of a disaster at cooking chops, so if you have a better way of cooking them, like brining or casting a magic spell, please employ your method instead. The important thing is that you use the pan you cook the chops in to cook the apples in so that they pick up all the goodness and flavor the chops leave behind. I like to leave the peels of the apples on, but you can leave them out if you prefer. - vvvanessa
Serves 2
1

tablespoon olive oil

2

pork chops, cut of your choice

kosher salt

freshly ground black pepper

2

teaspoons unsalted butter

1/2

small white or yellow onion, finely chopped

1

small, firm, tart apple, such as Granny Smith, cut into 1/2-inch cubes

1

small, firm, sweet apple, such as Honeycrisp or Braeburn, cut into 1/2-inch cubes

1/8

teaspoon ground cinnamon

1/16

teaspoon freshly ground nutmeg

1

piece of star anise

2

thin slices of peeled, fresh ginger

1/4

teaspoon fresh lemon juice
Heat olive oil in a sauté pan. Sprinkle the pork chops with salt and pepper on both sides. Cook them over medium-high heat for 4-6 minutes on each side until you reach desired doneness. Remove them from the pan and set them aside.
In the same pan, melt the butter. Add the onion and sauté until softened and browned, about 5 minutes.
Add the apples, spices, ginger, a pinch of salt, and a grind of pepper, and continue to sauté until the apples begin to soften but still have a little bite, about 5 minutes. Add in lemon juice and cook for a minute more.
Remove the star anise and ginger slices. Serve the sautéed apples on top of the pork chops.
Jump to

Comments

(

4

)
Tags: apple, cinnamon, fall, pork chop, star anise