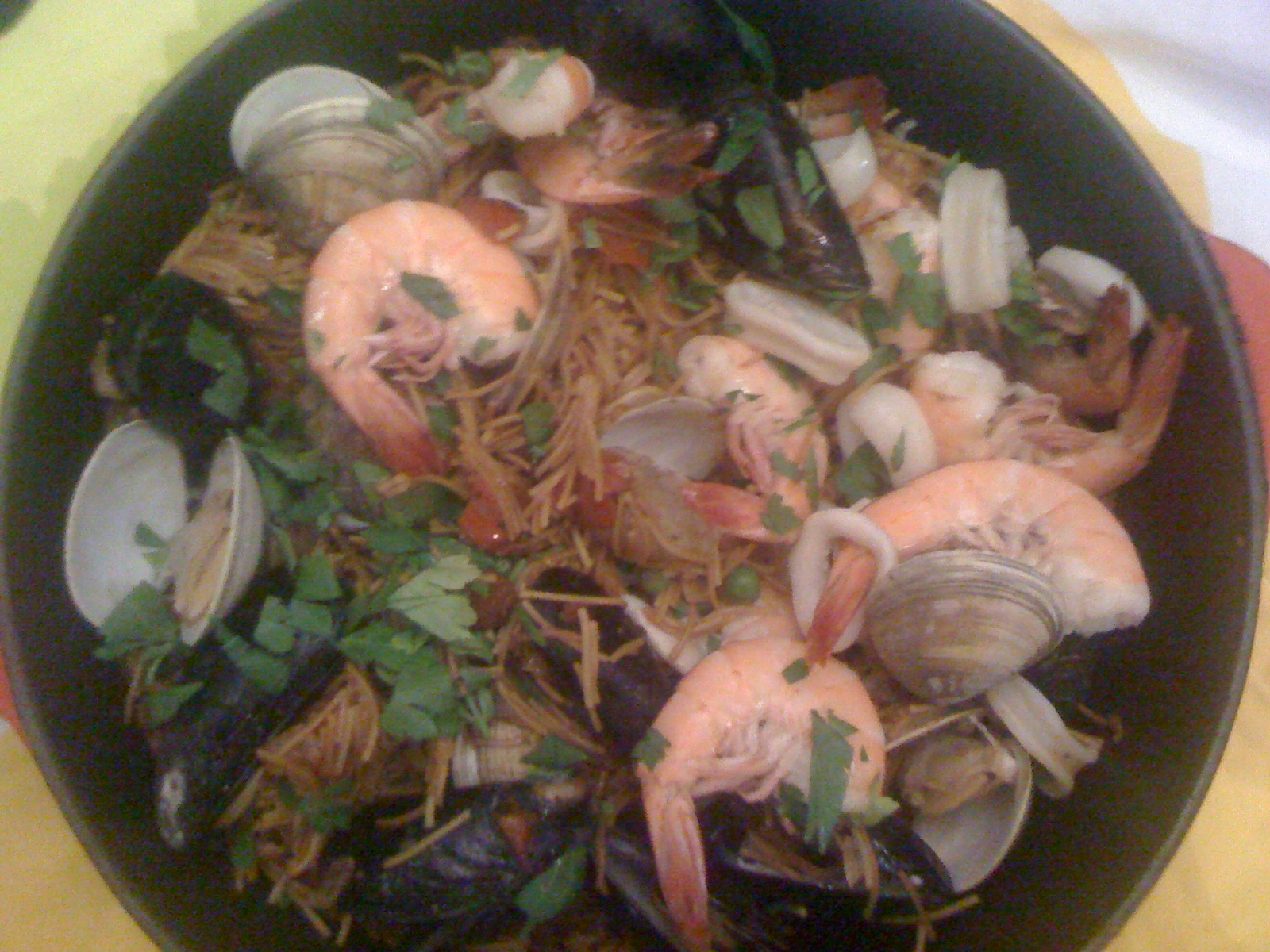 Author Notes: I had the good fortune to travel to southern Spain last year where I was introduced to an alternative to rice paella, fideos, or broken pasta. The fideos have a personality of their own taking on a nutty flavor, providing a full bodied backdrop for the seafood and tomatoes. - Summer of Eggplant
Serves 4
7

ounces bag of fideos, or broken angel hair pasta

2.5

cups seafood stock

1

cup Dry white wine

1/2

cup water or vegetable broth

1

medium Spanish onion, chopped

3

cloves garlic, smashed

1

teaspoon smoked paprika

1

teaspoon dried oregano

1

pinch cayenne

1

bay leaf

1

nutmeg seed, passed over a micro plane 5 times

14

ounces can diced fire roasted tomatoes

1/16

teaspoon ground saffron or a medium sized pinch of threads

12

shrimp

12

mussels

12

clams

3

squid tubes cut in to rings

3/4

cups frozen peas

1

lemon

3

tablespoons parsley, chopped
Coat a heavy pan in olive oil, over medium/low heat add fideos and sautee until they become a warm brown color, about 6-7 minutes, using a slotted spoon remove them from the pan and set aside.
Reduce the heat add more olive oil to the pan, if needed, add onion and sautee for 5 minutes until almost translucent, add garlic and sautee for another 3 minutes.
Add in smoked paprika, oregano, cayenne and sautee for another minute.
Increase the heat to medium add tomatoes, shave in nutmeg and bring to a simmer for 3 minutes.
Return the fideos to the pan and simmer for 5 minutes.
Meanwhile bring stock, wine, water and bay leaf to a boil in another pot, reduce to simmering, adding the seafood one species at a time and removing from the pan and reserving. In the stock cook shrimp 2-3 minutes until just pink, squid 1-2 minutes until just prior to opaque, clams a maximum of 6 minutes, discard unopened ones, mussels up to 4 minutes, discard unopened ones. Allow broth to return to a slow boil in between batches. Remove seafood and set aside.
Add the saffron to broth and let 'bloom' for 2 minutes. Turn the heat off of the broth.
Slowly add stock, in 3-4 batches (like risotto) to the fideos , let simmer with broth about 20 minutes, when the pasta has reached desired consistency add in peas and seafood, reheat seafood, let steam for 2 minutes covered.
Prior to serving squeeze the lemon over the 'paella" and sprinkle with parsley.