Weeknight Chicken with Olives and Oranges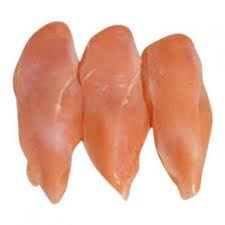 Author Notes: The camera battery died mid-prep, so you get only the naked, raw chicken breast picture. Sorry! I had been pondering on this one all week, and decided I just needed to wing it, so I fiddled about with my fig-and-olive tapenade, added some oranges, and came up with dinner that could be prepped over the weekend, refrigerated, and then cooked on a busy weeknight. I served mine over wild rice, with sauteed snow peas on the side. - Kayb
Serves 4
Fig and Olive Tapenade
1/2

cup green olives

1/2

cup Kalamata olives

1/2

cup dried Mission figs

1/4

cup best quality olive oil you have

1/4

cup orange juice

2

tablespoons lemon juice

1

teaspoon chopped fresh rosemary
Chop the olives and figs finely. Combine with other ingredients. Set aside until ready to prepare chicken. Can be refrigerated up to a week.
Chicken breasts
4

chicken breast halves

1

sweet onion

2

tablespoons olive oil

1

cup freshly squeezed orange juice

3

tablespoons lemon juice

1

bay leaf

2

oranges (blood oranges are nice, but not necessary)

1

tablespoon chopped fresh rosemary

8

large green olives

8

Kalamata olives

Fig and olive tapenade, above

Kosher salt and freshly cracked pepper
Cut a pocket in each chicken breast, cutting to within one inch of the outside edge. Stuff each breast with the fig and olive mixture, and close with a toothpick or skewer. At this point, you can wrap and refrigerate the breasts for up to two days.
Salt and pepper the stuffed breasts. Brown on both sides in a large skillet over medium high heat, and remove to a plate. While breasts are browning, dice the onion finely.
In the same skillet, saute the onion until it's translucent and soft. Add the orange juice, lemon juice, rosemary and bay leaf and bring to a boil; lower heat to medium.
Add the chicken breasts and any juices that have collected on the plate back to the skillet. Peel and segment one of the oranges and add the sections to the skillet. Add the olives as well. Cover and poach the chicken until done, about 15 minutes.
Remove the breasts and increase heat to reduce pan sauce to the thickness you prefer.
Slice the other orange, thinly, into horizontal slices. Plate the chicken over wild rice or the starch of your choice, add a spoonful of sauce, garnish with the sliced oranges.
Jump to

Comments

(

4

)
Tags: can be made ahead, Easy