This Popular Cookware Material Is Back—& Better Than Ever
Nostalgia is having a moment—or rather, *has* been having a moment. In fashion, vibes from previous eras, like indie sleaze and summer camp cool, are reemerging as Gen Z uniforms. And in home decor, vintage-inspired pieces are breathing new life into interior spaces. In fact, TikTok and Airbnb teamed up to forecast this year's home decor trends and eclectic nostalgia topped their list. 
So, why has the past become so… present? 
According to experts, nostalgia can be a stabilizing force during stressful times—and times are definitely stressful right now. An ice cream sundae or drive-in movie might not solve any problems, but they could lighten the emotional load for a little while. Our backward gaze also signals a genuine appreciation for good designs and techniques that have fallen out of favor due to none other than the passage of time.
Enamelware is just one example of an old-school style that's recently cycled back into fashion, another being terrazzo that I've been seeing everywhere. Its characteristic finish is created by fusing powdered glass to a surface like metal or clay, a technique dating as far back as 1230 BC and popularized in the late 19th and early 20th centuries by iconic brands like Falcon and Fabergé. Whether it's applied to a pie dish or art deco egg jewelry, enamelware achieves a sleek and durable finish—perfect for traditional, modern, cottage-core, or really, any vibe.
From retro metal mugs to timeless baking dishes that double as servingware, here are some of our favorite enamel pieces.
Cookware
This five-piece baking set from Falcon is so iconic that it spawned centuries' worth of imitators—and with good reason. Timeless elegance and enduring quality, these dishes are ready to take on your next bubbling lasagna or creamy enchiladas—if you can bake it, they can take it. Also, they're dishwasher safe and freezer-friendly, making meal prep and planning that much easier. 
Your next batch of muffins will look picture-perfect in this stunning Crow Canyon muffin tin, designed with a cool, colorful splatter effect. It's eye-catching, durable, and dishwasher safe, so you'll spend more time baking and less time cleaning up.
Add a splash of color to your stovetop landscape with this modern enamel teapot from Bornn, which comes in cheery hues like soft pink, chartreuse, and electric blue. Handpainted and dishwasher safe, it's artful as it is practical. 
Speaking of nostalgia, retro fondue sets are incredibly fun, and this one is durable and beautiful. The pot is cast iron, which distributes heat evenly and will prevent your molten cheese or melting chocolate from burning. It comes with all the tools for hosting a delicious, Swiss-inspired dinner party—just don't forget the cheese. 
For a smart and stylish stockpot that's easy on the wallet, this speckled cobalt blue stockpot is our pick. It's lightweight and has side handles, making for a seamless cooking experience. Also, the enamel distributes heat evenly, so you won't risk burning your next hearty stew. 
Decor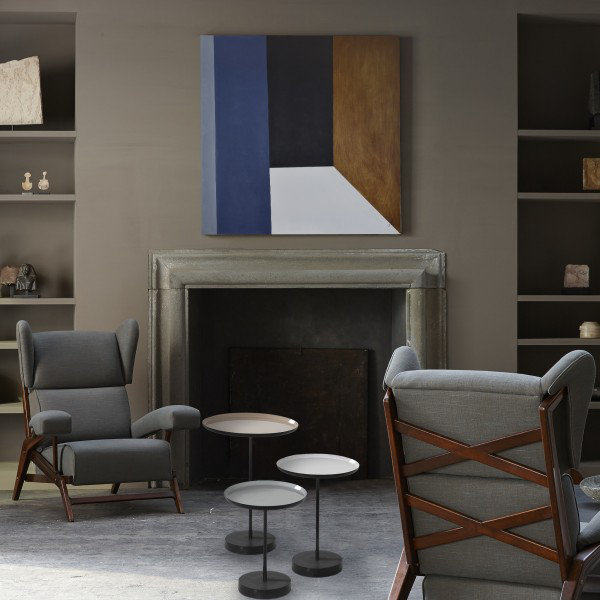 This trio of accent tables will add a modern touch to any living room. The neutral shades make them easy to mix and match with your existing furniture, and the enamel surface creates a sleek, waterproof finish. 
For baking, you'll love this antique KRUPS kitchen scale. A Belgian design from the early 20th century, it has a solid, cast iron base and its original enamel face. Plus, the deep emerald shade will add a bold pop of color to your countertop.
These enamel pendant lights feel modern and timeless all at once. With a clean, conical silhouette and polished brass fitting, they'll brighten your entry, home office, or kitchen with plenty of style. 
This round coffee table with a colorful enamel tray top is the retro piece your living room needs. It's eye-catching, easy to clean, and comes with wheels (so it can double as a rolling bar cart, obviously)—form and function combined.
Shake up your next cocktail night with this Foster & Rye enamel cocktail shaker. It comes in a bold speckled blue and replete with a matching jigger—the only thing left to choose is whether you're drinking whiskey sours or margaritas.
Tableware

Brighten up your table spread with this delightful dinnerware set from Bornn. With an enamel finish rendered in swirly marble, dinner never looked so pretty. Also, they're oven-friendly and dishwasher safe. À table! 
Fact: coffee tastes better in a beautiful mug. Okay, maybe not really, but you'll be even more excited for your morning cup with these colorful speckled mugs.
In bold black-and-white checkers, this bowl from MacKenzie-Childs gives off serious Parisian vibes. It's hand-painted with a bronze stainless steel rim, but still dishwasher safe. We're loving the 'tradition with a twist' design. 
Because a beautiful cake deserves a beautiful platform. Handcrafted in Indonesia, it's dishwasher safe and durable enough for all of your sweet, delicious creations. This cake stand takes the cake (and the pies and cookies).
This post was rewritten in February 2022 with brand-new enamelware pieces we love for our homes and kitchens.
What's your take on the enamelware trend? Would you try it?
This post contains products independently chosen (and loved) by our editors and writers. Food52 earns an affiliate commission on qualifying purchases of the products we link to.
Caitlin is a Paris-based writer. She wrote about food and wine while living in Madrid after college, and had a brief career as a lawyer before moving back to Spain to work in restaurants and attend culinary courses at the Basque Culinary Center in San Sebastian. She has worked or staged at Mina, Nerua and Septime. Caitlin is currently working on her first memoir about working in Michelin-starred restaurants in Bilbao. Follow her on Insta at @caitlinrauxgunther