Roasted mushroom ragout with cannellini beans and artichoke hearts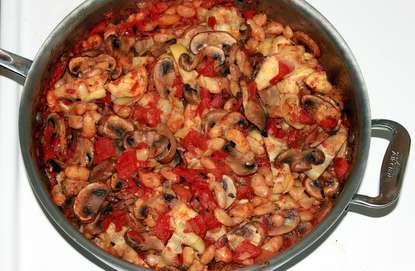 Author Notes: I'm always on the lookout for weeknight meals that are healthy, easy to assemble, and versatile in the way they can be served. Inspiration for this recipe came from Patricia Well's Vegetable Harvest, a cookbook that I've unfairly neglected until recently. I streamlined it to be a one-pot dish that can go from stovetop to oven to table. You start with a simple tomato sauce cooked stovetop; it's just the right amount to coat the fresh mushrooms, cannellini beans and artichoke hearts, creating a ragout of sorts. The oven does most of the work here, and the resulting dish is warm, comforting, and full of flavor. The ragout can be served in a number of ways: alongside a crusty baguette and green salad, over soft polenta, or as a bed for a crispy olive oil fried egg. I'm planning to create a place for it in my weeknight rotation. - EmilyC
Serves 4 (can easily be scaled to serve a crowd)
2

tablespoons olive oil, plus more for finishing the dish

1

can (14.5 oz) diced tomatoes (fire-roasted work well here)

1/2

small yellow onion, finely chopped (yielding about 1/2 cup)

2

small garlic cloves, minced

1/2

teaspoon red pepper flakes

12

large button or cremini mushrooms, cleaned, trimmed, and sliced 1/4" thick (yielding 4 to 5 cups)

2

cups (or 1 can (15 oz) drained and rinsed) cooked cannellini beans

1

can (15 oz) artichoke hearts, drained and roughly chopped

Kosher salt, to taste

red wine or sherry vinegar, to taste
Preheat the oven to 400 degrees F.
In a large saute pan or dutch oven, heat the olive oil over medium heat. Add the onion and cook until beginning to soften, about 3 to 4 minutes. Add garlic and red pepper flakes, and cook another 1 to 2 minutes. Add tomatoes, with their juice, a pinch of salt, and bring to a simmer. Lower the heat and simmer about 5 to 10 minutes, or until the sauce has slightly thickened. Season with salt to taste.
To the tomato sauce, add mushrooms, cannellini beans, and artichoke hearts. It will seem like a lot of mushrooms but they'll cook down considerably. Stir to combine, and smooth the top with the back of a spoon or spatula. Roast in the oven until sauce is bubbly, about 30 minutes. Season with salt, to taste. Taste again, and add a small amount of vinegar if some acidity is needed. Drizzle with olive oil before serving.
Tags: Healthy, Vegetarian, weeknight dinner