Corn and Caramelized Onion Tart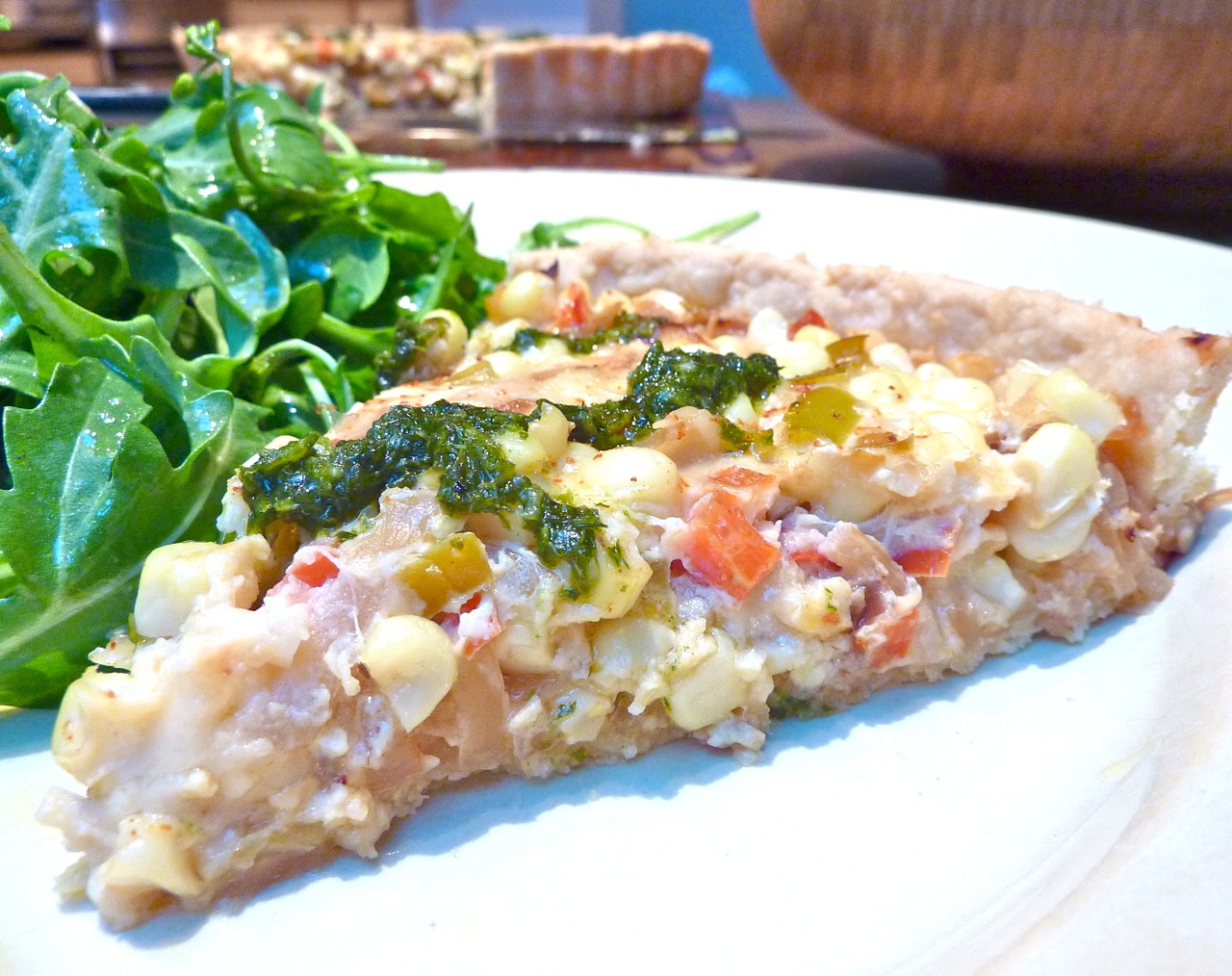 Author Notes: This could be my new "comfort" meal! This tart has layers of flavor from the caramelized onion, peppers, corn, cheese and crème fraiche, all bound with an egg. It's wonderful on its own, but you can jazz it up a bit with a basil pesto drizzle. - TheWimpyVegetarian
Makes 1 tart
Cheese Tart Shell
6.5

ounces all-purpose flour

1/4

teaspoon kosher salt

4

ounces unsalted butter, very cold

1

teaspoon white wine vinegar

2 1/2

tablespoons iced water

1/4

cup shredded cheese (I used cheddar and Monterey Jack)
Preheat the oven to 400F. Place the flour and salt in the bowl of a food processor and whirl it around a couple times. Add the butter and pulse until the mixture resembles small peas. Add the water, vinegar and shredded cheese and pulse until it looks starts to hold together.
Pinch the dough. If it doesn't hold together, add a little water and pulse again. Remove from the bowl and wrap in wax or plastic paper; refrigerate for about 30 minutes or until it starts to harden.
Roll the dough out to 1/4" thick and line a tart or pie pan. Dock, fill with pie weights, and bake for about 15 minutes, or until the tart shell begin to lightly brown.
Remove from the oven, remove the pie weights, and fill with the below Corn and Caramelized Onion filling.
Corn and Caramelized Onion Tart Filling
1 tablespoon olive oil

1 yellow onion

1 red bell pepper, finely diced

1 Anaheim pepper, finely diced

1/2 jalapeno pepper, finely diced

2 shallots. sliced and then coarsely chopped

3 ears corn, with the kernels sliced off the cob

1 cup loosely packed grated cheese (I used cheddar and Monterey Jack)

1 tablespoon finely grated parmesan cheese

3 tablespoons crème fraiche

2

limes, juiced

2 large eggs, beaten

salt and pepper to taste
Slice the onion across its width into 4 thick slices. Slice along the length into very thin slices. Saute in a little olive oil in a pan over medium high heat to caramelize the onion. Set aside in a medium bowl.
Saute the peppers and shallot until they begin to soften. Remove from the heat and add to the onion in the bowl.
Add the corn kernels, cheeses, crème fraiche, lime juice, and eggs to the bowl and mix well. Salt and pepper to taste. Mix again.
Fill the blind baked tart shell with the corn mixture and bake for another 25-30 minutes, until the egg sets. Remove from the oven and let cool for 10 minutes. If using a tart pan, remove from the pan. Eat while warm.
Jump to

Comments

(

7

)