Cheesy Polenta with Grilled Cherry Tomato Sauce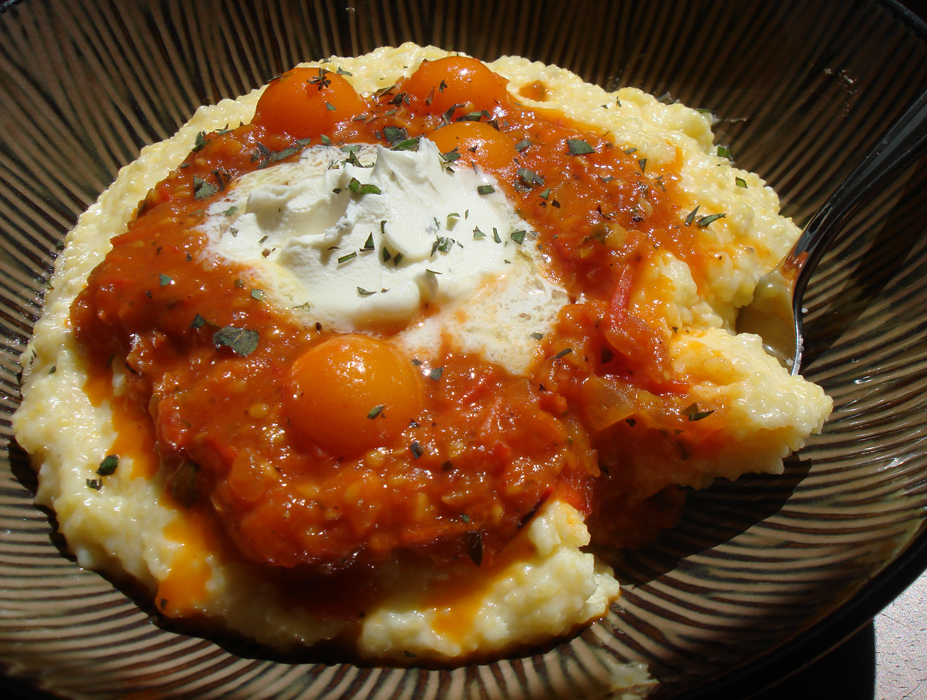 Author Notes: I love cherry tomatoes. They are delightful little flavor bombs. I most commonly eat them as nature intended because they are as close to perfect as can be. I decided to turn them into a sauce, leaving some of them whole to burst in the mouth. I combined the sauce with some cheesy polenta for a comforting but fresh meal. The sauce could also be used over grilled summer squash or eggplant, grilled polenta slices, pasta, or gnocchi. - hardlikearmour
Serves 3 to 4; makes approximately 1 ½ cups sauce
Grilled Cherry Tomato Sauce
1 pound cherry tomatoes

1 3/4-inch thick slice from a large sweet onion

extra virgin olive oil

1 medium to large clove garlic, minced

¼ teaspoon crushed red pepper

½ teaspoon table or fine sea salt

¼ teaspoon freshly ground black pepper

1 teaspoon red wine vinegar

2 teaspoons minced fresh thyme

2 teaspoons minced fresh oregano
Heat your grill to medium. Toss ¾ of the largest cherry tomatoes with a tablespoon of olive oil. Coat the onion slice with olive oil. Either use a vegetable basket for grilling or thread the tomatoes onto skewers. Grill the tomatoes until grill marks appear, and tomatoes are soft (about 3 to 4 minutes) turning or stirring once. Grill onion until semi-translucent and grill marks appear, turning once (about 4 to 5 minutes.)
Transfer tomatoes to the bowl of a food processor, and process until fairly smooth. Coarsely chop the onion, then add it to the tomatoes. Pulse until no large pieces of onion remain.
In a medium saucepan, heat 1 tablespoon olive oil over medium heat. Add the minced garlic and red pepper, and sauté, stirring continuously, until the garlic is fragrant about 1 minute. Add tomato and onion mixture, red wine vinegar, salt, and pepper. Simmer for several minutes, stirring occasionally, until the mixture has thickened slightly.
Add the remaining cherry tomatoes to the mix, and cook for a minute or two until tomatoes are warmed through. Stir in thyme and oregano. Taste and adjust seasoning with salt or additional vinegar if needed. Serve over creamy polenta, pasta, or grilled vegetables.
Cheesy Polenta with Grilled Cherry Tomato Sauce
4 ½ cups water

¾ teaspoon table or fine sea salt

1 ½ cups polenta

8 oz mascarpone cheese, divided

3 oz Italian fontina cheese, cubed or grated

Grilled Cherry Tomato Sauce

1 teaspoon minced fresh thyme
Bring water and salt to a boil in a 3-quart saucepan over high heat. Gradually whisk in polenta, and reduce heat to low. Gently simmer polenta until thickened, stirring frequently. The time on this will vary depending on your polenta, but approximately 20 to 30 minutes. (If your polenta is done before your sauce, cover and remove from heat. When ready to proceed whisk in an additional ¼ to ½ cup water to loosen.)
Stir in half of the mascarpone and all of the fontina. Taste and add additional salt if needed. Divide into bowls, top each portion with tomato sauce, a dollop of mascarpone, and a sprinkling of fresh thyme. Dig in!