Oyster and Spinach Chowder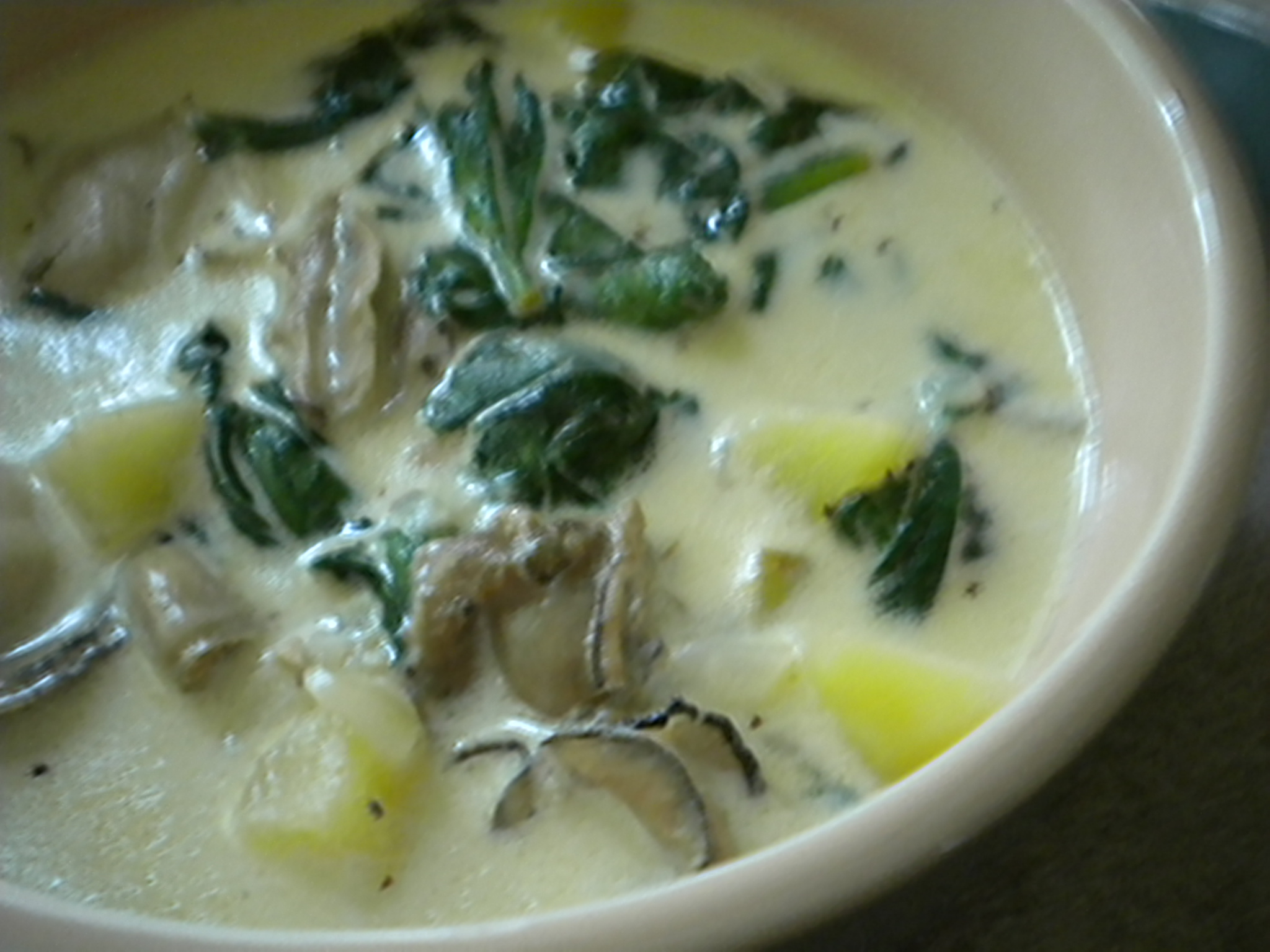 Author Notes: This is a riff on a spinach and oyster soup that my dad used to make for himself on Friday night after a 12 hour day at our market. He'd always bring in any leftovers for my brother and I to share the next day. I added potatoes to make it a little heartier. and swapped baby spinach leaves for the regular spinach he would use. - inpatskitchen
Makes 4 servings
2 1/2 dozen freshly shucked oysters and their liquor

1 1/2 cups clam juice

1/2

cup water

1

tablespoon butter

1

tablespoon extra virgin olive oil

1

cup diced onion or 1 medium leek, white and light green part only, thinly sliced

1

large clove garlic, minced

2

cups diced potatoes (small dice) I used Yukon Gold

1 1/2 cups heavy cream

6

ounces baby spinach leaves, thick stems discarded

Salt and pepper to taste
Combine the oyster liquor, clam juice and water and set aside.
In a medium soup pot over medium heat, saute the onion or leek in the butter and olive until soft. Add the garlic and saute for about 30 seconds more.
Add the reserved broth and potatoes to the pot. Bring up to a boil and then simmer until the potatoes are tender, about 10 minutes.
Add the cream, bring back up to a simmer and stir in the spinach. Cook until the spinach just barely wilts and then add the oysters and any accumulated juices.. Bring back up to a simmer again and simmer for 3 to 4 minutes until the oysters are just done. Season to taste with salt and pepper and serve immediately.