Holiday Spinach Bread Wreath (with Cranberry Spinach 'Wow' Dip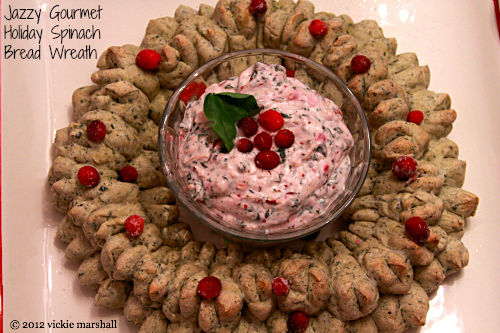 Author Notes: I learned something new this week.

I had been baking bread the last month or so, and sometimes the yeast didn't activate. I couldn't figure out why. I knew the date on the yeast was good. I even went out and bought new yeast, yet I sometimes got no action and ended up throwing it out.

Finally one day while I was walking the dogs (where I get my best thinking done!), it dawned on me that it is colder in the house now and the metal mixing bowl on my relatively new KitchenAid is a colder temperature than it was in the summer or even fall.

So I did a little experiment.

I heated water in the microwave, measured the temperature (like I always do) and poured it into the metal bowl. I measured the temp again in the bowl and it had immediately dropped 7 degrees! So when I thought my water was 105?-110?F, it was actually less than 105? and not hot enough to activate the yeast. I tell ya, it was a joy to get that mystery solved!

So on to holiday festivities.

This wreath makes a great alternative to rolls at the holiday table. And the center makes a handy spot to house dips (such as my Cranberry Spinach 'Wow' Dip), herbed butter or oil, spreads or fruit. I got the idea for the dip from Susan Stamberg on NPR. Every year since 1971, she reads the recipe for her mother-in-law's Cranberry Relish on the air to her fans who clamor for it at holiday time. The first time I tasted it, I said 'Wow'! It's zippy and bursting with flavor, and goes great with this bread. Guests can tear a ball off the wreath and dip into the dipping vessel–what fun! - Sherry K-Jazzy Gourmet
Makes 1 wreath
Holiday Spinach Bread Wreath
4

cups tightly packed fresh spinach

1 1/2

cup water

1

teaspoon active dry yeast

1

teaspoon granulated sugar

20

ounces all-purpose flour

2

teaspoons salt

sugared cranberries for garnish
Place 4 cups spinach and 1 1/2 cups water in a medium saucepan over high heat. Wilt the spinach by pressing and stirring it into the water as it cooks, about a minute or 2. Press the spinach into a sieve with the back of a spoon and put the reserved water in a mixing bowl. When the temperature of the water reduces to 105?F-110?F, add the yeast and 1 teaspoon sugar and stir. Wait 10 minutes to make sure the yeast is active (see my episode of Homemade Bread Dough for more details). In the meantime, chop the spinach. When you see the yeast foaming on top of the water, stir in the spinach. Mix in flour, then 2 teaspoons salt.
When the dough starts to pull away from the sides of the bowl, turn it out onto a floured surface and knead for 10 minutes. Coat interior of a large bowl with the oil. Place dough in the bowl. Flip dough over and cover with a clean, moist towel. If the dough looks like it might rise above the bowl rim, loosely cover with plastic wrap and then the towel. Put in a warm place until dough has doubled in size, about an hour to 1 1/2 hours. Punch down dough and allow it to relax, covered, for 15 minutes.
Preheat oven to 375? F. Place an 8-inch round cake pan on a cookie sheet covered in parchment paper or a baking mat. Cut dough into golf ball-sized pieces* with scissors and roll into balls. Using the cake pan as a guide, place the balls around the perimeter of the pan. Remove the pan and add another circle of balls inside the circle that you just made. With scissors, make vertical and horizontal slits in the balls to give the wreath a more realistic look. Add another circle of balls on top of the 2 circles and make slits in that layer of balls. Cover with a towel and let rise 1/2 hour.
Bake in a 375?F oven for 15-25 minutes, depending on the size of the pieces of dough. Cool on a wire rack.
To serve, place wreath on a platter and decorate with sugared cranberries (see my episode of how to make Sugared Cranberries). Place a bowl of dip (see recipe below for my Cranberry Spinach 'Wow' Dip), spread, fruit, herbed butter or oil, or anything you would like to eat with the bread, and place it in the center of the wreath. Guests may then pull a ball from the wreath and enjoy!
*You can make the wreath out of any size pieces. I found that the larger the piece, the easier it is for folks to break it off and eat. However, I think the wreath looks better with smaller pieces, so your call!
Cranberry Spinach 'Wow' Dip (inspired by Susan Stamberg's Mother-in-law's Cranberry Relish)
3

cups tightly packed fresh spinach

2

tablespoons water

3/4

cups fresh cranberries, washed

1

shallot, coarsely chopped

1

cup light sour cream

1

cup light mayonnaise

1 1/2

teaspoon prepared horseradish

2

tablespoons granulated sugar

1

pinch salt
Place 3 cups spinach and 2 tablespoons water in a medium saucepan over high heat. Wilt the spinach by pressing and stirring it into the water as it cooks, about a minute or 2. Squeeze the spinach tightly in a paper towel and place in a food processor. Add cranberries and shallot. Pulse a few times until all ingredients are chopped. Add sour cream, mayonnaise, horseradish and 2 tablespoons sugar. Pulse a few more times to combine all ingredients. Refrigerate for a couple of hours to allow the flavors to greet one another. Serve with meat, crackers, or of course, Holiday Spinach Bread Wreath!
Jump to

Comments

(

0

)