Roasted Brussels Sprouts with Pears and Pistachios
13
Save
If you like it, save it!
Save and organize all of the stuff you love in one place.
Got it!
If you like something…
Click the heart, it's called favoriting. Favorite the stuff you like.
Got it!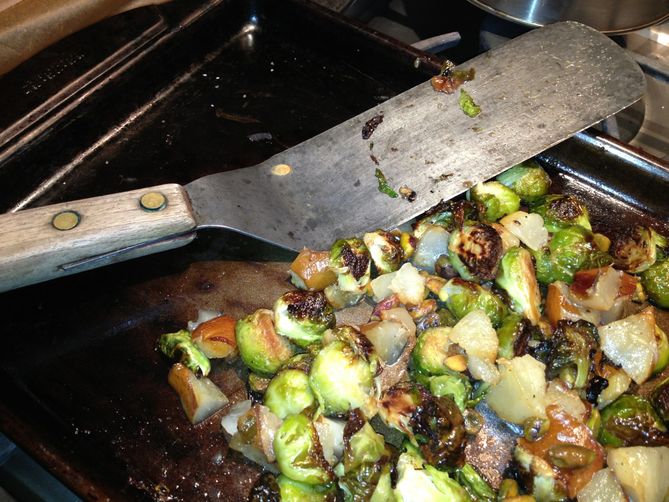 Author Notes: Brussels sprouts are a popular side dish this time of year, and I love to pair sweet ingredients with the lightly bitter tang of the brussels. This side is easy, very satisfying, and a great way to combine two autumn favorites in one dish. - Bevi
Serves 2
1

pound Brussels sprouts, halved lengthwise

1

Bosc Pear, halved lengthwise and cored

1/4

cup shelled pistachios, chopped coarsely.

3

tablespoons Olive oil

1/2

teaspoon salt

6

grindings black pepper

Juice of 1/2 large lemon
Preheat oven to 425 degrees. Place the prepared Brussels sprouts on a baking sheet and pour on the olive oil, salt and pepper. Mix with clean hands. Place the pear halves, cut sides down, on the baking sheet. Make sure the pears have a coating of oil underneath their cut surface.
Roast for about 20 minutes. Then turn the brussels sprouts with a metal spatula to get caramelization on all sides. Check the pear. It many not be caramelized at this point.
After another 20 minutes, again turn the brussels sprouts, as well as the pear. Reduce the oven heat to 375 degrees.
After another 10 minutes, add the pistachios just to heat them up.
After 5 minutes, remove the baking sheet from the oven. Squeeze lemon juice directly over all the ingredients. Use your spatula to chop up the pear halves. Toss everything thoroughly, check the seasoning, and serve on a platter or in a vegetable bowl.
Jump to

Comments

(

4

)