Not Your Grandmother's Cabbage Roll Soup
22
Save
If you like it, save it!
Save and organize all of the stuff you love in one place.
Got it!
If you like something…
Click the heart, it's called favoriting. Favorite the stuff you like.
Got it!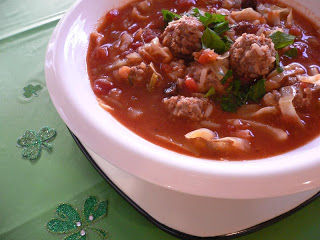 Author Notes: My Mother and Grandmother made stuffed cabbage rolls on a regular basis. It was a part of their heritage from Eastern Europe. My Mother prided herself on making the best stuffed cabbage rolls that anyone had ever tasted. While visiting my Mother years ago, I decided that it was time that I learned her, and my Grandmother's recipe or method for making them. Mom and I spent a memorable afternoon boiling and rolling cabbage around ground beef and rice. The rolling had to be just so, with the edges tucked and sealed before being placed in the pot atop shredded cabbage to protect the leaves from burning. My Mother's hands were as deft and sure as mine were clumsy and hesitant. And I learned more than making cabbage rolls that day. I learned that It took patience and practice. We laughed a lot and I also learned what made her cabbage rolls so good. It was love that she put in that pot along with the ingredients. I still make her version of cabbage rolls when I have the time and smile at the memories that it evokes. But a few years ago a friend of mine gave me a recipe for cabbage roll soup that was based on all of the flavors found in stuffed cabbage rolls. I have adapted in over the years and hope that you can taste both the love that went into it and the heritage of a good stuffed cabbage roll. - lakelurelady
Serves 6
For the Soup
1

Head of cabbage, shredded

1

Large onion, chopped

2

Garlic cloves, minced

1

28 ounce can diced tomatoes

1

15 ounce can tomato sauce

1/3

cup Brown Sugar

1/3

cup Lemon juice

1/2

cup Dried cranberries

5

cups Water
For the Meatballs
1

pound Ground Round

2

tablespoons Grated onion

2

tablespoons Milk

1

teaspoon Salt

1/4

teaspoon Freshly ground black pepper

1

egg, beaten

1/2

cup uncooked rice

1/2

cup plain bread crumbs
In a large dutch oven saute onions and garlic in small amount of olive oil until it is soft. Add salt and pepper. Add shredded cabbage and lightly saute until soft. Add tomatoes with their liquid, tomato sauce, brown sugar, lemon juice, cranberries and 5 cups of water. Stir to blend.
Mix all meatball ingredients. Form cocktail size meatballs from mixture and add to liquid. Bring to a boil. Cover, reduce the heat to low and cook for 1 to 1 1/2 hours.
Jump to

Comments

(

5

)