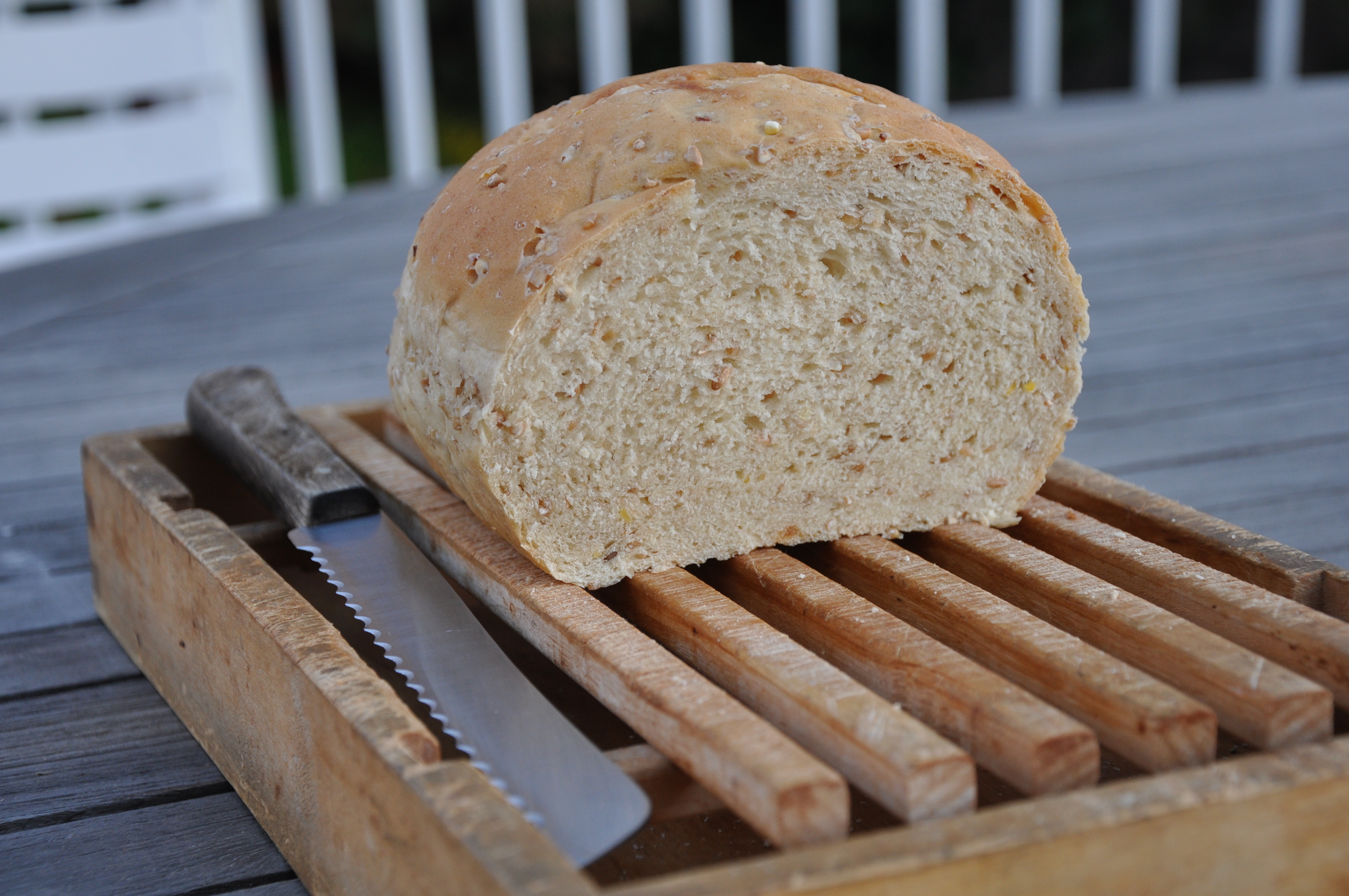 Author Notes: Without question, the vast majority of useful information about cooking that I've learned in the past ten years I've learned here on FOOD52, since joining in 2009. Not long after becoming a member of this community, I learned from thirshfeld -- who else?! – -- via a Hotline (then known as "foodpickle") discussion a fascinating bit of breadmaking history. His tip? You can put fresh breadcrumbs, made from slightly stale bread, in the dough of new loaves that you bake. (This historical note is that this practice was so common in the 19th century, local governments here and in Europe actually regulated it to limit the amount of bread crumbs that could be added to dough used for commercial loaves. But I digress.) One of our favorite breads is a variation on my Buttermilk Oatmeal Bread; in this bread, I use uncooked multigrain cereal, which looks sort of like colorful steel cut oats, instead of rolled oats. This bread also incorporates ¾ cup, loosely packed, of crumbs made from homemade toasted bread. Enjoy!! ;o) - AntoniaJames
Makes one good-sized loaf
2 ½ teaspoons active dry yeast

Pinch of sugar

1 cup buttermilk

2 tablespoons olive oil

2 tablespoons honey

¼ teaspoon baking soda

2 ½ cups bread flour, plus a bit more for kneading

½ cup barley flour (or regular bread flour, or rye flour, if you don't have or like barley flour)

½ cup uncooked multigrain cereal (the kind you cook with water, and looks like steel cut oats)

1 teaspoon salt

¾ cup loosely packed fresh crumbs made from one or two slices of 2-3 day old bread

Olive oil for brushing the loaf before baking
N.B. You don't have to make this bread by hand if you prefer to use a stand mixer or the dough cycle of a bread machine. (I read recently that Mrs. Child regularly used a bread machine for making sandwich bread dough.) Adapt the recipe accordingly, keeping the additions of the dry ingredients as suggested below.
Put the yeast in a small bowl with 3 tablespoons of warm water (no hotter than 115 degrees Fahrenheit) and a pinch of sugar. Stir well and let it sit there while you measure and begin mixing the other ingredients.
Make breadcrumbs by toasting one or two slices of slightly stale bread, tear each piece into 8-10 pieces, then let them cool for a few minutes. In a food processor, pulse the toast shards about fifteen times, then process with the motor running for about 30 seconds or until fairly uniform.
In a large bowl, mix the buttermilk, olive oil, honey, baking soda and a cup of bread flour. Stir it all in the same direction to combine.
Add a second cup of bread flour, the salt and the multigrain cereal and stir well, always in the same direction, to combine.
Add the yeast and water mixture, the barley or rye flour, and the remaining bread flour. Stir as long as you can, then turn the dough out onto a lightly floured surface and knead it for a few minutes until you have a fairly uniform dough.
Add the bread crumbs gradually, as you continue to knead.
Let the dough rest for a few minutes while you clean out the mixing bowl and lightly coat it with oil.
Return to kneading and continue to knead until the dough is elastic and fairly smooth, adding more flour, a teaspoon or two at most at a time, if necessary. Remember, this bread contains a dry cereal that will absorb some of the liquid. It's okay if the dough is a bit sticky.
Shape the dough into a ball, put it in the prepared bowl, flip it over to coat it with oil and cover lightly. Set it in a warm, draft-free place. Let it rise for about an hour, or until doubled in size.
When the dough has doubled in size, punch it down, shape it into a loaf and put it into an oiled or otherwise prepared pan. You can also bake this in a freestanding boule or other shape on a bread stone. If so, shape and let it rise on a piece of parchment. Either way, brush the dough generously with a nice-tasting olive oil, cover it loosely with plastic wrap, and let it rise for another hour lightly covered.
Preheat to 325 degrees the oven, with the stone in it, if using.
When the oven is hot, slash vents diagonally on the top of the loaf and bake for about fifty minutes, or until it sounds hollow when tapped on the bottom. Check the bread after 25 minutes and tent with foil if it seems to be getting dark too quickly.
Cool on a rack for at least an hour before slicing. It will cut better the longer you can wait to begin slicing it.
With a slice of this in hand, and its sweet aroma filling the room, consider with gratitude all that you have and all that you know.
Enjoy!!
Jump to

Comments

(

8

)
Tags: bulk bin