Savory Wild Mushroom Soup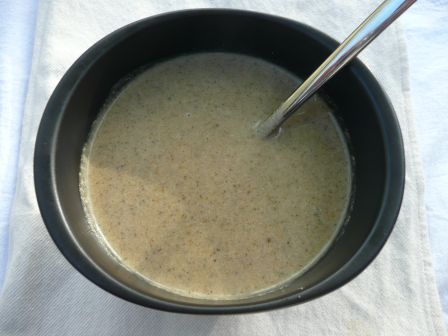 Author Notes: This soothing, silky soup offers layers of woodsy, earthy flavor, yet is light enough to serve as a first course before grilled steak or roasted chicken. It's also perfect as a weeknight meal or weekend lunch, paired with a crisp green salad and toasted garlic bread with herbs and melted cheese. You can top this soup with a drizzle of good quality walnut oil, crunchy croutons, crispy shallots, a dollop of creme fraiche, or allow it to stand on its own. This recipe has been created exclusively for food52. - mariaraynal
Serves 6-8
3

tablespoons olive oil

3

tablespoons butter

1

large carrot, finely chopped

1

stalk celery, finely chopped

3

large shallots, thinly sliced

3

cloves minced garlic

Kosher or sea salt, freshly ground black pepper and crushed red pepper to taste

1

bay leaf

1

Parmesan rind, preferably Parmigiano-Reggiano

1

pound assorted chopped wild mushrooms, such as shiitaki, crimini, chanterelle or oyster

1

tablespoon fresh rosemary, minced

1

tablespoon fresh sage, minced

1

tablespoon fresh thyme, minced

15

ounces drained and rinsed canned or dried cannellini beans

1/2

cup good quality dry white wine

4

cups chicken stock, preferably homemade

1/4

cup heavy cream
In a large dutch oven or soup pot add the olive oil and butter over medium heat. When the butter melts, add carrot and celery and saute for about 15 minutes, stirring often.
Add shallots and continue to cook for about 5 minutes. Stir in garlic and cook for another 5-10 minutes, until shallots are browned and all vegetables are soft.
Sprinkle in kosher or sea salt, freshly ground black pepper and crushed red pepper to taste. Toss in bay leaf and Parmesan rind.
Add mushrooms, stirring well to incorporate. Cook down for about 5 minutes and add the rosemary, sage and thyme.
Continue to stir the mixture until mushrooms have reduced, about 5 minutes, and add cannellini beans, stirring them in until warmed.
Deglaze pot with white wine, removing any browned bits with a wooden spoon, and allow to reduce for a couple of minutes.
Pour in chicken stock, and simmer for 10-15 minutes, allowing flavors to mingle. Remove bay leaf and parmesan rind.
Puree soup with a stick blender until very smooth. Stir in cream and serve with desired toppings. Enjoy!
Tags: comfort food, Holidays, savory, serves a crowd, wild mushrooms, winter