How to Care for Any Type of Cutting Board—Plus, the Best Ones to Buy
Except for glass boards—they didn't make the cut.
The cutting board is a trusty workhorse in my kitchen, always by my side and supporting me through all my cooking adventures. But I'll be the first to admit that I treat my cutting boards less than kindly from time to time. 
With a little TLC, cutting boards can be a longstanding investment piece in your kitchen—and that doesn't mean that you have to buy the most expensive ones, either. As an added bonus, taking care of your boards and using them correctly can help extend the lives of your other kitchen staple: knives. Long live your kitchen essentials! 
Here are the most popular types of cutting boards (excluding glass because glass and food shouldn't mix!), their pros and cons, and the best ways to keep them around as long as possible. 
Wooden Cutting Boards   
Pros: Sturdy and durable, wood cutting boards are the most popular by a mile. Wood has natural antibacterial and antimicrobial properties, but the most common reason? They're literally built for the job because they score and yield to your knife, keeping its edge sharp (though you'll still need to sharpen them). 
Wood cutting boards come in a ton of different wood varieties and price points, so you'll have a large range to choose from, too. While a slab of reclaimed wood is aesthetically pleasing, most wood cutting boards are made from multiple pieces, making them stronger and less likely to warp or crack—if you take care of them. 
Cons: Wood cutting boards—especially ones that are glued together—will warp in the dishwasher, so they must be hand washed. Out of all the popular materials, wood cutting boards are the most expensive, though there are plenty at reasonable prices. They're also one of the heaviest materials, so think twice before packing these for your next camping trip.
How to care for wood cutting boards: Always hand wash and pat dry with a towel before letting it air dry and then storing on its side. This helps save space and prevents warping, too.
For spot stains, use a paste of baking soda, salt, and water; for odors, a spritz of white vinegar. You'll want to moisturize your boards (especially new ones) with food-safe mineral oil, beeswax, or even the excess fat after slicing up a nice piece of steak. Do not use any old cooking oil you have on hand; these will spoil and smell rancid after some time. Every few months, and at least once a year, you should scrub it down with some coarse salt and finish with a moisturizing rub down.
Our favorite wood cutting boards:
This large acacia cutting board uses the ends of the wood to show off the wood grain, and to give your knives even more cushioning during prep.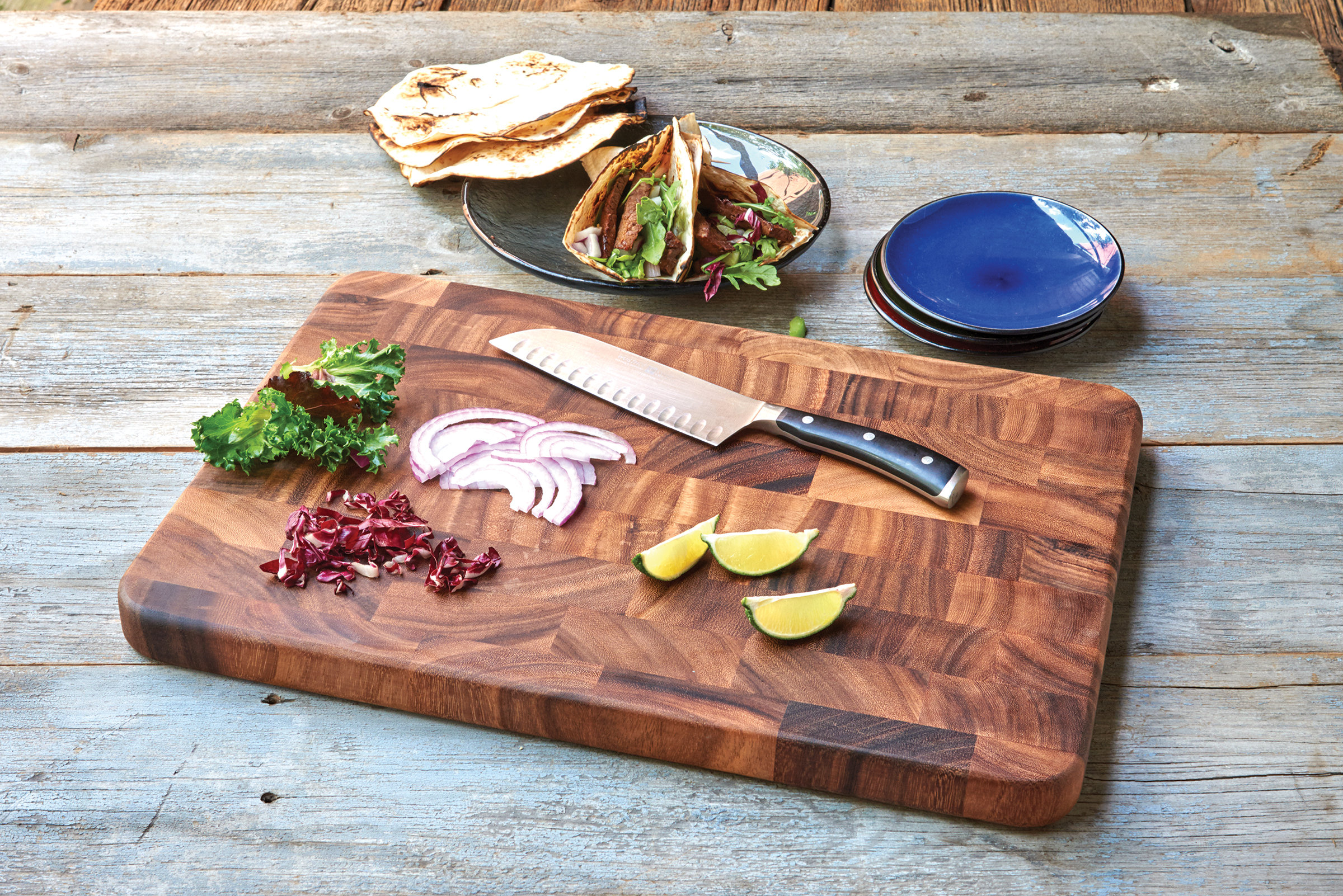 This board is a top pick for bakers and I can see why. It's got the ideal non-stick surface for rolling, kneading, and trimming pastry with a handy notch for your rolling pin to rest between turns. Plus, the guides and rulers make pastry-chef level precision achievable at home.
Bamboo Cutting Boards 
Pros: Bamboo is the (relatively) new kid in town, and making a splash for good reason. It grows quickly so it's more eco-friendly than wood, and since it's widely prevelant as single-use chopsticks, can be recycled and reused in creative ways, too. Like wood boards, bamboo boards are antimicrobial, but even better, they're also water resistant so they're less likely to warp and rot easily. They also tend to be less expensive, if you're budget-conscious. 
Cons: Like wood, bamboo is still sensitive to sustained heat and moisture, meaning you should not put them in the dishwasher. Additionally, bamboo is slightly harder so it can dull your knives faster. 
How to care for bamboo cutting boards: Bamboo should be cared for like wood—hand washed and dried thoroughly. You can use the same cleaning solutions (lemon, baking soda, vinegar) for stains and odors. Bamboo is technically a grass, but it still needs some moisture to avoid cracking or splitting. Oil with the same materials as wood, but perhaps with slightly more frequency depending on how much use it gets.
Our favorite bamboo cutting boards:
There are many reasons to love this board—deep grooves, a well to catch juices, double-sided functions, and lightweight but sturdy enough to stay put while I chop my way through dish after dish. I hate to admit it, but these days, the phone notch gets a ton of use, helping me follow along with recipes easily and (relatively) hands free.
This bamboo cutting board is lightweight but has clever plastic non-slip edges to keep it in place. It's versatile and budget-friendly, perfect for beginner and new cooks alike.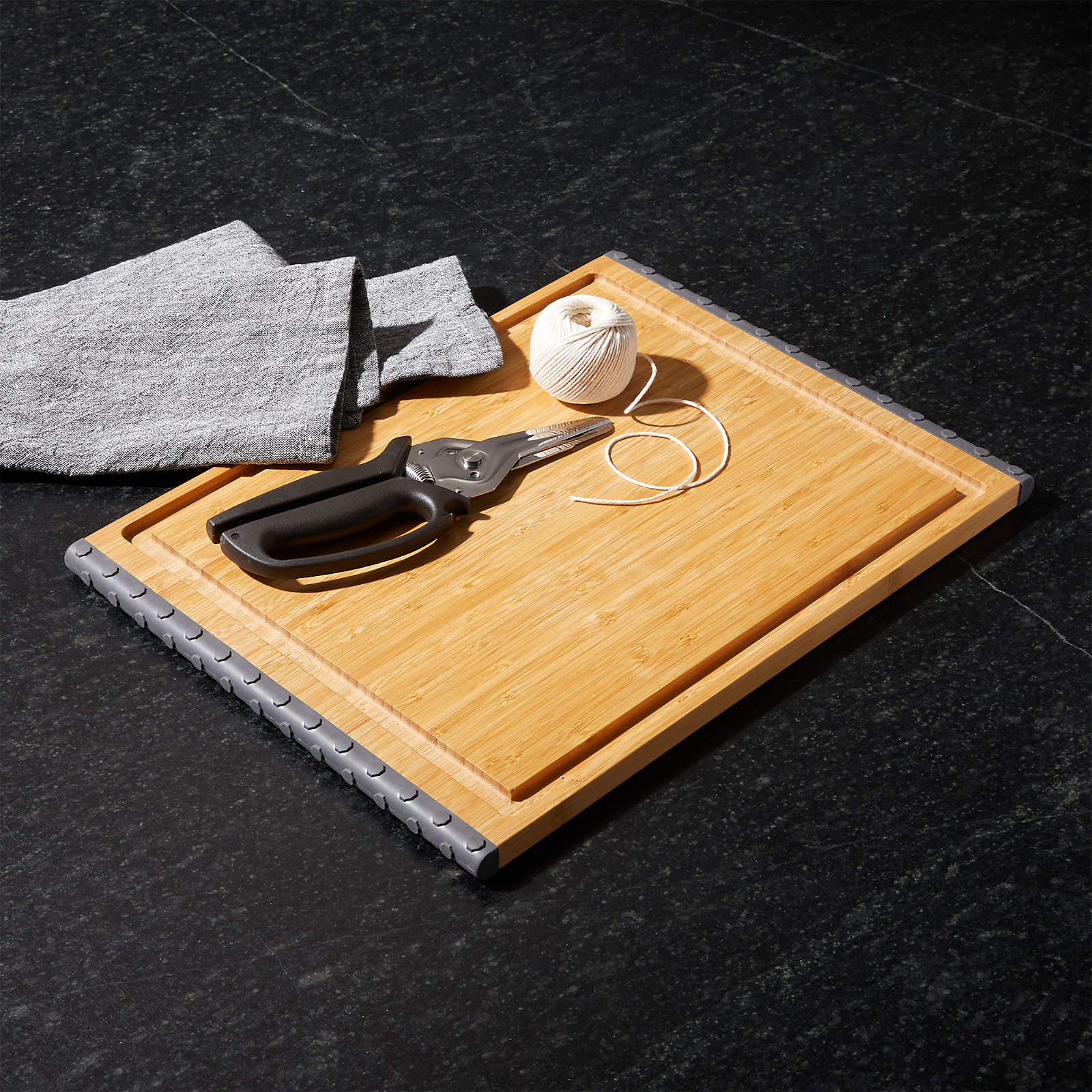 Plastic Cutting Boards 
Pros: Plastic, or high-density polypropylene, is a super-popular alternative to wood for a variety of reasons. It's cheap,  lightweight, and often comes in many colors, making it easy to avoid cross-contamination. Plastic is also hard enough to endure cutting, but soft enough to score like wood—just be sure you're purchasing one designed not to dull knives. Thicker plastic boards will last longer than the thin flimsy ones, plus they'll cushion your knife's cuts rather than thin boards where your knife is essentially butting up against your countertop. Try for a 1/2-inch minimum but anywhere between 1 and 2 inches is the sweet spot in my opinion. 
Cons: They tend to be less durable than wood, making them subject to being replaced more frequently. Also a heavily-scored plastic board looks a little worse for wear than an equally-scored wood or bamboo board. Since people tend to replace them more often, their environmental footprint is also more impactful than wood, though there are many made from recycled plastic.
How to care for plastic cutting boards: Hello, dishwasher! Yes, plastic cutting boards can actually go in there. You can sanitize any deeper grooves that may have been cut into the board by excessive use, otherwise, they're pretty durable and by far the lowest-maintenance.
Our favorite plastic cutting boards:
Recycled plastic is reimagined in this durable, dishwasher-safe board that comes in several dreamy colorways. 


Three color-coded boards make cross-contamination a thing of the past, plus they have a drain tray and rubber grips on the sides for easy carrying.

Stone Cutting Boards 
Pros: These are often the most aesthetically pleasing boards. Think dreamy cheese boards and charcuterie spreads.  
Cons: Since they're made with materials that are as hard or even harder than your knives, they don't yield or score with each cut. That means the knife edge is curling or dulling with each chop, slice, and dice. We don't recommend using them for cutting, but rather for display. 
How to care for stone cutting boards: Hand wash or wipe clean after each use. Since they're primarily for display, they won't require the same upkeep in the way your daily-use cutting board does. For the best results, always follow material-specific care provided by the manufacturer.
Our favorite stone cutting boards:
I love that this board comes with chalk to write cheese names, making it ideal for effortless entertaining. 
Marble is cool and non-stick, therefore ideal for working with pastry. You can knead, roll, and shape pastry, and even use a dough-cutter—just avoid too much knife-on-marble contact.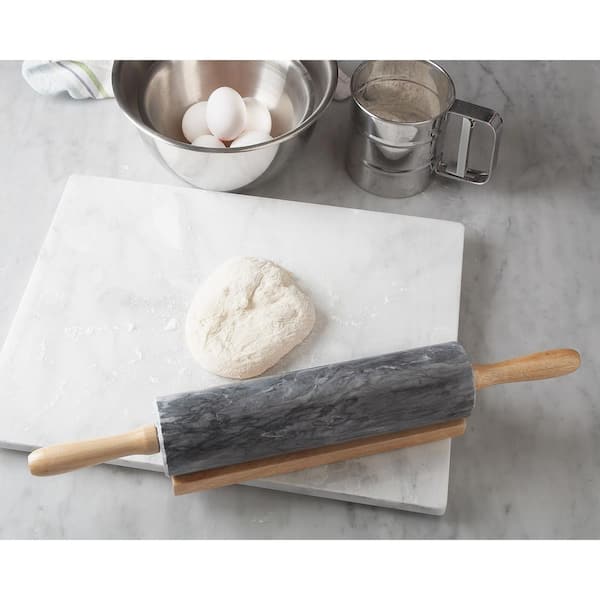 What's your go-to cutting board material? Tell us in the comments below! 
This post was updated July 2021 with more maintanance tips and new cutting boards.
This post contains products independently chosen (and loved) by our editors and writers. Food52 earns an affiliate commission on qualifying purchases of the products we link to.
I want to eat everything crackly, chewy, salty & sweet.