Spiced Shrimp in Lemon-Ginger Sauce
10
Save
If you like it, save it!
Save and organize all of the stuff you love in one place.
Got it!
If you like something…
Click the heart, it's called favoriting. Favorite the stuff you like.
Got it!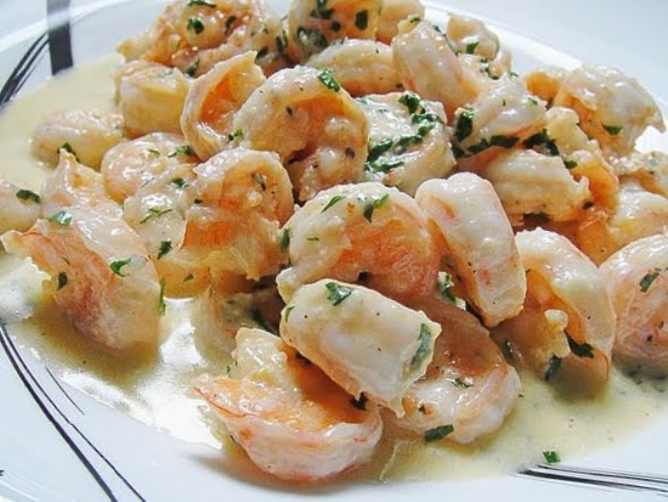 Author Notes: This dish is a combination of two recipes. The spiced shrimp is my go to recipe for a shrimp cocktail, which I learned many ears ago from a Chinese cook book by Sunset. It is delicious, aromatic and together with a pungent cocktail sauce makes a perfect appetizer. The second recipe for the Lemon-Ginger Sauce, I usually make to serve over roasted or fried fish or chicken and use chicken or fish stock for the liquid. I have to say that the idea to marry these two recipes and serve it hot as an entrée was a successful and a delicious one. You also can make this recipe with lobster tails, crab and scallops. - Kukla
Serves 4
For the Spiced Shrimp
• 1 pound large raw shrimp, unpeeled

• 1 tablespoon minced fresh ginger

• 4 whole green onions, sliced in half

• 2 tablespoons dry sherry

• 11/2 teaspoons salt

• 2 star anise

• 2 teaspoons whole pepper corns

• About 11/2 cups water
Wash unpeeled shrimp; place in a small pan. Add all the other ingredients and barely cover with water, bring to a simmer; then cover and simmer just until shrimp turn pink, about 3 minutes.
Cool in stock; then peel and devein. Return to stock, cover and chill for at least 4 hours or overnight. When ready to serve, strain, discard the aromatics and save the liquid for the sauce.
For the lemon-ginger sauce
• 2 large lemons, zested, white pith and seeds removed, thinly sliced

• 1-inch of peeled ginger, thinly sliced

• 1 tablespoon vegetable oil

• 1 cup of the shrimp cooking liquid, divided

• 1 tablespoon sugar

• Salt to taste

• 1/4 teaspoon of cayenne pepper or 1/2 teaspoon of red pepper flakes

• 2 teaspoons cornstarch + 1 tablespoon water

• 2 tablespoons unsalted butter

• Fresh herbs, chopped for garnish
Place lemon and ginger slices in a blender; add lemon zest and 1/2 cup of the shrimp cooking liquid. Puree until smooth. In a small sauce pan, heat the oil over medium-high heat; add the pureed lemon-ginger mixture and stir-fry for 30 seconds.
Add the remaining 1/2 cup shrimp cooking liquid, sugar, salt and cayenne pepper; simmer for about 2-3 minutes. Blend the cornstarch with water; pour into sauce and cook stirring until sauce bubbles and thickens slightly.
Mix in butter and then the drained shrimp to the sauce; simmer for 30 seconds, just until the shrimp is warmed through. Sprinkle with any fresh herbs of your choice and serve over steamed white or brown rice, over pasta or just with fresh crusty bread for dipping and enjoying the delicious sauce