25 Coconut Milk Recipes for Anytime, Anywhere
Good things come in tin cans. Case in point: sardines, whole tomatoes, beans galore—and coconut milk. We've said it before and we'll say it again: Coconut milk is one sexy, dreamy canned good. It's sweet but not cloyingly so, rich but not heavy. It's cheap! It adds depth to the savory and the sweet, from soup to sweet potatoes to cake. Its creamy, dairy-like qualities make it a vegan's best friend—and it can be your best friend, too.
Here are 25 ways to make friends with coconut milk:
Creamy coffee without the, well, cream. Start your morning with a one-two punch of coconut (milk, water), and richness (chocolate syrup and avocado–don't knock it!).
Haldi doodh ("turmeric milk") is a traditional Ayurvedic remedy for colds and coughs. This breakfast-ready version adds banana, nut butter, and coconut milk.
A creamy, rich quinoa porridge to make any morning feel special.
Introduced by Portuguese colonists and reappropriated by Afro-Brazillian home cooks, coconut enriches this spiced tapioca pudding—a dessert with a shared history and complicated heritage.
Meet the deeply satisfying coconut soup that stars meaty mushrooms and rice noodles to boot.
Come fall soup season, flavors of coconut and dark rum ground this homesick Caribbean author. 
This coconut curry is full of the goods: shallots, scallions, butternut squash, broccoli, and more. Serve it over rice or noodles, and eat in oversized pj's. 
Just when you thought the sweet potato couldn't get any creamier. 
Ten minutes of active cooking time + seasonal veg riffs = this warming, hearty vegan korma.
Creamed greens 2.0.
Weeknight got you down? Coconut chicken curry to the rescue!
More people need to know about this (very weeknight and every protein–friendly) Lao-style marinade. 
These coconutty lentils are from Julia Turshen's*Small Victories*. In the words of Alexandra Stafford, "These lentils come together in about 30 minutes, are deeply satisfying, and could be vegan if you leave out the yogurt."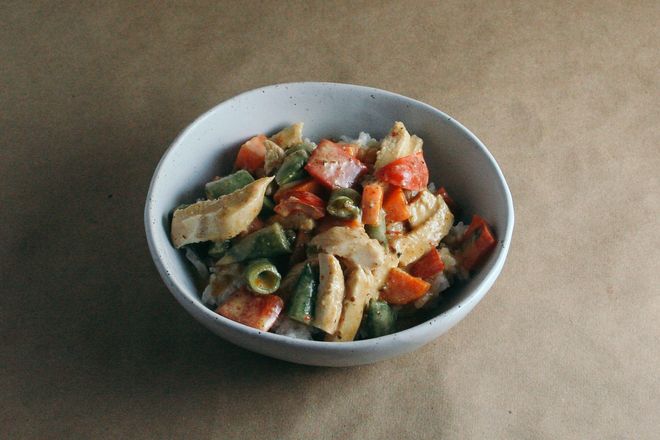 Coconut milk stars twice here: first, in Thai coconut red curry; and second, in fluffy coconut rice.
This tom kha calls in shrimp, lime juice, and lemongrass for an extra-savory coconut milk soup. 
Think: coconut cream pie, taken up 10 notches. There's a coconut shortbread crust. There's a coconut cream filling. There's whipped coconut cream. And on top? Coconut crispies! 
This cozy coconut rice pudding is just as happy to be your snack, or your dessert. (Or, you know, your breakfast.)
A dairy-free, vegan ice cream with the texture of velvet sounds, well, impossible—that's where the magic comes in.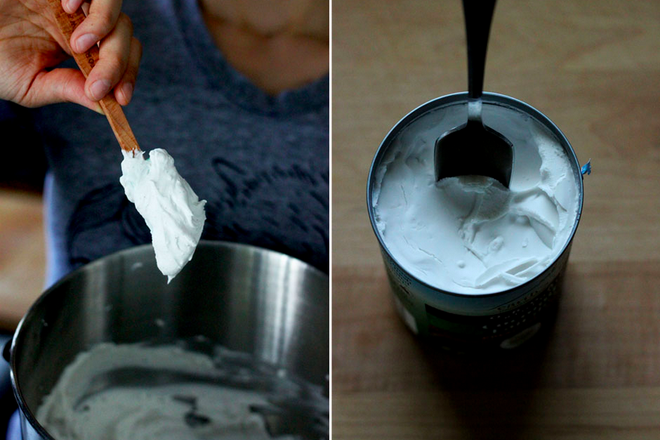 Coconut cream, whipped into a cloud-like topping. Use it to make freshly sliced berries or warm slices of cake extra special—or simply eat it from a spoon. 
This fondue made with chocolate and cajeta is almost custard-like, thanks to coconut milk.  
Coconut milk gets cooked down into a custardy, caramelly jam.
Aargersi writes, "It's rich and milky and coconutty and good. Ask the neighbors." Or the Food52 team, some of whom have had this for breakfast and lunch.
Coconut on coconut on coconut—with coconut.
Like your favorite sweater and a big hug, all at once, in a bowl.
This is our co-founder Merrill Stubb's all-time favorite piña colada. She writes, "After a few experiments, I found that a combination of coconut milk and cream of coconut produced the right blend of sweetness and creaminess. A spritz of lime juice and a grating of fresh nutmeg were later additions." Cheers!
This post originally ran July 2015.
What's been your best coconut milk experiment? Tell us in the comments!
Writing and cooking in Brooklyn.