Homemade Cadbury Creme Eggs
Every week, a DIY expert spares us a trip to the grocery store and shows us how to make small batches of great foods at home.
Today, Ashley from Not Without Salt gives us a much more wholesome Cadbury egg -- yellow yolks and all. Go ahead, make the easter bunny jealous. (Plus, a new video how-to!)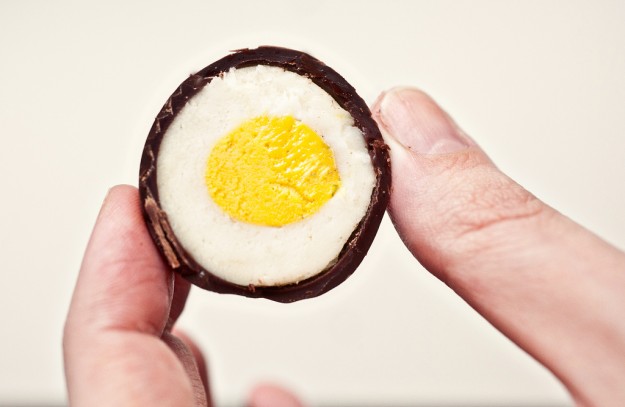 Last week I had my first taste of rhubarb and asparagus. I may have been jumping the gun a bit, but for me, those two tastes symbolize spring more than the presence of tulips or the gentle warmth of sun. (I'm still waiting for that sun.)
The tangy, tart bite of rhubarb combined with a buttery shortbread crust and cool whipped cream; the bitter char on a hot roast fresh out of the oven set against the mild sweetness of freshly plucked asparagus; this is the tune of spring, and I sing it at the top of my lungs after what seems to have been years of cold and dreary days.
But there is another taste that has become a spring tradition. Like congealed cranberry sauce at Thanksgiving, I hold it sacred even though it is laden with ingredients I can't pronounce, and I eat it one overly sweet bite at a time. This little chocolate tradition is egg-shaped and stuffed with a creamy center that oozes sweetness and memories with each bite. Of course I'm talking about Cadbury Creme Eggs.
I have no intention of ending this tradition just because I am no longer a child. But the list of ingredients did deter me a bit -- until I decided to make my own. In my version, the interior is created using a generous amount of butter, Lyle's golden syrup instead of corn syrup, vanilla bean, salt, and a couple of subtle drops of orange blossom water, which is optional but gives each bite of this homemade version a soft perfume.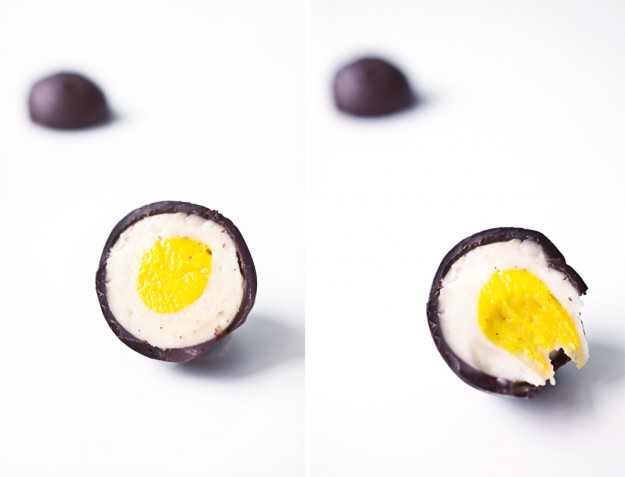 Homemade Cadbury Creme Eggs
Makes around 15 eggs, depending on size.
Adapted from instructables.com
½ cup Lyle's golden syrup
6 tablespoons butter, softened
½ teaspoon salt
3 drops orange blossom water (optional)
1 vanilla bean, seeds removed (optional)
1 teaspoon vanilla
3 cup powdered sugar
¼ to ½ teaspoon yellow food coloring
12 ounces dark chocolate, chopped (or 1 bag bittersweet chocolate chips)
Place the butter in the bowl of a stand mixer that has been fitted with the paddle attachment (this can also be done by hand or with a hand mixer). Add the golden syrup, salt, orange blossom water (if using), vanilla seeds, and vanilla extract. Mix on medium-low to combine, scraping down the sides of the bowl with a rubber spatula to make sure everything is mixed well. Turn the mixer to low and slowly add the powdered sugar. Mix until completely smooth, scraping down the sides of the bowl as necessary.
Place a third of the mixture into a small bowl and add enough yellow food coloring to obtain your desired color. Cover both bowls with plastic wrap and put into the freezer for at least 15 minutes; your mixture must be very cold while you work with it. 
When the sugar mixture is thoroughly chilled, remove from the freezer. Working quickly, take about ½ teaspoon of the yellow "yolk" mixture and roll it into a ball. Repeat with the rest of the mixture.
Once the yolks are complete, place them on a plate or a sheet tray covered with parchment and then put that back into the freezer.
Now, scoop out a tablespoon of your "whites" and roll it into a ball. Repeat with the rest of the white portion of the sugar mixture. If the whites are too soft to work with, place back into the freezer for a few minutes.
Remove the yolks from the freezer. Place a white in the palm of your hand and gently flatten it a bit. Create an indent in the center to rest the yolk in. Place the yolk in the center of the white, then cover it up and roll the white into an egg shape. If at any point the sugar mixture gets too soft, quickly put it back into the freezer.
Continue this process until all your eggs are complete. Return them to the freezer.
While your eggs are chilling, temper your chocolate or microwave it in 30 second intervals, stirring very well in between. If you use the microwave method, add a tablespoon of canola oil to the melted chocolate and stir well; this will give you a little more flexibility with your chocolate. You will not, however, get as nice of a crack as you bite into the egg.
Working with one egg at a time, remove the egg from the freezer and stick a toothpick in it. Dip the egg into the chocolate and carefully let the excess chocolate drip off. Place the other end of the toothpick into something – like a yam, perhaps – while the chocolate sets.
Place the chocolate-covered egg into the fridge for 10 minutes while the chocolate sets. Carefully remove the toothpick from the egg and cover up the small hole with a little bit of tempered chocolate.
See the full recipe (and save and print it) here.
Update! Our friends at NowThisNews liked Ashley's recipe so much they made it themselves -- watch their how-to below. 
Photos by Ashley Rodriguez
Author of Date Night In (2015) and creator of the blog, Not Without Salt.